Gotham Season 1 Episode 14 Review: The Fearsome Dr. Crane

Sean McKenna at . Updated at .
Gotham introduced viewers to another major Batman villain. Sort of.
The future Scarecrow popped in for a brief moment to see his father, Dr. Gerald Crane, hovering over a woman tied up and ready to get pushed into a pool. So I guess its not hard to see how his upbringing would affect his future self.
But I was glad that instead of another kid leading the story, the focus of Gotham Season 1 Episode 14 was on the father and his desire to exploit people's phobias and fears (something that Scarecrow will wind up doing).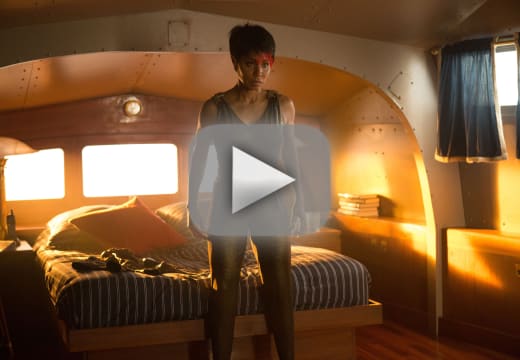 It wasn't something I was necessarily clamoring for, to see all the future Batman villains' parents, but having an actor such as Julian Sands in the particular role helped make the story about Scarecrow's father that much more entertaining.
There's no doubt Gotham has excelled with its casting choices.
The fear of pigs seemed like the silliest phobia of the hour, but the concept was intriguing. Plus, the fact that Gerald was killing people at the height of their fear and removing their "fear glands" was a change of pace. He wasn't killing for revenge, he wasn't associated with the mob (at least from what we've seen so far), and his efforts seemed to indicate some scientific process behind it all.
I'm curious to see more from Gerald, especially since he was able to escape by the end of the hour. I think there's definitely a chance to further flesh the character out, and I'm hoping the payoff delivers. I've got a feeling that maybe his son will play more into his "work" when we see them again.
I also wonder what Gerald fears the most…
Interestingly, the case did allow for both Jim and Harvey to get some romantic time
I loved seeing Harvey try and put the moves on the phobia group's leader, even going so far as to show up to a meeting just to see her.
At the same time, Jim went out on a date with Dr. Leslie Thompkins. These two seem to have far better chemistry than Jim and Barbara, so I can only hope Barbara stays at her weird parents' place for a while longer.
If anything, not only do I believe the relationship between Jim and Leslie more, but she can definitely help with the cases Jim solves by (conveniently) moving into the new role of medical examiner.
It certainly helped that Edward set up the previous medical examiner with the locker full of body parts.
Was this the first time we've really seen Edward take some major action? We know he will be the Riddler, but he hasn't really shown any bad guy tendencies yet. Sure, he's odd, but he gets his job done. I'm sure glad there's a much slower burn when it comes to telling Edward's origin story.
Unfortunately, I wasn't as interested in Sal's and Oswald's hangout "up state." It certainly moved that part of the story along, but it felt so silly with the guessing game. Though I did laugh when Oswald called Sal while being inside the crushed car.
I was glad that Bruce called out Jim for not getting anywhere with solving the murder of his parents (I totally agree!), but that, the short convo between Jim and Selina or seeing Fish on a boat often makes it feel like Gotham is trying to cram too much into one episode. We don't need to see Selina all the time when all she's doing is eating in Barbara's place. And with Fish, I'm sure she'll return; but, did we need to see her on a boat?
I get that the glimpse at the fight between her and an unknown person seemed like an exciting ending (and I am interested to know just what the heck that was all about), but it didn't play into the rest of the story for the hour. It felt like it was tacked on to provide a cliffhanger.
"The Fearsome Dr. Crane" was an improvement from Gotham Season 1 Episode 13, and I am interested to see where the story of Gerald (and now even more so with Ed) goes. Yes, there's still some of that campy/cartoony style, but that's clearly what Gotham wants. It's far from being a knockout-hit of a show but, with time, I'm still hoping it can turn into one.
What did you think of Gerald Crane? Will Ed turn into the Riddler soon? Sound off below, and watch Gotham online to see the origin stories of Batman-related characters continue.
NOTE: Gotham Season 1 Episode 15 will be titled "The Scarecrow" and air on Monday, February 9.
Sean McKenna was a TV Fanatic Staff Writer. He retired in May of 2017. Follow him on Twitter.