Jane the Virgin Season 1 Episode 12 Review: Who is Sin Rostro?

Mary Kate Venedam at . Updated at .
For the reveal of all reveals, the Sin Rostro reveal on Jane the Virgin Season 1 Episode 12 did not seem as shocking as expected. 
This may have something to do with nearly every character having been accused of being the crime boss by viewers, so someone was bound to be correct. In this case, the main suspect's wife.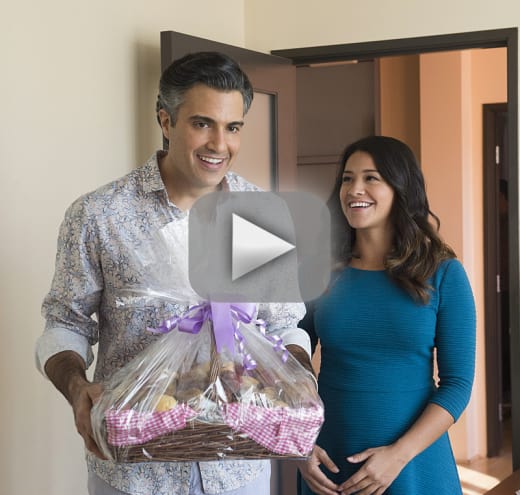 Yes. Rose Solano, the seemingly paranoid wife of Emilio, was revealed as Sin Rostro. She had quite the convincing act, too, as she nearly cried to Rafael and pointed him in the direction of his father. But, I guess, if you have to be a crime boss, you didn't get there by telling the truth.
Though I had a feeling about Rose, it didn't seem right until the name reveal on-screen. Even as the cement poured on Emilio, I still believed that maybe Rose was killing Emilio as a defense, rather than silencing the only reliable suspect. The moment though, did not have the shock value expected for that important of a reveal.
They did a good job of making it seem like Emilio was Sin Rostro until that last second. First, with Michael's investigation at the plastic surgeon's office. By the way, a waste of Ryan Devlin's appearance for such a quick scene. Next, Luisa's letter to Rose that Rafael read where she basically accused Emilio of killing the bell boy. They did everything to make you believe, with nearly 90% certainty, that Emilio was Sin Rostro. Until it wasn't actually him. 
Unless, he did have something to do with it. Still so many questions. 
In addition to that reveal, Petra ran into a familiar face. Milos, her angry ex-boyfriend, arrived with some news. Unfortunately, all of the information was not revealed. Though we did learn it was not necessarily an accident for Petra's mother to be hit with the acid. 
Petra's mother has always seemed sketchy but now, after this Sin Rostro debacle is dealt with, maybe we'll learn more about Petra's mother and why she both lied to Petra about walking and why she got some acid to the face. 
With Milos arriving and Ivan disappearing, the angry, vindictive Petra has virtually disappeared and changed into an emotional and slightly more sensitive one. She even revealed all of her issues to Jane, someone who she was trying to take custody from just a few short weeks before. Oh, how kidnapping can change a person. 
The highlight of the episode was seeing the growing relationship of father and daughter, Rogelio and Jane. There was a lot of crazy going on with Rogelio being fired, but it actually brought the two closer together. It started with Jane 'translating' Rogelio's anger to the writers of The Passions of Santos and ended with a breakthrough when Jane called Rogelio "Dad." It was not expected, which made the moment all the sweeter. 
I have this feeling in my chest. It feels kind of warm, but also it wants to explode or something. I don't quite understand what's...

Rogelio
I'm happy to see them bond in a way we haven't seen and to see Rogelio bond even more with the Villanueva women. A Xo and Rogelio happy ending is something I am definitely ready to get behind. 
Jane: Do you know why it's so wasy for me to forgive your sister?
Rafael: Why?
Jane: Because her mistake gave me the two most important things in my life.
Jane also seemed to be getting in mommy mode as we saw how forgiving and trusting she has been. She forgave the two women who have hurt her the most, Petra and Luisa. Now that's progress. 
Were you shocked that Rose was Sin Rostro? Are you happy with the growing Rogelio and Jane relationship? Do you have more questions about Petra's mother?
If you need to catch up on anything you may have missed, make sure you watch Jane the Virgin online via TV Fanatic.
NOTE: Jane the Virgin Season 1 Episode 13 will air on Monday, February 9.
Mary Kate Venedam is a staff writer for TV Fanatic. Follow her on Twitter and on Google+.