NCIS Los Angeles Season 6 Episode 16 Review: Expiration Date

Narsimha Chintaluri at . Updated at .
Thapa's influence on Deeks may be odd, but it also clearly seems to affect the man who's falling in love with Kensi way too quickly. 
NCIS: Los Angeles Season 6 Episode 16 sees the passing of the elite Nepali agent, but his presence, prior to him taking a bullet for Sam, made for an intense, espionage-driven journey.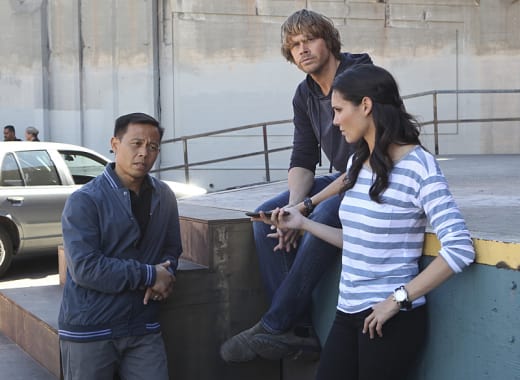 The return of Thapa, in all its weirdly accented glory, had bullets flying from the start as Sam was almost fatally wounded within in a matter of minutes. LL Cool J spent the majority of the episode off screen and in the hospital – holding on for Michelle and their children. 
As Sam lay there, an international plot was set in motion by India, or so Callen believes. The idea was to make Ella seem more valuable than she was, while simultaneously blaming the death of Thapa on an unknown third party. 
As Sam goes on the offensive with Granger, pushing Ella, and using the "death" of Sam as a bargaining chip, he pieces together a possible narrative. 
It leads Hetty to the conclusion that:
The spy game has more in common with selling used cars than we'd like to admit.

Hetty
Deeks relationship with Thapa was ended prematurely, but in Thapa's line of work, there's usually only one outcome. He wasn't completely ruthless, and his inability to kill Ella is what led to his own demise. In his short time with Deeks he managed to give him some sage, but maybe misguided advice. After all, it's pretty obvious he's a player:
Thapa: Gurkha's are like Monks -- we don't know much about relationships.
Deeks: What!?
Thapa: My strength lies in listening.
Maybe for someone like Deeks, who's so madly in love with Kensi and her smile, moving fast is what's appropriate. Maybe they should be getting married by the end of the season, rather than scaling back their sleepovers. I mean, Deeks did manage to remember all those "crazy girl" names:
Kensi: You don't even remember their names.
Deeks: Cat, Mindy, Mandy, Tiffany, and Tiffany. How can you forget such a pantheon of crazy girl names?
Although Kensi spent a majority of the episode picking apart the responses Deeks had to her best-friends, or to her questions, or just in general, it was obvious that it was her own insecurities that brought up any roadblocks. They're "first real fight" was kind of forced, and could have totally been avoided. 
Kensi needs to ask herself if she's ready to commit to a life with Deeks, because it seems as if Deeks fallen head over heels for her. 
Deeks: Maybe we should take a night off every now and then.
Kensi: Im so glad you said that.
Sam still managed to be a badass, even though he spent the majority of the episode, well, not in it. He put a stop to oncoming projectiles with just a lunch tray, and didn't even get a scratch on him!
Callen's concern for his partner, and his general curiosity about the situation as a whole, may have damaged relations with the CIA, but I'm more interested in seeing where India fits into all of this. 
They sure went a long way to possibly stage this debacle, so there must be an end game in mind somewhere down the line. 
Watch NCIS: Los Angeles online to relive any of your favorite moments from this tense hour, and head over to NCIS: Los Angeles quotes for more highlights.
With such a small fight causing such a huge stir for Kensi and Deeks, maybe some time apart would do them some good. However, if you ask me, they should keep diving right in.