Supernatural Season 10 Episode 13 Review: Halt & Catch Fire

Sean McKenna at . Updated at .
Was Supernatural Season 10 Episode 13 a PSA about texting (tweeting, Facebooking, etc.) and driving?
Take the pledge or you'll be haunted and killed by a ghost. A message from Supernatural.
I don't know, but this case of the week didn't quite do it for me.
I'm always up for a good ghost story, but there was something about a WiFi traveling spirit that felt a little silly. I guess a creative concept what with the amount of technology we all use today, but the payoff wasn't there.
By the time we got to the wife letting go of her dead husband via video chat, I just chalked it up to another successful case by Sam and Dean that I probably wouldn't rewatch over and over.
There was some good humor with Dean just learning how to poke on Facebook, not being able to focus with all the college girls or reveling in the amount of food he could stuff in his pie hole.
And I'm always thrilled when Sam and Dean are working a case as brothers on good terms. No eye-rolling drama between the two, but instead brothers who have each other's backs while working together to save people and hunt things.
That really reminded me of the early seasons of Supernatural, when it was just the two of them on the road dealing with whatever bizarre case it might be, and that includes ghost trucks and bugs.
But was it just me or did the hour also really seem to harken back to the series' muted colors? The ghost unfortunately never felt that scary, even if he could get at his targets pretty much anywhere, but it was nice to see the entire color wheel not on full display. Those darker colors are so much better for something like a ghost, and the real feel of Supernatural, so that was a definite positive.
The case also did allow Dean to reflect on his own mistakes and acknowledge that he does his best to make things right. There was a sincerity in his conversation with the last college student about dealing with mistakes, and it was another good step in regard to facing the Mark of Cain.
So to get to the ending, with some forgiveness and feeling of peace for the side characters, to have Dean express his thoughts on moving forward was positive.
And I get that Sam wants to find a way to get rid of the Mark (and I really think if they do find a way, Dean's not going to reject it), but it was good that Dean was willing to do the best he could in the situation he is in. It's not ideal, the Mark is dangerous, but he's going to keep helping people and go down swinging.
He's not giving up, but he's definitely more in tune with accepting his predicament and finding the best option for right now.
Whether that lasts is another story, but we'll get to that road when the time comes.
Another case in the books for team Winchester. Now I'm wondering just what Dean was thinking about when Sam told him nothing really gets deleted from the Internet…
What did you think of the episode? Can Dean really make it work with the Mark of Cain? Sound off below, and see all the cases Sam and Dean take on when you watch Supernatural online.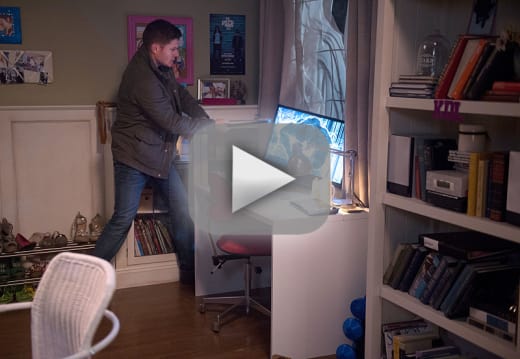 Sean McKenna was a TV Fanatic Staff Writer. He retired in May of 2017. Follow him on Twitter.