The Big Bang Theory Season 8 Episode 14 Review: The Troll Manifestation

Carla Day at . Updated at .
The girls get the win for the funniest moments of The Big Bang Theory Season 8 Episode 14.
That doesn't mean Leonard and Sheldon's situation wasn't humorous, but there's no beating Amy and Bernadette sitting on the couch watching Penny's ape sequel. Or, Bernadette's "talking cupcake" pageant performance. Or, the awesome reading of Amy's Little House on the Prairie fan-fiction. Seriously, can I find that on the internet somewhere?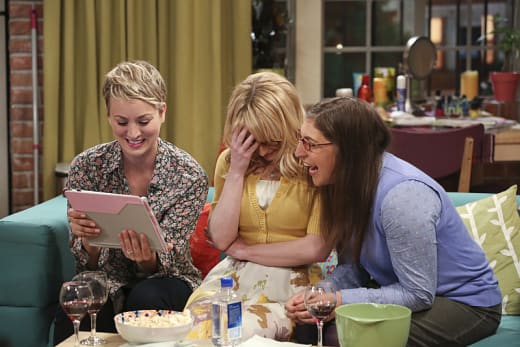 "The Troll Manifestation" has been added to the list of my favorite episodes and one that I will crack up watching over and over. The premise behind the two storylines were both realistic and full of laugh out loud moments. I don't literally laugh out loud often, but this episode brought out the chuckles and even full-fledged laughs.
Sheldon definitely should say "Me-wow!" in every episode from now on. It was kind of charming. If they don't already make "Me-wow" stickers, they should start right away. They could always sell them with Bazinga stickers. 
Often on The Big Bang Theory, Sheldon ridicules his friends and demeans them for not measuring up to his level of scientific achievement and intelligence. For a change, Sheldon acknowledged Leonard's idea and referred to it as "our" project. Sure, Sheldon hijacked it in a way, but Leonard got the credit for the idea and Sheldon did all the work. A win-win.
Leonard: You wrote a paper on my idea?
Sheldon: I wrote a paper on our idea.
Leonard: When did my idea become our idea?
Sheldon: When I mixed it with Sheldony goodness and cooked it in the Easy-Bake Oven of my mind.
Leonard: This is good. Our idea is really good.
Sheldon: Well, the light bulb in this oven is ridiculously bright.
While Sheldon didn't look down on Leonard in this case, he definitely rubbed in his contribution, though his references were quite funny. You can never go wrong mentioning Joss Whedon. A nice callback to Sheldon's love for Firefly and all things comic book related too. (Did you see that Nathan Fillion is appearing on The Big Bang Theory?)
Leonard: You're sure it's good?
Sheldon: My name is right on there with yours. That is a surefire
mark of quality. That might as well say "Directed by Joss Whedon".
Leonard: Okay, partner, let's do it.
By publishing their paper online, they opened themselves up to compliments and ridicule online. Didn't they ever hear the suggestion, "Don't read the comments!"? The storyline was a subtle way to reference the problem with anonymous commenters online. In the end, their tormenter turned out to be an idol of theirs who was just having a bit of fun. Professor Hawking actually liked their paper.
Sheldon: Professor Hawking?
Professor Hawking: Oh, brother, you should see the look on your faces.
Leonard: You really didn't like our paper?
Professor Hawking: I like your paper very much. The premise is intriguing.
Sheldon: Then why are you attacking us?
Professor Hawking: If you were sitting in a chair for 40 years, you'd get bored, too. Anyway, got to go. I promised to help the neighbor kid with his math homework. Ciao.
Their online nemesis ended up turning into a highlight of their life. That's not how most of those situations turn out, but the surprise appearance by Stephen Hawking made it all worthwhile. It was a happy end to their online battle.
As I mentioned at the top of the review, the happenings across the hall were less serious and more humorous. Penny, Amy and Bernadette's relationships with each other have matured to a point where they can have fun with each other without hurting each other's feelings. 
The callback to Penny's sequel was nice. She has a new career and is making a decent living, but she'll always have the memories and the proof of her less-than-successful acting career. Amy and Bernadette were intensely watching every moment of her horrendous movie. 
That embarrassing moment was topped by Bernadette's 1999 bid to become Miss California Quiznos in a big, poofy dress and incorporating parts of the Spice Girls' earworm song, "Wannabe." Do you have it spinning in your head still? I do, especially after Penny's reference when Amy wanted them to stop reading her Little House on the Prairie fan-fiction.
Amy: Okay, that's enough.
Penny: What? No! I really want to know what happens-- and Bernadette really, really, really wants to know what happens.
The absolute best part of the episode was Amy's story about Amelia and Cooper. It was an engaging tale of love, while providing insight into Amy's relationship or at least wishes for her relationship with Sheldon. Would he stay or would he go back to the future? The final scene with Amelia helping Cooper with a bath and drying off was perfection. It provided an intimate moment on screen for "Amy" and "Sheldon" without actually going there in reality.
What was your favorite moment of the episode? You can check out the funniest moments in The Big Bang Theory quotes section. Who had the most embarrassing reveal? I have to go with Bernadette. That performance was pretty bad. For Amy, her writing was good and engaging. It was far from embarrassing even if it did reveal parts of herself. It's not like her friends didn't already know.
Did you love the episode as much as I did? Check it out again! Watch The Big Bang Theory online here at TV Fanatic!
Carla Day is a staff writer for TV Fanatic. Follow her on Twitter and on Google+.