The Mysteries of Laura Season 1 Episode 14 Review: The Mystery of the Popped Pugilist

Samantha McAllister at . Updated at .
The Mysteries of Laura Season 1 Episode 14, showed us all what truly goes down at a book club meeting filled with women. 
"The Mystery of the Popped Pugilist" consisted of a complex storyline involving a drag show performer who was also part of a fight club and was found murdered in his car. We also got to see how Meredith and Billy would be if they were a married couple – OK so it was an exaggerated version of them as a couple, but it was still entertaining. 
So lets not waste any more time and talk about tonight's episode.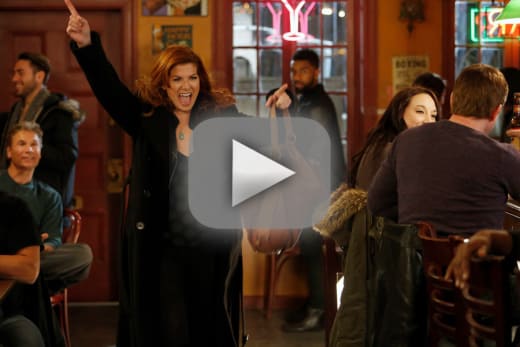 I can already tell I will love Lisa and her friendship with Laura – the book club they were talking about is right up my ally. Laura's needed a close girlfriend since the beginning of the season and I am so happy they finally brought someone in to fill the void; though Max will always be my favorite friend for Laura. It was great being able to see the infamous book club in action and we also got to see food truck Tony in all his sexy glory.
Can we please have Renaldo in every episode? Seriously, this guy seems to know everything about everyone and it is not at all creepy. You have to appreciate him having the answers Laura needed before she even said anything. We need more Renaldo the medical examiner.
I can't help but fall in love with Max every week. Going up to Billy and asking permission to speak and than talking about the terribly creepy statue was hilarious. I'm on Max's side on this one; the statue is extremely creepy and it certainly does follow you around with its cold, marble eyes. 
The best part of the entire case was watching Billy and Meredith working together, going the MMA fight and pretending to be a couple. Even though I would love to see them as a couple, I really enjoy their partnership and it was comical tonight. When Donna was flirting with Billy and Meredith played the jealous wife card I couldn't help but laugh, though Donna will probably go down as my favorite suspect for seeing the chemistry between Billy and Meredith and pointing it out to them.
Regarding the case as a whole, it was really boring to watch. The whole fight club angle was interesting, but not a surprise considering Mickey had anger issues. I admit I was surprised to hear it was the pizza guy who killed Mickey – I really didn't see it coming. 
This was just an alright episode and nothing to really write home about, but it wasn't a total loss. It still provided many laughs and we saw Laura get down and have some fun. I also couldn't help laughing about all the seized property being used by everyone at the station. Seeing Laura enjoy a date night with Tony is also something I can never object to. 
You still have time to catch up! Go watch The Mysteries of Laura online now via TV Fanatic. 
Samantha McAllister was a staff writer for TV Fanatic. She retired in November 2018.