On The Mysteries of Laura Season 1 Episode 15, we got to see how sophisticated the world of prostitution has gotten. 
We also got to meet the Chief of Detectives, Francesca, who is not warmly received at the station. While she investigates the recent complaint about Jake and Laura possibly getting back together, the team tries valiantly to prove to Francesca nothing is going on between Laura and her ex husband Jake.
Let's not waste anymore time and talk about tonight's episode.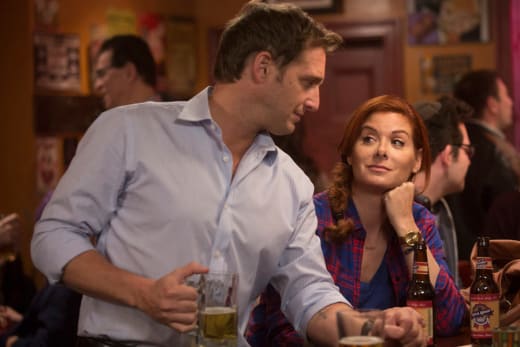 It's not shocking to find out the Chief of Detectives would find out about what happened between Jake and Laura, but you have to appreciate the both of them trying to figure out who would rat them out. It was weird no one knew the chief was a woman – I've always thought you should know who your superior is.
What I don't understand about this whole investigation is everyone knows Jake and Laura were married and there is history between them – so why this sudden interest in a possibility of them sleeping together? It doesn't make a lot of sense when the true conflict of interest happened when Jake became Laura's boss, but nothing was done to transfer her to another station or even a different department. 
Not a smart idea for Laura to invite Tony to her work and try to get Francesca off her back. At least Tony knew he was being used and had no problem with it – I tell you, I am really starting to fall head over heels for Tony. 
While I at first wasn't a huge fan of Francesca, I couldn't help but laugh when she was interviewing the different people at the station. Poor Max was a jumble of nerves and couldn't keep his story straight and Billy just saying nothing happened was brilliant. Than having Meredith finally admit Laura is the best detective they have and that's why she gets most of the cases was icing on the cake. 
Francesca: Do you have any idea why Captain Broderick seems to favor Detective Diamond?
Meredith: Can this stay between you and me?
Francesca: Ok.
Meredith: Promise?
Francesca: Swear.
Meredith: Laura Diamond is by far the best detective here, but if you ever repeat a word of that to anyone I will hunt you down. Clear?
Tonight's case was surprisingly interesting with the death of a woman named Viviana who was a nanny who moonlighted as an escort. It was a smart idea for the escort agency to create an app which could only be accessible with the proper sophisticated code – it was a nice complex case. 
Billy and Max undercover needs to happen more often. Not surprising Max would have a bunch of women all over him and Billy would have to go and save him; though Max proved himself by become best friends with all of the girls and getting all the information on the men who were trolling for women. I say it is time to get Max a badge and make him a true detective and not a detective's assistant. 
I was actually surprised by who the killer turned out to be, so kudos to the writers for the little surprise; though I wasn't surprised to find out Francesca would be joining the team. I warmed up to her considerably by the end of the episode and hearing about her husband dying in the field makes perfect sense for why she would want a brand new start. Hopefully the other people will warm up to her too. 
What did you think of tonight's episode? What do you think of Francesca being part of the team?
You still have time to catch up. Go watch The Mysteries of Laura online now via TV Fanatic. 
Samantha McAllister is a staff writer for TV Fanatic. Follow her on Twitter.