The Real Housewives of Beverly Hills Season 5 Episode 12: Full Episode Live!

Christine Orlando at .
Kyle Richards and Brandi Glanville are at it again on The Real Housewives of Beverly Hills Season 5 Episode 12 as the drama didn't end at Eileen Davidson's poker party. 
After spending about a week (Five days? Eight days? Kim's not really sure.) Kim Richards came home and visited with both Kyle and Brandi, separately of course. Even thought Kyle makes it clear that she's not comfortable seeing Ms. Glanville, Kim decides to bring Brandi to Kyle's gay mixer anyway in the hopes that the two will mend fences. 
Kim couldn't have been more wrong. Of course it's a little hard to tell if Kim is still on pain meds or simply recovering from her ailment. Kyle's thrown for a loop but later tells Brandi she apologizes for grabbing her arm but that Brandi shouldn't have tried to stop her from getting to her sister. Things quickly heat up once again and Kyle is hurt when her sister stands there and says nothing. 
The rest of the housewives were smart enough to watch the fight from afar and play guess the celebrity on my back. Lisa Vanderpump went so far as to steal George Clooney off of Eileen Davidson.
Don't miss any of the drama. You can watch The Real Housewives of Beverly Hills online here at TV Fanatic.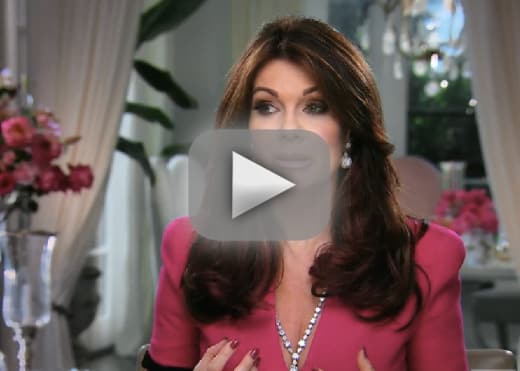 C. Orlando is a TV Fanatic Staff Writer. Follow her on Twitter.