The Real Housewives of Beverly Hills Season 5 Episode 12 Review: Drama Queens

Christine Orlando at .
It was yet another fight between Kyle Richards and Brandi Glanville on The Real Housewives of Beverly Hills Season 5 Episode 12 with Kim Richards playing the inebriated monkey in the middle. We recap the highlights, or should we say lowlights in our +/- review.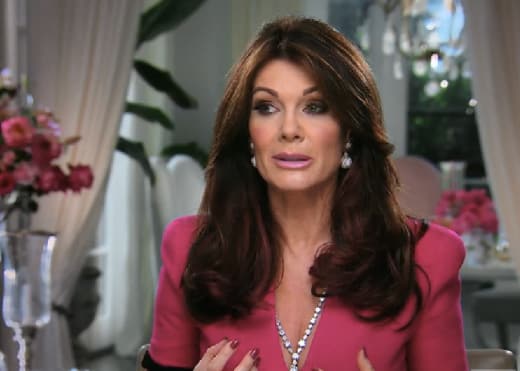 Wouldn't it have been nice if we all could have followed Yolanda Foster on her trip to Italy for a charity event? Maybe we all could have met George Clooney instead of trying to guess the celebrity name at Kyle's party. Although a plus 33 to Lisa Vanderpump who had one of the funniest lines of the night in this The Real Housewives of Beverly Hills quotes…
Ken would have to give me a hall pass for George Clooney. It's George bloody Clooney for god's sake and he's got a sense of humor which he would probably need when I took my clothes off.

Lisa Vanderpump
Sometimes I like to remind people that George Clooney was once the geeky guy on The Facts of Life. How things can change! 
Ms. Vanderpump had more than George Clooney on her mind. Her grown son Max was looking into his biological family heritage and as much as Lisa tried to be supportive, it obviously still made her nervous. I found it shocking that she'd never told Max his birth name. Minus 13 because that seems like something that as an adult he has a right to know.
But most of the drama surrounded Kim Richards who seemed almost as out of it as she was at Eileen's poker party. First she told the cameras that she was in the hospital seven or eight days but she later told Lisa Rinna that it was only five. Then she was sure she had just visited with Kyle that morning when it was actually the day before.
Minus 25. We don't know if Kim is still on prescribed medication after her time in the hospital but it certainly appears that she needs some sort of help. 
Unfortunatley, Brandi Glanville has decided to be her protector. How on earth is a drunk like Brandi going to help an addict like Kim? This has disaster written all over it.
Kyle may not always know the right way to handle her sister but Brandi has no right to get in between them. Minus 19. Not to mention her snotty comments were simply childish…
Kyle: You're not wanted.
Brandi: Excuse me, neither are you. Ask your husband.
If Lisa Vanderpump was Brandi's victim last season, then it looks as though Kim and Kyle Richards may be next on her hit list.
It appeared that this battle had just begun and the tears and yelling will continue next week, but a couple of side notes first…
Why does Kyle refer to her gay friends as my gays? Are their ownership rights involved? Perhaps we're taking this too seriously but it sounds insulting. Minus 18.
Eileen Davidson's see through sweater. We're not even sure what she said because we couldn't stop staring at it.
Not Faye Resnick! Who took her out of Housewives retirement for this party and how can we send her back?
Episode total = -42!                      Season total = 388!  
You can watch The Real Housewives of Beverly Hills online right here at TV Fanatic. 
watch The Real Housewives of Beverly Hills online
C. Orlando is a TV Fanatic Staff Writer. Follow her on Twitter.