Russ and Milt are at it again.
On Battle Creek Season 1 Episode 4 the two detectives go out of their way to best one another in an attempt to finally arrive at a modicum of truth about each other. Russ wants to know so badly about Milt he takes to crafting a sob story about his childhood that doesn't for an instant fool Milt into pouring out his own guts in return.
While Russ continues his moves, the two try to solve the case of a dead woman when the only clue left behind was a dog's snout print.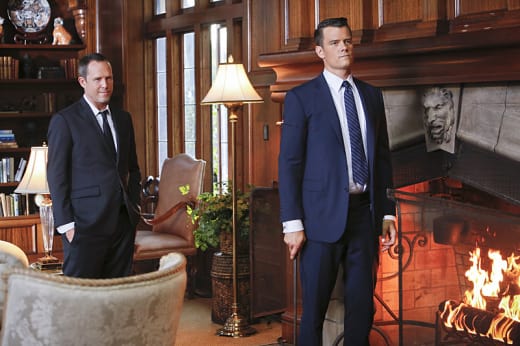 The case is something we've seen many times before. A stupid couple of adult children, wealthy beyond what they've deserved who lost their father. Their father had another kid and they killed her to keep her from getting any of the money.
The problem with these cases is one of the idiots always ends up saying "Can you prove any of this?" Well, we probably can now! And that's the best part of this installment of Battle Creek. Instead of actually getting evidence, which Russ realized would be next to impossible, he decided to let the idiots try to prove to a jury exactly how burning their clothes in a fireplace was a normal thing that didn't paint them as homicidal idiots. I can live with at.
Milt did manage to get the upper hand on Russ after his disclosure about 9/11. He had me on that one, too. It was a good story, but perhaps too good. He's not too young to fit the profile of working on that day (my sister was an agent working that day; drove past the pentagon just after it was hit and manned the taskforce phones for weeks), but it was kind of a rotten topic to use to bolster himself in Russ' eyes.
It gave Milt just enough wiggle room to open Russ up about Holly. Granted, Russ denied any love for Holly and I loved his reasoning that they hadn't slept together, as well as Milt's counter that he loves his mom but hasn't slept with her. 
I would have bought the story, to be honest. Russ is a detective and didn't. Milt didn't join the FBI until 2003 so he made the entire thing up. That also made Milt far more interesting to Russ in the long run. And Milt is now more intriguing than ever to us, because we still have no idea who in the hell he is or why he's in Battle Creek. Well played!
During my review for Battle Creek Season 1 Episode 3, I was lamenting the fact that Holly keeps solving all the cases. This week she was sneaking out of the office a lot and Russ immediately thought she was seeing someone. He'll not make a play for her because they work together (so sweet), but is still concerned about it.
She has taken her LSATs and is going on interviews. She wants to be an attorney. All of the work she has done hasn't been for nothing. Well, it has in the eyes of the Battle Creek police force because they're idiots, but not in her own eyes, and they're the ones that matter.
Russ pointed out there aren't any law schools in Battle Creek. If she's set on becoming a lawyer, nothing can be done to change that. If she's interested in becoming something else with regard to the law, perhaps he can have some influence over her career and she can remain in town.
Overall it was a great week with a lot of developments, fun Battle Creek quotes and a new appreciation between Milt and Russ for what's going on between them. I just with more viewers would take note.
Don't forget to come on back next week for Battle Creek Season 1 Episode 5, "Old Flames," to find out how Milt and Russ head up an arson investigation after the Commander's house is burned to the ground. Best behavior, guys!
Where do you stand? If you've missed any of this hidden gem, you can watch Battle Creek online via TV Fanatic to catch up!
Carissa Pavlica is the managing editor and a staff writer for TV Fanatic. She's a member of the Broadcast Television Journalists Association (BTJA), enjoys mentoring writers, wine, and passionately discussing the nuances of television. Follow her on Twitter and email her here at TV Fanatic.