Chicago Fire Season 3 Episode 17 Review: Forgive You Anything
Paul Dailly at . Updated at .
Is the fire going out on Firehouse 51?
Chicago Fire Season 3 Episode 17 was one of the series weakest episodes to date. Sure, we met some new characters in the form of Scott and Jack, but they aren't what the show needs.
We need some new female blood on the show. I'm not saying they should get rid of Dawson or Brett, but a new fiery female addition to Firehouse 51 could bring some much needed spark back to the show.
A lot of the stories have reached their natural conclusion. Even Mouch's grated on my nerves. Sure, the twist with him having a daughter came out of nowhere and I can't deny that I shed a tear when they both came face to face, but this has barely begun and already feels stale.
Not even meetings with Platt could save the hour for me. Usually she brings the funny, but she was very serious this week. She helped Mouch a lot and I l really like them as a couple. She has embraced this change in his circumstances really well.
Okay, Randell, it is time to be the man I know you can be.

Platt
Severide managed to get his old friend a job in his squad. I didn't know what to make of Scott. I pegged him as this bad guy just based on what everyone was saying about him throughout the episode. It was only in the final minutes that I warmed to him with the revelation that his wife died, leaving behind a young son.
The poor guy must have been to hell and back and getting the job at Firehouse 51 will help him on the right track to rebuilding his life.
Mills wasn't best pleased about Scott taking the spot, but at the end of the day, why should it remain open? Mills isn't in any fit state to do the job at the moment. This could change with his pending results, but the job is gone for now, so he'd better suck it up.
Dawson continued to try do fun things, but it showed just how long it's been since she's had fun that she had no idea where to go in Chicago for a good time. Heck, Otis didn't know anywhere, either.
I have no sympathy for Brett. She left her ex to start a fresh and live a single life for a while, so her sobbing to Dawson about how much she hates her life with Cruz didn't sit well with me. I don't know what's going on with these characters, but they are just being so freaking annoying at the moment.
I'm intrigued to see where things with Severide and April go. They both have a past and it looks like we will explore that in the backdoor pilot of Chicago Med which is airing as part of Chicago Fire Season 3 Episode 19 in a few weeks.
My parents still ask about you.

April
"Forgive You Anything" was one of the weakest episodes to date. I hope they manage to mix things up a bit and bring the excitement back to the show.
Other tidbits from the episode:
Who eats a key? The guy who did that was almost a goner. The scene with the key being pulled out of his throat was disgusting.
Can Platt please be a regular in both Chicago Fire and Chicago PD?
The lady at the sperm bank was really cheeky not to provide Mouch with the phone number. They did give his out after all.
Remember you can watch Chicago Fire online, right here on TV Fanatic. Get caught up on the drama now.
What did you think of the episode? Would you like some new female characters? Did you like any of the new guys? Chat with me in the comments.
Note: Chicago Fire Season 3 Episode 18 airs Tuesday March 17th at 10/9C.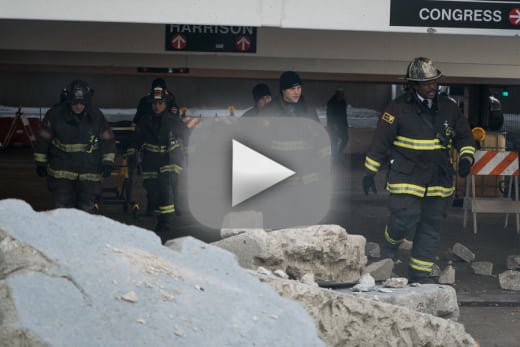 Paul Dailly is the Associate Editor for TV Fanatic. Follow him on Twitter.