Jane the Virgin Preview: Justin Baldoni on Long Hair, Life Parallels and Proposals
Jim Halterman at . Updated at . Comments
Will Jane say yes?
And by yes, I mean in answer to the marriage proposal of Rafael in Jane The Virgin Season 1 Episode 15.
Tonight's jam-packed episode features a romance novel fantasy, a surprise massage, a possible pregnancy and, yes, Rafael getting on one knee and asking the big question.
But there's still so much going on that I thought it would be a good time to talk with Justin Baldoni to get his take on why Rafael chooses this moment to propose... whether he's completely left his past behind him... and when we'll see Sin Rostro (his stepmother, Rose) and sister, Luisa, again.
Let's see what he had to say: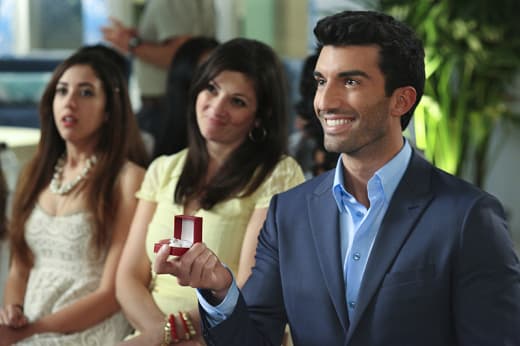 TV Fanatic: Let's talk about your hair in the episode for at least part of this episode.
Justin Baldoni: That was so much fun. The whole sequence was amazing.
TVF: Where did you shoot that scene?
JB: We were down in Long Beach and [Jane and Rafael] are having this intense conversation and then we cut away to this fantasy sequence.
TVF: You looked like you could be on a romance novel cover. Why not?
JB: Hey, if this doesn't work out, if they throw Rafael down an elevator shaft like they did on Friends with Dr. Drake Ramoray (Matt LeBlanc's fictional Days Of Our Lives character), then I could end up on the cover of a romance novel.
TVF: In the preview, it looks like Rafael is ready to take things to the next level. Can you talk about where his head is at?
JB: I think Rafael and Jane have had such an extreme relationship. They met under extreme situations and I think when life presents these situations and they're really extreme, you tend to act extreme. So everything about what they're doing in their life had been fast forwarded like having to date while pregnant. It's a funny situation but it's also a very delicate situation.
And at the same time, Rafael's life is falling apart everywhere else. Everybody is turning on him, his father was killed, his stepmother is the murderer and a drug dealer and she was the one having an affair with his sister and his sister is off on the crazy train. His life is kind of a mess and here's Jane, an angel come from heaven in the middle of it who just embodies and exemplifies everything he's ever dreamed of. He's fallen head over heels in love with her.
That moment at the end of Jane the Virgin Season 1 Episode 14 was a really important and beautiful moment. He's never had someone like that and she was there for him. So I think what has happened is that what he thinks she wants is for them to get engaged and get married and start this process the right away. So he proposes!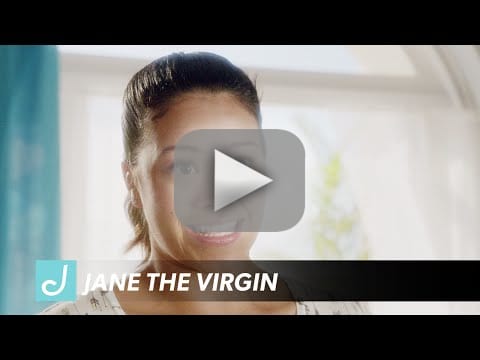 TVF: There's an interesting moment where Rafael sees Jane and Michael together and you see that that love triangle is still alive. Is that accurate?
JB: Yes, I think that is very accurate. Michael tried to make Rafael's life hell for the last six months and has been looking for a reason to pin all these things on him so they are not friends by any means. At first Rafael tried to be and Michael wasn't having it. There is a piece of Rafael that knows that it is not over. Michael keeps sticking around the hotel and isn't going anywhere. When you have your ex walking around, it can be complicated, just like the rest of Rafael's life.
The triangle is not over. I don't think our fans would want it to be. It's very real. it's amazing how Jennie [Snyder Urman, creator] and the writers can find a way to be so grounded with the way that love is expressed on this show, in such a fantasy world. I look forward to reading the scripts because the characters are always coming from a grounded, real place. There's always a pay-off and there's always a reason why things happen. I think that's what makes the show so brilliant.
TVF: We've talked before about how Rafael is a new person since his illness and meeting Jane but will we see him get pulled back to the darker side of his life, just based on the business dealings he is in?
JB: Yeah, what you're going to start to see is some of Rafael's past and his behavior is coming up to the surface because of things that remind him of what he went through growing up. Rafael didn't have a good childhood and his mother abandoned him and unfortunately we project a lot of that onto our partners.
You also got some hints from Petra earlier about his past and his ability to sabotage. Even the way he and Petra met! It was a manipulation that he was trying to get back at Lachlan so he stole Petra from him. That side of him still exists but luckily the cancer got rid of a lot of it but when pain comes up and things happen that bring him back to his past, some of that behavior might start to resurface. We're going to see the struggle that Rafael goes through. He is not this perfect, put together guy who handles everything perfectly.
TVF: How has it been personally with the fact that you're playing an expectant father but you're also an expectant father in real life?
JB: It's so surreal and the weird part is that my wife and I have rescheduled sonograms because of the sonogram scene on the show. And it's really funny to track our pregnancy as we're tracking the pregnancy of Jane and Rafael. I will say that sometimes when I'm in the real doctor's office, it feels like it's the show.
My life is 24/7 pregnancy so I'm on the set with Gina [Rodriguez] for 15 hours a day and then I go home to my pregnant life. Jane is pregnant, my wife is pregnant and she's starting to show and Jane is showing…I feel like I'm becoming a pregnancy expert, which I never thought I would be at 31 years old but it's been so cool. In many ways, it really does help with my connection of this unborn child in the show because it means so much to Rafael, it's his only chance to have a child. For me, it's picturing and imagining my child being born and my wife going through that so it brings that real element for me and I bring that to Rafael.
TVF: Will we be seeing Luisa and Rose again anytime soon?
JB: You will absolutely be seeing Luisa again, yes. I have no idea what they have planned for Rose. Luisa comes back and we have some great stuff coming up in the next few episodes. Yara [Martinez] is way too good. I hope they never let her go. What she can do with comedy is so phenomenal and she brings a whole other fun element to the show. She's such a lovely human being, too.
I'm so lucky, man. All the people that I get to work with every day, I really love. They're good people. They're genuine people and they care about their families and their friends and they care about the work that they put into the show. To be able to have a cast that you really care about, it's a family. I'm thrilled my child is going to be born into this family!
TVF: This whole experience must be something of a rollercoaster. The Golden Globe nomination, Gina won hers, the second season renewal…have you been able to enjoy it?
JB: My wife and I sit down and oftentimes take a moment and just think about how lucky we are and how grateful we are. To get a show like this is really like winning the lottery and then to have it picked up is like winning the lottery again. And then to have it be as good as it is and the cast that we have is like winning the lottery again…and then to have a Golden Globe nom and then a second season!
It has been surreal and it's been a ride but I'll tell you that a day does not go by where we don't pinch ourselves and we don't just sit down with a state of gratitude and thank God for it. There's a whole other part of this which is the work we're able to do outside the show to make the world a better place has increased ten-fold because of the success of the show. We are grateful and we're so proud of Gina and our show creator and everybody involved for putting 110% into every single moment of every single episode.
Jane The Virgin Season 1 airs Mondays at 9/8c on The CW. 
Jim Halterman is the West Coast Editor of TV Fanatic and the owner of JimHalterman.com. Follow him on Twitter.