NCIS: Los Angeles Season 6 Episode 19 Review: Blaze of Glory

Narsimha Chintaluri at . Updated at .
It was nice to see a new face around the office this time around, and it didn't hurt that it was a young, attractive, college senior – pretty enough to give Nell a run for her money! 
NCIS: Los Angeles Season 6 Episode 19 saw Nell uncharacteristically thrown off her game (momentarily), and the addition of Blaze, whom I thought actually fit in really well with the usual gang.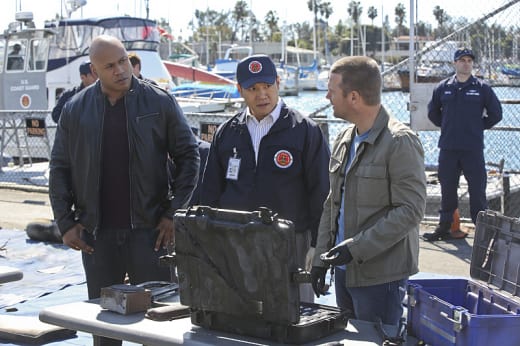 Although they all seemed hesitant to involve someone new (some more than others, and Eric only until he laid eyes on Blaze), let alone someone who hasn't even graduated college yet, Blaze's cameo as part of the Los Angeles NCIS team was definitely a hit.
She had the confidence to give even the most cocky coding extraordinaire pause, and can throw a mean kick on top of that. 
It's not surprising that Eric developed a schoolboy crush the minute he met her, just as it's not surprising that Nell is the one he wound up ending the night with (destroying her stuff, as always).
Guess we got hacked again!

Eric
That final scene was great, and kind of romantic, between those two lovebirds. Nell taking Eric by the arms, and teaching him how to pilot the drone properly, was a nice touch. Maybe Eric still has some mixed emotions to shift through, but it seems as if Nell is fully onboard the Eric Beale love train.
I wonder which one of them will actually make the first significant move? 
The case of the week was pretty interesting, but left some loose ends that I would've actually liked some closure for. With his mom already passed away, it must have been devastating for Wyatt to find his dad murdered in that fashion. And if he wasn't a dangerous criminal already, just some poor sap trying to protect his girlfriend, that kind of trauma could easily lead to such a conversion. 
There was no real conclusion on that end, and I don't expect all case of the week plot lines to be neatly wrapped up, but leaving Wyatt on that note seemed odd.
Blaze also seems like a passerby, apparently ready to move on to her first job with a different branch, but I wouldn't mind having her around more often.
She seemed like a good mix of all Kensi's confidence, Nell's intelligence, with Deeks' sense of humor, and the focus of Sam and Callen (when they're not discussing healthy food vs junk food, or texting acronyms). 
Sam: MTE!
Callen: Huh?
Sam: My thoughts exactly -- what? I text with my daughter!
Although it wasn't overt, this episode seemed to have a lot to say about judging a book by its cover. Josh being type-cast as the freaky villain, Dr. Stanley seeming suspicious to Sam and Callen, Blaze being a jack of all trades, and Malee actually going as far as to try and assume a different ethnicity.
It was a good thing Blaze brought up some suspicions about her origin, and the connection to Jakarta was made.
It was a risk for Hetty and Owen to greenlight someone like Blaze helping out, and it almost came back to hurt them all in a very serious way. Thankfully, Callen and Sam were able to save the day – as usual. They're pretty unstoppable when they're on the same page, huh?
Sam: G's in the wrong place.
Callen: Yeah, where do you want me?
Sam: Not you, the letter.
Watch NCIS: Los Angeles online and check out NCIS: Los Angeles quotes for more highlights from tonight's episode.
Definitely make sure to leave your thoughts down below – are you as big of a fan of Blaze as I was? And how would you feel about new additions to team in general?