Is it almost time?
Ever since The Flash Season 1 Episode 1, we've been wondering if and when the comic book trajectory of Eddie Thawne would be a part of the new series.
While Rick Cosnett wasn't spoiling exactly what's coming as The Flash Season 1 returns with new episodes this week, he did tease that we may be seeing a different side of Eddie soon, which will affect his romance with Iris and his place in the world of Central City.
Also, with co-stars Jesse Martin, Carlos Valdez and Patrick Sabongui, Cosnett has started a Kickstarter campaign for a short film that the group will start shooting as soon as they wrap filming on the drama. Read on to see what the actor had to say about everything...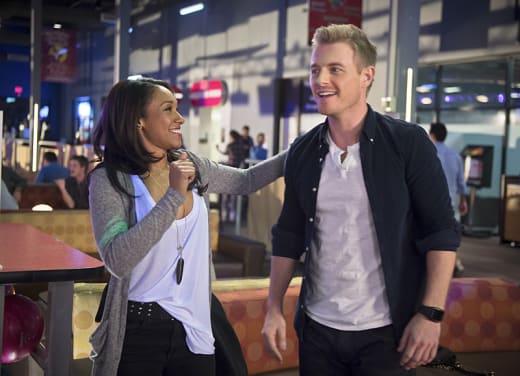 TV Fanatic: You've been asked these questions since the show began last year so let me ask will fans see a different side of Eddie soon?
Rick Cosnett: I can say that I think things come to a head and they get a lot darker including the Reverse Flash and that pans out in a very interesting way. I think everyone's been waiting with bated breath based on my name and the history of the comics. I hope they'll be satisfied. Let's just say it's going to be an absolutely crazy season finale. I get excited just thinking about it.
TVF: Do you feel as an actor that you've been challenged differently based on these last few episodes you've been shooting.
RC: I have. I've been challenged as an actor for sure. It's been very fun. I've worked with people that I haven't worked with on the show so that's been thrilling.
TVF: In terms of the physicality, are you doing more stunts and action-packed stunts than you have before?
RC: Yeah, that's been nuts! I should say my stunt double Brent has been doing some crazy ass things. I'm surprised he's alive! There are cranes and wires and, yeah, it gets pretty crazy.
TVF: For fans of Eddie and Iris, should we be concerned what's coming? Where is their relationship heading?
RC: You know, Eddie is the type of guy not to ignore anything. He's very grounded in that sense and he notices there are some feelings between Barry and Iris. He's no dummy. So they do get into deep water with that whole Barry/Iris/Eddie situation and things get a little messy.
TVF: How did the Kickstarter project come about? There's obviously quite a bit of pedigree from the cast of The Flash.
RC: There is! It came from just hanging out with all these wonderful, creative people around. It really started with Jesse Martin. It was a story originally that his aunt told him when he was growing up. Over the years, he'd developed these incredible songs. He started by writing this beautiful poem about this letter carrier, a legend that his aunt had told him about their mail man when they lived in the woods in Virginia. It's a foreboding tale and it was the most beautiful poem and he read it to me one night and I was like, 'we have to do something with it.'
He originally wanted to do a play but I've always wanted to direct film and I wanted to do a short film because I'm hopefully developing a project about Zimbabwe with an author who I've become good friends with. It's my favorite book so this is very much in the same vein. Also, what drew me to it is it's a story about people of color and we don't have enough of those stories. Growing up in Africa, we were very close to those kinds of issues and he really came up with the backbone of the story and he just made it into a ten-minute short film. He wrote the script pretty quickly because he had all the elements in place, in a way.
It's just sort of turned out to be amazing. We've got a great team together, the [Director of Photography] and the production designer…it's all come together and it's been quite stressful but it's been amazing just how many have responded and how many people want to do something for art's sake and as a passion project.
TVF: And the story is told through music and visuals, right?
RC: Yes. There's a spoken poem and they happen to use song as an expression in their world. It happened a lot in Africa when I was growing up, too. Song is such a joyous expression and also an expression of grief and as human beings it fascinates me that they use it in their little world. It's not like they start a musical number. It's more layered and interpretive and that's also the great thing about this. There's a lot of meaning about it because of the historical backdrop during the last years of slavery.
TVF: Have you picked up quite a bit about directing from the work you've been doing in television, even in The Flash?
RC: I've been shadowing the directors on The Flash and learning as much as I could. Before that, I've had experience obviously in front of the camera but this is going to be my first shot at directing and producing. As terrifying as it is, I've always wanted to do this since I was very young. In Africa, I always wanted to tell stories, I've always written and I've always had an innate instinct for doing it my way. I think Jesse and I are both on the same page and we're not really  following any rules and just going purely on instinct. We have a great [director of photography] for the technical stuff...it's also an inspiration and we want it to be groundbreaking only because we're doing it from a place of instinct and originality.
The Flash Season 1 airs Tuesdays at 8/7c on The CW.
To support The Letter Carrier campaign on Kickstarter, visit the website. 
Jim Halterman is the West Coast Editor of TV Fanatic and the owner of JimHalterman.com. Follow him on Twitter.