Toby clearly hasn't dropped his gambling addiction, but at least now he is betting on him and Happy.
In Scorpion Season 1 Episode 19, Toby was on a mission Okay, he was on several. He wanted to get a dinner date with Happy, and he also wanted to convince Walter that he likes Paige. Toby's priorities were on point.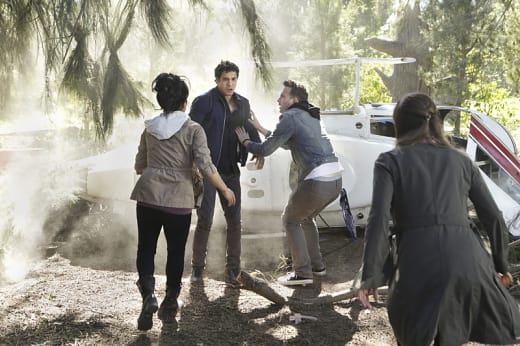 Let's tackle Quintis first. This was a believable follow up to the glorious spur of the moment kiss. Happy and Toby haven't done anything since the kiss, well Toby has annoyed Happy but that's nothing new.
There was no way Happy and Toby were going to magically fall into the honeymoon phase of dating and being in a relationship. This episode showed the two of them working out the next step by placing bets and throwing paper airplanes. If they were normal, they wouldn't be the Quintis we all know and love.
Toby's other mission featured a dry erase board of scientific proof (and poorly drawn stick figures) that Walter loved Paige. He went all out on this. I don't know what's more impressive, that Toby took the time to do all of this or that no one managed to catch him doing it. Toby is not graceful enough to be a ninja.
Anytime that Toby tries to convince Walter of his feelings, it is hilarious. Toby comes across as an adorable meddler while Walter just shuts him down. They have a fun dynamic. Toby spent a lot of time pointing out the various reasons why Walter liked Paige. It was a nice running thread. You know that if Toby saw the hand-holding incident, he would have been doing a little dance.
Speaking of Walter and Paige (Waige?), this episode was all about Walter coming to terms with the fact that Toby might be right about his feelings. Walter acted illogically multiple times because of Paige. He went against Sylvester's math for Paige. That's right, Walter O'Brien sort of chose a woman over math. It was a big deal.
His scene at the end with Cabe talking about this was a nice touch. Walter doesn't always verbalize his feelings, but he trusts Cabe and looks up to him as a father. This was very much a father son moment where Cabe gave Walter advice on love. What do you think is the next step for Walter and Paige? Hopefully Walter acts fast before Drew strolls back into town.
Sylvester was twelve kinds of awesome. Seriously, aside from the fear of being in a helicopter and it crashing, Sylvester was a BAMF. He saved Marcus' (the pilot's) life by carrying him who knows how many miles to safety. Sylvester could have easily let fear wash over him, but instead, Sylvester made sure he got Marcus out alive. That was huge!
My father comes from a world where a man is measured by how many tackles he made in high school or how many beer cans he can crush against his skull.

Sylvester
Aside from the multiple BAMF scenes, we learned more about Sylvester's family. His father was in the military just like Marcus, and it became clear that Sylvester didn't have the best relationship with his father. His father didn't view Sylvester as a man because, essentially, Sylvester wasn't a jock. There has been a need more for information on Sylvester for awhile now, and we finally got it in an unexpected way. 
We could have learned about Sylvester's dad through a conversation with someone from Team Scorpion, and there wouldn't have been anything wrong with that. Instead, Sylvester opened up to a stranger, Marcus, to someone who is very much like his father. Marcus is a gruff military pilot who views yelling as a motivational tool. Sylvester stood up for himself and proved his worth (not that he needed to).
Most of the hour featured Sylvester and Marcus at odds, but slowly Marcus began to respect Sylvester. Whether it was Sylvester saving them for the fire or that Sylvester carried him on his back to safety, Marcus came away with a very different opinion of Sylvester. A personal favorite moment was when Marcus said he would be proud if Sylvester was his son. Tell me you didn't tear up at that. 
Hikers! We're here to rescue you!

Toby
Overall, the "case" wasn't so much of a case, but there's nothing wrong with that. The hour was more character driven, and so the case needed to be pretty straightforward so that more time could be spent on the characters. One thing that was a little surprising was Cabe's mention of Walter's tracking technology that he created for Baghdad. 
In Scorpion Season 1 Episode 18, we learned that Cabe is keeping a secret from Walter about something that happened with his technology in Baghdad. It would not have been surprising if that popped up again, but it didn't. Instead, there was just the line about how Cabe thinks about Baghdad a lot. Anyone have any theories on what Cabe hasn't told Walter?
What did you think of "Young Hearts Spark Fire"?  Leave me your thoughts in a comment below! What was your favorite moment?
Remember you can catch up and watch Scorpion online anytime via TV Fanatic
Allison Nichols is a staff writer for TV Fanatic. Follow her on Twitter and on Google+.