The Big Bang Theory Season 8 Episode 17 Review: The Colonization Application

Ashley Bissette Sumerel at . Updated at .
My favorite thing about The Big Bang Theory Season 8 Episode 17 is the time spent on Penny and Leonard's relationship. Especially since it involves sexy body painting.
Sometimes it's easy to forget why Penny and Leonard actually make a fantastic couple.
A lot of the humor in the show deals with their differences. which makes sense since that's the foundation of the series. But in "The Colonization Application" we see them function as a regular couple who has grown together in a perfect way.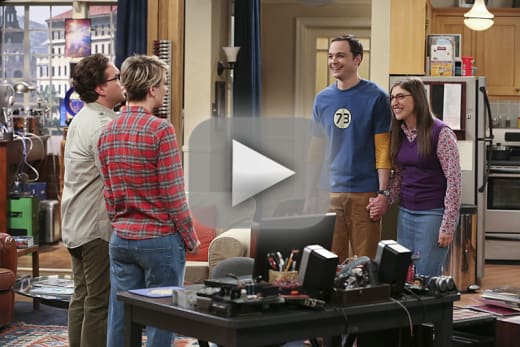 Leonard tells Penny he got her a gift for Valentine's Day that he was too embarrassed to give her. He's super shy about the fact that he went to the "dirty store" to get it, but she can't wait to see what it is.
Leonard: It comes with paints and it's kind of creative and artistic.
Penny: Okay, did you go to the dirty store, or Michaels?
Turns out, it's a canvas with body paint – for sex art. It's a fun idea and they're both excited, but the results reveal that their relationship might be too boring. Or maybe, happily comfortable. They talk more about their relationship and what they do when they spend time together, and it honestly sounds a lot like a normal, married couple. Netflix marathon? Hey, that's my date night of choice!
Leonard: And we weren't even watching TV! We were watching Netflix like the kids do!
Penny: Yeah! Is it a comedy? Is it a drama? Nobody knows!
Theirs isn't the only relationship that we focus on in this episode, though. What happens between Amy and Sheldon is actually a lot more intense.
For starters, the two have a serious announcement to make. Everything they say makes it sound like they are either getting married or having a baby, but remember, these two are moving incredibly slow in their relationship.
Amy: After a careful evaluation of our relationship. We decided that the time was right to take a step forward.
Leonard: Okay.
Sheldon: Do you want to say it?
Amy: Let's say it together!
Sheldon and Amy: We're getting a turtle!
Yep. That slow. The metaphor is so blatant, Amy even mentions it specifically in the pet store. Now, I know it's part of the humor to keep Sheldon and Amy moving at a turtle's pace, but I have to be honest, it's getting frustrating.
Of course, Amy feels the same way, and she's devastated to learn that Sheldon has applied to live on Mars. As usual, it takes him some time to catch on, but he finally decides to invite her along. For Sheldon and Amy, I'd call this a pretty big step (though they never do get that turtle). Still, this is all kind of theoretical. They do talk about their future together, so maybe we are picking up the pace.
What better way to get Sheldon to think of having kids than to mention that if they procreate on Mars, their children will be Martians?
What did you think of "The Colonization Application"? Be sure to share your thoughts in the comments below!
Need to catch up on past episodes? Remember that you can always watch The Big Bang Theory online right here via TV Fanatic!
Ashley Bissette Sumerel was a staff writer for TV Fanatic. She retired in September 2017. Follow her on Twitter and on Google+.