The Blacklist Season 2 Episode 17 Review: The Longevity Initiative

Sean McKenna at . Updated at . Comments
Want to live forever?
Immortality seemed to be at the forefront of the case on The Blacklist Season 2 Episode 17. Toss in some crazy brain experiments, a Benjamin Button jellyfish, and The Longevity Initiative, and I was certainly intrigued where the hour might go.
But clearly, not everything turned out to be what it seemed, and everyone seemed to be focusing in on their own angle.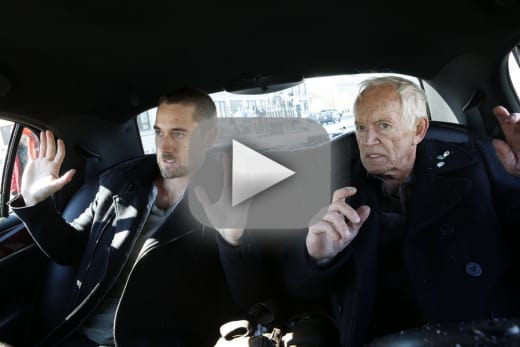 I was curious how The Blacklist would tackle something that seemed far more in the realm of science fiction, but I liked hearing some of the discussions about other scientists crossing certain lines to try and achieve success. Even the concept of the immortal jellyfish was something I'd never heard of before.
But I wasn't at all disappointed to find out that all the research and trials the doctor had been doing were unsuccessful when it came to the immortality project. He had to make up data and more, not just because it wasn't something he couldn't achieve, but because that wasn't his focus.
He was trying to help his fiancee and he needed the money in order to test his own experiments specific to her accident.
On top of that, Red was seeking out the doctor to see if he could help retrieve some of Liz's memories. Now, I really want to know just what secrets those memories hold.
It was a nice twist in the events that didn't feel like such a drastic and unbelievable turn. Though it was tragic that the doctor felt forced to kill himself because he had failed his wife.
It worked out nicely for Red, getting the man behind the Longevity Initiative to owe him a favor because he thought Red was the one that killed the doctor.
I do wonder how that will play into the series later, as I'm sure it will, especially after that conversation between Liz and Red. Their relationship hasn't been fixed, but at least Red partially was able to tell her the truth, with a little prodding from Liz.
But he should really listen to Dembe and just tell the truth.
What's more, the entire situation of giving that man the benefit of the doubt added pressure to Harold, who has suddenly felt better from the trials. Except the possibility of getting cut from that trial caused Harold not to push quite so hard when Ressler and Liz were looking to do so.
I'm waiting for Harold to be put in a predicament that he just can't morally choose to do. As much as I don't want it, I'm thinking he may wind up getting off the trial all on his own because he doesn't want to be beholden in the way that he has become.
Each request is going to get bigger.
I was glad that the Germans were back after Tom as I'd feared that the whole situation would have simply been forgotten. But Tom is once again on the run, and he finds his way to Liz's place.
Will these two reconcile? After everything they've been through? What direction is their relationship going to go?
Clearly, Liz is kind of down about everything and where she is in life and feeling like a puppet for Red. Maybe she will turn to Tom?
At least Ressler was there for her. It was a nice moment to close out for those two as he brought her dinner for her birthday. A little light shining through all the bad stuff that's seemed to be hanging over Liz these days.
This was a decent hour that had me invested. Not the greatest villain of the week, but the whole concept and the twists connected kept me interested. And I'm definitely wondering how Red will handle Tom running to Liz.
Let's just say Dembe better bring his awesome flapped-hat to that meeting.
What did you think of the episode? Can Liz and Tom start fresh? Sound off below, and dive into all of the FBI cases when you watch The Blacklist online.
Sean McKenna was a TV Fanatic Staff Writer. He retired in May of 2017. Follow him on Twitter.