Alicia took an introspective journey in "Mind's Eye," as she internally debated not only her answers to her upcoming Editorial Board interview but also her relationships with family, friends and possible lovers. 
It was a unique hour of television, to say the least.
In response, staff writer Christine Orlando is joined by The Good Wife fans from Twitter, @Donnamour1969, @pinkishk1ss, @SambaJulianna and @SarahLHW to debate the quirky format of The Good Wife Season 6 Episode 14, the appearance of "Will" and Alicia's possible romance with Jonathan Elfman.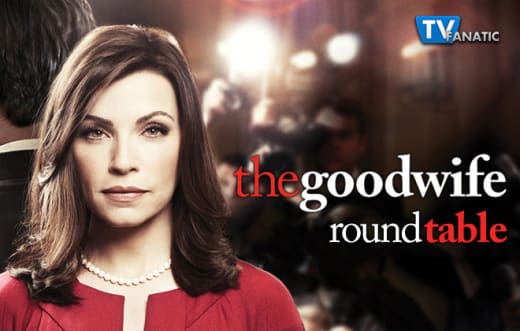 This episode had a different, quirky format as we looked into what Alicia was thinking. How did you like it? 
@Donnamour1969: I was immediately captivated by the stream of consciousness style of the episode, fascinated about how Alicia's mind works. I laughed often and thought it was especially funny how much she thinks about sex. It is rare to get this kind of insight into the thoughts of a character on a TV show. I would love to see this tried on other shows with strong leads.
@pinkishk1ss: The episode gave us insights into her complex, conflicted mind in all her personal, professional, moral and ethical aspects. It was also enlightening to see how she dealt with her morality struggles all this while. However, the fact that the whole rhythm was shot like a dream (thanks to the prophylactic drugs?), it felt like we're looking into all her subconscious, conscious and drug induced fantasies all at once, hence it was a tad confusing. It was overall a filler episode that felt strange but so much depth and fascinating at the same time.
@SambaJulianna: I was so excited to watch the episode. I wanted to know what Alicia was thinking about her life and I really liked what I watched. We had the chance to see what she feels about Will's absence and how she sees her relationship with Kalinda and how, maybe, she is not prepared to move on about the Kalinda/Peter thing.
We could see Alicia and Zack too and I really miss their relationship. I know their talk happened in her mind but at least we know what she thinks about them. The opportunity to see Alicia thinking about what is truth and how she should play with that, her worry if Grace stops her faith in God, admitting she wants to sleep with John, how she missed Will, her "hot" thoughts and calling herself a hypocrite, in my opinion makes this episode one of my favorites.
@SarahLHW:  I loved going into Alicia's mind because it gave us a little taste of how she thinks. I also kind of thought of her thought process parallel to Will's when he went through the same process in The Good Wife Season 5 Episode 10. 
Christine: It may be just me by I hated the episode. It made me feel like I was the one who had taken the cold medicine. As much as I appreciated getting some insights into how Alicia is thinking and feeling, it was so disjointed that I just wanted it to be over.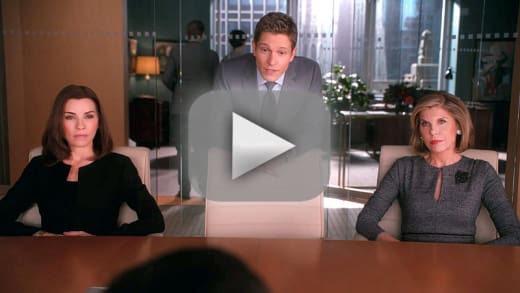 What did you think of "Will's" appearance? 
@Donnamour1969: My heart actually skipped a beat when I realized she was talking to Will. I wish they could have used the actual actor instead of a stand-in, but other than that, I loved that she still thinks of him, still loves him, still obviously mourns him.
@pinkishk1ss: Since they're doing a mind's eye episode, it was mandatory to have Will's appearance. We get to see how much longing Alicia still had over Will – as a friend, a lover and a partner. Though at the end she decided to free herself from the past when she mentioned "Goodbye, Will." So in the sense, it also acted as a closure. And, coming from a big Will fan, it was quite gratifying even though he was just a double.
@SambaJulianna: I wasn't prepared for Will's appearance and I cried because it was too painful but when I thought about that, I saw that it was necessary. Alicia needed that moment, she needed that goodbye, even knowing it hurts. She needed closure, Alicia needed to know she could try to be happy again. She remembered the balcony in New York, where she was happy with Will saying, "This is the happiest I've ever been."
I have the feeling that in her mind, her heart, he will be there. That's their place, that balcony and when she wants to see him again, she will find him right there. Talking as a shipper, too, I have to say I needed that closure. I needed to understand that Will is gone and Alicia needs to move on, but it doesn't mean we'll forget him.
@SarahLHW: I thought Will's appearance was something the fans as well as Alicia really needed. Although it was nice to hear his voice again, I would've liked to see his face. I think it was really important for "Willicia" shippers to see that through Alicia's mind because we know now that she really did love him and that she really is letting him go. Now that we see her letting him go, we know that he will always be in her heart, but at the same time we can accept her with someone else. 
Christine:  I was somewhat disappointed. Will was one of my favorite characters and it was disappointing not seeing the actor in that role. That said, I understand that Alicia needed some form of closure to move on so I'll accept it for what it was as we move forward. 
There seems to be a romance between Jonathan Elfman and Alicia headed our way. Are you for or against it? 
@Donnamour1969: I wouldn't mind if she had a fling with Elfman, because she obviously thinks about sex A LOT.  But I want her to find true love since Will is gone, and the better man for her I think is Finn
@pinkishk1ss:  At the moment, I'm still neutral, so I'll leave it to the writers and their chemistry to pan out before I judge anything. However, looking from a character point of view I think she's more enthralling when she plays this smart intellectual, strong woman who doesn't need a man to live. That was what made her so successful. On a side note, I actually crave Alicia & Kalinda's budding relationship more than any romantic arc.
@SambaJulianna:  I really love the idea of a romance between Alicia and John. I think I was one of their first shippers it started when I recognized their chemistry. John is someone new in her life, helping her in a new journey. John is the best thing for her, after everything that happened with Peter and the scandal and losing Will. Alicia needs someone looking after her and John is the right man. John understands her. He told her, "I believe in you." Alicia needs a life partner; she needs happiness.
@SarahLHW:  I'm not completely against it. But, I am a big Willicia shipper so I'm not completely for it, either. In the beginning of the season, I wanted Finn to end up with Alicia more than I wanted Jonathan because, in a way, I thought Finn was a fill-in for Will, so in my mind, Finn had to be the one who ended up giving Alicia her happy ending if Will couldn't be there to do it. 
Christine: I like Elfman. I'm not sure if I see him and Alicia in a long-term relationship. We just don't know enough about him yet but they make an interesting couple and should be a fun fling if nothing else. 
Louis Canning. Do you hope he makes a miraculous recovery or should he rest in peace?  
@Donnamour1969: I hope he recovers; I love Michael J. Fox, and how he is portraying this slimy shark of a lawyer who stops at nothing to get ahead, even exploiting his own illness. I would definitely miss him if he dies.
@pinkishk1ss:  Louis 'Cunning' is the most conniving, annoying, hypocritical, duplicitous, treacherous, evil character ever which is why he makes the most successful villain. However, I feel like his presence has approached an expiry date in the show and I would be happy if he gets written off properly – through death or not.
@SambaJulianna: That is an interesting question for me because I was kidding before the episode, talking to some friends and saying in the next episode (6x15) we would see someone dying if we follow in the footsteps of last season and if we think about his situation, maybe we should say he will rest in peace, but we never know. I should say it would be interesting if he dies, but at the same time I don't know if it would be the best thing to do.
@SarahLHW:  It would definitely be easier for Alicia if he would just go away but I have to admit, I love to hate Louis Canning. He's the perfect competition for, not only Alicia, but Diane and Cary as well. 
Christine:  As much as I love Michael J Fox, I'm over this character. Louis Canning, rest in peace.
Was there anything in "Mind's Eye" that disappointed you? 
@Donnamour1969: Just the fact that they couldn't get Josh Charles to come back for a brief cameo. I also worry about what's going on with Grace and her faith. I would hate it if they made her more like her mother in that way, but that's just a personal preference.
@pinkishk1ss: I only wished that Josh Charles would make a guest appearance in this episode. Plus it would be perfect if we can get to see the real editorial board interview itself.
@SambaJulianna:  To be honest I think the only thing that disappointed me was the way we saw Will. I mean, the silhouette they used to show us him. That was really weird. I know we couldn't expect Josh Charles (in my opinion it would be so painful) but I didn't like that.
@SarahLHW: I only cried about 100 times when "Will" showed up. Again, I would've rather seen his face and not just heard his voice. 
Christine:  As everyone else said, not having Josh Charles back as Will, even for a brief moment, was hard but as @SambaJulianna said, seeing him onscreen again may have been even more painful because this whole episode just reminded me how much I miss Will Gardner. Also ,as @pinkishk1ss mentioned, I really wanted to see the actual interview.
What was your favorite scene from this episode? 
@Donnamour1969: It was funny when she was sitting in the car with Elfman, thinking about how she wanted to sleep with him.  Also, again, the scenes with "Will" were heartbreaking.
@pinkishk1ss:  The scenes with Will. As soon as Alicia "hallucinated" about him she needed to get some fresh air. But before that she needed to go through a lift – a place that holds one of the most memorable moments for the two and it was beautifully fitting. The moment when she said, "Everything's falling apart," was equally heartbreaking.
@SambaJulianna: I think my favorite scene was the car scene in the end of the episode. I liked the way we could see Alicia looking at John and what he told her. As I said before, Alicia needs that and I was happy watching Alicia thinking about happiness and maybe love again.
@SarahLHW:  My favorite (also least favorite) scene from this episode was when Alicia told Will goodbye. She finally admitted she loved him but she was also letting him go at the same time. :(
Christine: I really liked Alicia contemplating the questions from the Editorial Board. I was looking forward to how she would respond when we got to the actual interview…unfortunately we never got there.
Don't forget to check back on Sunday night for our review of The Good Wife Season 6 Episode 15 and if you can't wait until then, you can always watch The Good Wife online now right here at TV Fanatic. 
C. Orlando is a TV Fanatic Staff Writer. Follow her on Twitter.