Chicago Fire Round Table: Another Departure
Paul Dailly at .
Mills has left the building, but might he return?
Yes, Chicago Fire Season 3 Episode 20 gave the beloved character a low-key exit, but could Firehouse 51 really have survived another death? Probably not.
Below, TV Fanatics Stacy Glanzman, Mary Kate Venedam and Paul Dailly are joined by super fan Ann. Jump in as they discuss that shocking exit, Dawson's feelings and their hopes for the new paramedic...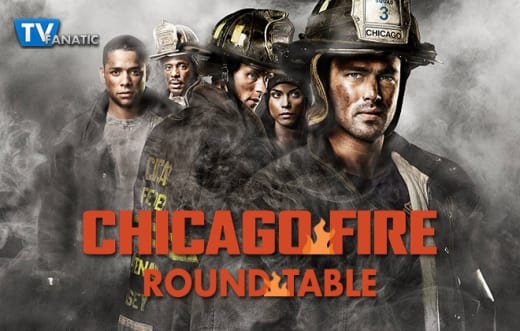 Say goodbye to Mills:
Stacy: First Shay, now Mills? What is this show doing to me? Two of my three favorite characters (Severide's still my favorite) are now gone and if I'm being honest, I was already losing interest in the series this season compared to the first two. This is not going to help. At least they didn't kill him so there's a chance he could be back.
Ann: I think that when his Mother and Sister showed up and told him that they were going to North Carolina, the look on his face was a dead giveaway. He wants to be with his family and when it comes down to it, that was the way he would go. I like Mills, I wish he was still on board with Squad 3, who knows he still might be later on. He left 'carrying all of 51 with him' as per Boden. Matt Olmstead, you guys really are screwing up taking this character away.
Mary Kate: Mills, I hardly knew 'ye. As a newish fan, I've only had the pleasure of getting to know him over this last season. Based on the reaction, his absence will be felt by all of Firehouse 51. Even though he was back on squad, I'll really miss his interaction with Brett the most. Just by their farewell, it was obvious how close they became during their time together. They were a good team.
Paul: Mills, you were a fantastic addition to the team. I don't quite understand your reasoning for leaving, but you followed your heart. Might Dawson's heart follow you to North Carolina? Possibly.  Hopefully you pop up again in a few seasons.
Does Dawson have feeling for Mills?
Stacy: I definitely think she still cares for him, but I don't think she has the same feelings for him that he has for her. She's in love with Casey and I think she was more surprised by that kiss than anything.
Ann: I don't think so, as a friend maybe, but he kissed her not the other way around. I think she was a little taken aback that he did that. Dawson is totally in love with Casey and I hope that will become some part of the season.
Mary Kate: She looked confused more than anything. The kiss came out of nowhere so I certainly was confused when it happened. I don't think Dawson has feelings for Mills. Whatever she felt (could feel) with the kiss, would probably be more out of nostalgia than actual present feelings.
Paul: I'm unsure of how strong her feelings for him really are. She's spent so much time hung up over Casey that her feelings for anyone else are being clouded by that.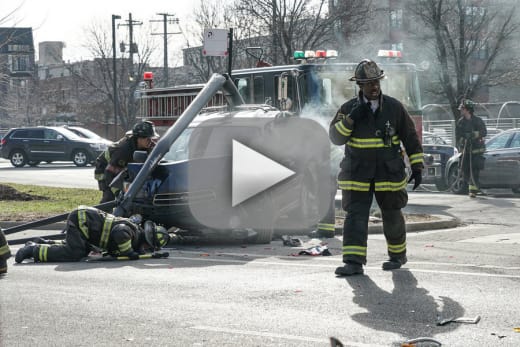 Do you like Dawson better working with Brett, or as part of squad?
Stacy: I preferred Dawson as a paramedic to a firefighter. Plus, if she went back to ambo it would make things much less complicated between her and Casey. It's not going to happen though, she worked too hard to become a firefighter and that's where she wants to be.
Ann: I think I like her working better with Brett because those are her roots, so to speak. She cut her teeth on 61, she fits there pretty much like a glove, she went right back into the Ambo in my opinion. I think she was having second thoughts about being a firefighter when that car caught on fire around her. But that is just my opinion.
Mary Kate: I like the friendship between Brett and Dawson, so I'll take more scenes with them anytime. Obviously. she is new to squad, but she has such a good handle as a a paramedic, I wouldn't mind seeing her work with Brett for a while. They would definitely work well together.
Paul: Dawson belongs in ambo! Well, she doesn't believe that, but I do. She and Brett together is very interesting to watch and I hope we get to see them together more going forward.
Were you going bananas trying to figure out what the guy said?
Stacy: Not really. I knew they'd eventually reveal it, so I wasn't spending any time trying to figure it out. I figured it would tie into Mills' decision to leave.
Ann: No not really, I didn't think it was that important. He was a victim of circumstance that they just took care of. It was a sad thing that he lost his wife but from his prospective he really couldn't do anything about it.
Mary Kate: Not really. It was confusing, but it was more entertaining to watch everyone figure out what he said, rather than thinking about it myself.
Paul: I was. I wanted to know what the heck happened to him straight away.
What are your hopes for the new paramedic?
Stacy: Someone that brings something new to the table and fits in with the rest of the cast.
Ann: First of all Matt Olmstead said it would be a girl. So maybe someone who could shake the firehouse up a little. Somewhat like Shay did at first. That was awesome. Someone who will be able to be a puzzle piece fit. I would like to see someone like Dawson, sorry but her and Brett are a perfect pair, I don't think that will happen. Who knows maybe or maybe not. Someone exciting, vibrant and knows her way around an ambo.
Mary Kate: I hope that whoever it is meshes well with Brett. Like I said, the partnership between her and Mills was great, I would hope that that could happen again for Brett.
Paul: I hope that she and Brett get on well and have fun with their job. Hopefully the newbie isn't too serious.
Remember you can watch Chicago Fire online, right here on TV Fanatic. Get caught up on all the drama now!
Note: Chicago Fire Season 3 Episode 21 airs on Tuesday April 28 at 10/9C. Don't forget it's crossover week. Three worlds collide when Law & Order and Chicago PD join in the fun.
Paul Dailly is the Associate Editor for TV Fanatic. Follow him on Twitter.