Chicago Fire Round Table: Should the Spinoff Go to Series?
Paul Dailly at .
Did Chicago Med live up to the hype?
That's one of the main questions on the minds of the Round Table participants this week after Chicago Fire Season 3 Episode 19 featured the backdoor pilot of the proposed medical spin off. It was full of high octane action, but did they choose style over substance?
TV Fanatics Carissa Pavlica, Stacy Glanzman and Mary Kate Venedam are joined by super fan Ann. Join in as they discuss that Dawsey hook up, the big medical disaster and whether the spin off would be a good idea.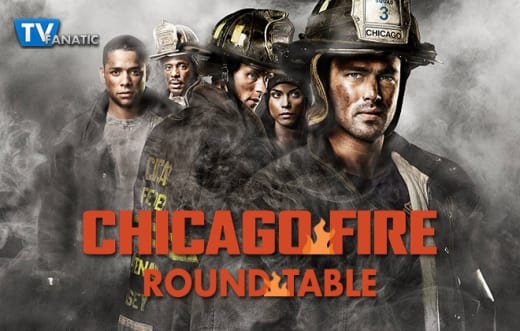 React to that Dawsey hook up.
Carissa: Huge mistake. It's definitely on a reaction to the stress and it's inevitable that only one of them will realize it and there will be another round of heart break. Just ugh. It would be better if anyone actually liked them together, but does anyone? Has anyone bought into their big, epic love story? I think not. They're better apart. Move on.
Stacy: I honestly don't care about this relationship one way or the other. I still don't think they have great chemistry, but it's obvious the writers plan on having them end up together, so I'd just like them to stop going back and forth. If the hook up means they're back together, fine, but I fear we're in for several episodes debating if this was a mistake.
Ann: WOW, I think that even though she said it was only because of the 'stress of the day', what happened between them, is that are they going to be back to being Casey and Dawson again? But I want to say in reality they are just going to be sex partners for a while before anything major happens with their characters if it does.
They both still care about each other and it shows from the looks between them at the bar and where they ended up. I believe that it will happen, just at a slower pace this time. I am happy for them if that is what they really want. I am still holding out for Tommy Welch and Gabby Dawson, but hey that is just me.
Mary Kate: Not a good idea. If they weren't already confused about their relationship, this certainly won't make it better.
What did you think of the medical disaster?
Carissa: The bio portion of it was ridiculous. The hospital portion was much the same as every other peek inside Chicago Med and it's clear that joint needs better security. How many times has a bomber gotten that close? At least twice, the other being during the marathon. That it happened twice is horrendous. However, I really like Oliver Platt, and if they decide to focus on psychos, I'll watch.
Stacy: I wasn't into it. Like Carissa said, it's ridiculous they've had two bombs go off in the hospital already. We all knew the main characters weren't going to all end up infected with a disease either, so it didn't ever feel like the stakes were high.
Ann: It was an okay story line. All of the fast paced Chicago Fire we have been used to in the past was back. I liked it where they kept their heads and didn't get crazy with all that happened in the hospital that day. Severide, what was he thinking jumping in front of a live grenade? His instincts just took charge and he dove for it.
I thought the epidemic was handled with aplomb but the people milling around looking lost ummm not so 'it' but was still good, scary for the people in the ER. Still not sure about Will Halstead yet; thinking that he steps back and assess the problem, he looks like an awesome doctor. My opinion.
Mary Kate: It was intense. But like Carissa said, what is up with the security at this hospital?? I thought the story would've been good to have more of the Chicago PD crew apart of it. We did get to see the Chicago Med group in a big situation right off the bat.
Are you over Shay being constantly brought back up?
Carissa: Yes. They made a terrible error and unless they're going all Days of Our Lives on us and bringing her back via the long lost twin route, it's time to move on. The characters can remember her in their heads and in casual conversation, but the time for video flashbacks is over.
Stacy: Yes and no. I love Shay and every time I see her or they bring her up, it makes me mad all over again that they killed her off. However, it was sweet that Severide was thinking of her while he was unconscious.
Ann: Shay was a big part of the all lives of 51, but especially Severide she was his best friend and then she showed up in his memory, she will always be there. So I will say no, Shay will always be brought back into the memories of all of the house they have an ambro named after her.
Mary Kate: Yes. I think for newer viewers, like myself, it just causes too much confusion to have this character be shown and brought up constantly. I think they should've said goodbye to her story after they got the arsonist. That would've been good closure.
Do you think it'd be a good idea for Chicago Med to go to series?
Carissa: Probably. It's a natural trifecta. There is always going to be a need for medical personnel between CPD and Fire, so let's just get 'er done. Remove poor Laurie Holden from the equation. Who thought she would've shot Severide between the eyes if he'd have died on the table? Shes just not a great addition to any series. Oliver Platt, as I mentioned, is great. I also like the woman who appears to be the Chief of Staff (played by S. Epatha Merkerson), so she'd likely bring a lot to the table.
Stacy: I'm not feeling it. The characters aren't resonating with me and I was bored for most of the episode. I like Fire and PD and I think a third show would be overkill.
Ann: I personally think that Chicago Med would make a great spin off to be added to the Chicago family. It has the potential for yet another great program. They could call it 'The Chicago Trilogy' Fire, PD, and Med. Tuesday, Wednesday and Thursday nights.
Mary Kate:I like the idea. One more spinoff and it may be overkill, but the idea makes sense. I really like that they are including Will Halstead, Jay's bro from PD, and Severide's friend, April. We didn't have a chance to meet other characters as much, unless you count Oliver Platt's character, who I was a fan of. Put simply, if it goes to series, I'll probably be watching.
Does Severide really not remember what happened?
Carissa: Judging by the look on his face as he rolled over, he remembers. Or, he wishes he had gone off with Shay into the great big light beyond. Heck, who can blame him the way they're making him remember her all the damn time?
Stacy: I think he remembers, but this is his defense mechanism. He's always been kind of guarded and closed off rather than the type to open up.
Ann: With Shay being intertwined into the picture in his memory, I think maybe he might have deliberately blocked out what happened so he grabbed for Shay at the time. It could have been that he wanted to join her, but it just wasn't time for that yet. I am sure it will come back to him sooner or later. Along with his feelings for April.
Mary Kate: I feel like if they made a point to show Shay, Severide remembers something. How that affects him will be interesting.
Remember you can watch Chicago Fire online, right here on TV Fanatic! Get caught up now.
Note: Chicago Fire Season 3 Episode 20 airs April 21 at 10/9C on NBC.
Paul Dailly is the Associate Editor for TV Fanatic. Follow him on Twitter.