Gotham Season 1 Episode 19 Review: Beasts of Prey

Sean McKenna at . Updated at .
Gotham's return from what felt like a very long hiatus didn't waste any time in moving things right along as if Gotham Season 1 Episode 18 was just last week.
In fact, Gotham Season 1 Episode 19 touched on a majority of the key characters on the series and saw many of them making some big moves.
Unfortunately, not all of the stories were equally entertaining.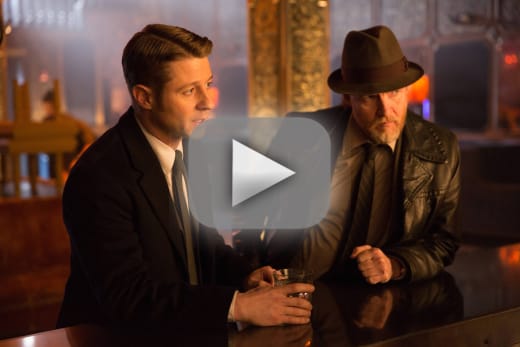 The most engaging was Jim Gordon tackling what could be his toughest and most dangerous case yet.
It certainly started off like a simple case of the week, but the purpose behind him taking the murder case was far more sinister and connected to a larger ongoing story: his battle with Commissioner Loeb.
Turns out, their "agreement" didn't exactly hold, and Jim was set up in the hopes that the serial killer known as the Ogre would track down Jim and his loved ones and kill them all. Its what the Ogre had been known to do to police who investigated him before.
But true to Jim's character, he couldn't back down (not even with Harvey urging him to drop it). Not only was he unwilling to stop investigating, but he made it clear to the commissioner that he was coming after him next.
Jim is definitely on a mission. Whether he succeeds in all his goals is an entirely different matter, but I like that he seems to be going up against something of a challenge.
And the Ogre is one sadistic and scary bad guy for the series. There's clearly something wrong with him and his desire for unconditional love, but I enjoyed seeing him play the charming and caring date before transforming into the angry and crazy date from hell.
Milo Ventimiglia may not be playing a hero this time around, but he's doing a great job as a villain. I'm really curious to see how his character plays out (and how long he sticks around), but I think he will be a good adversary for Jim to face.
I did enjoy seeing Bruce try and play detective to find Alfred's attacker. It's good to see that determination in him, especially in trying to help his friend.
I became a bit wary, though, when it turned into the adventures of Batkid and Catgirl. And I know that Reggie was struggling with his "vices," but to be bested by two kids?
If Reggie was able to stab one of his best friends so easily, why did he not even attempt to do anything to Bruce or Selina (people he doesn't really know) except to tell them that he was going to tell on them? And then to bumble around with half his body out the window?
It just felt like an easy way for Selina to be "forced" to kill him, to keep Bruce from doing so… because Batman doesn't kill. At least they got some info before he took a dive from the window.
On the flip side, I wasn't really interested in Oswald's mission to get a bar and cut off some musician's fingers. It felt like such a waste, especially because I've enjoyed his character.
However, the end result was a nice turn in revealing that he has a plot to try and take out Sal Maroni, and it involved that restaurant. OK, there's the Penguin I want to see!
But it was Fish's story, a story that seemed to take up more time than the others in the episode, that I liked the least.
I still don't get why the Dolllmaker ever partnered with Fish in the first place, but her side story has felt so far removed from what's going on in Gotham that unless you are a Fish fan, her scenes just seem irrelevant to everything else going on.
Her setting up the other prisoners felt obvious, and when the gate opened to allow her friends to attack the Dollmaker, it wasn't some big shock.
Granted, her getting shot as she escaped was a bit of a surprise, but I'm sure she'll be all patched up in Gotham Season 1 Episode 20.
I guess at least she finally escaped the island, but I just haven't cared enough about her story. I was far more interested in getting back to Gotham.
I definitely appreciated that some major actions and decisions took place for all the characters during the hour, but some were clearly more interesting than others. If anything, I'm intrigued by the Ogre storyline and looking forward to seeing how Jim tackles that situation.
What did you think of Gotham's return? What did you think of the Ogre? Sound off below, and if you've missed any episodes, you can watch Gotham online right here at TV Fanatic!
Sean McKenna was a TV Fanatic Staff Writer. He retired in May of 2017. Follow him on Twitter.