Well, Grey's Anatomy. You've done it again. You've ripped out our hearts and made us ugly cry more than anyone should ever admit.
On Grey's Anatomy Season 11 Episode 21, we finally find out where Derek disappeared to.
Heads up, if you don't want spoilers (and have managed to avoid them until now) stop reading and go watch Grey's Anatomy online! Then come back to read the rest.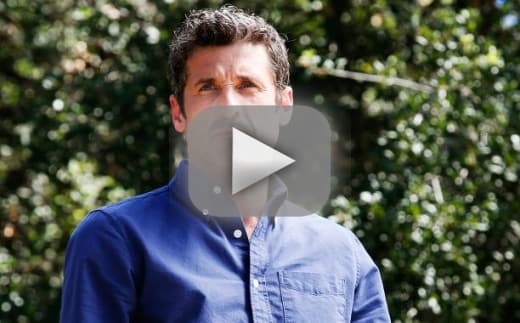 Much of this episode is, actually, pretty hopeful. Derek witnesses a car accident on the way to the airport, but he isn't involved. Instead, he's the one who comes to everyone else's rescue, with heroic acts like pulling a teenager away from an exploding car and literally putting a young girl's insides back inside of her body.
Still, there's something about it that doesn't feel quite right. There are no shots of the other doctors back at the hospital. The entire focus is on Derek working to save these people.
He's also just a little too perfect, and the sun is shining a little too bright.
Help arrives, and all of the car crash victims are taken away to the hospital. Derek gets in his car, pulls into the road, and then stops to look for his phone. He looks up just in time to see a truck smash into him. Oh, the irony.
By the way, this isn't the first time searching for a phone in a car has proved to be a bad move on Grey's Anatomy. Remember back on Grey's Anatomy Season 7 Episode 17 when Callie took off her seatbelt to retrieve her cell phone? No, that didn't go well then, either.
The most tragic part of this entire episode is hearing all of Derek's thoughts, and knowing there is a chance for him to survive. What a terrible stroke of luck Derek is taken to some small hospital rather than Grey Sloan Memorial. He's taken somewhere the doctors don't seem to know what they are doing at all.
One of the best neurosurgeons in the country, from one of the best hospitals, gets poor treatment when he needs it most. I can't even.
We hear Derek's thoughts as he listens to the doctor's plans, and he knows they are doing the wrong thing. In his mind, he shouts for a head CT, but he is unable to speak, completely helpless and at their mercy. It's even more tragic when he realizes that it's too late, and that he is going to die.
It's too late. You're too late.

Derek
It's almost inconceivable that a show would kill of its male lead, but Derek's character is honored in the best possible way. The entire hour focuses on him, both in the present as he shows his skill as a doctor and a compassionate person, and also as he talks about his life – and his wife.
The first time I kissed my wife, she wasn't my wife then, she was just this girl in a bar. But when we kissed, it was like, I gotta tell you, it was like I'd never kissed any other woman before. It was like my first kiss. The right kiss.

Derek
Cue the flashbacks. As Meredith learns the news of Derek's accident, we see their story told in the most beautiful way, all while playing some of the most iconic songs we've ever heard on the show, including a rendition of "Chasing Cars" and "Today Has Been Okay."
Really, if these scenes weren't emotional enough, play the music that reminds us of all the other terrible things we've seen on Grey's Anatomy.
She arrives to see Derek, just as she's seen him before in her dreams. It's no coincidence that Derek dies this way. Deep down, she always knew he would. Back on Grey's Anatomy Season 5 Episode 1, Meredith had just committed to Derek, only to begin having nightmares of his death. The nightmare was much like this one – Derek had been in a car crash, his head was bandaged, and there's a tube down his throat.
One of the reasons Meredith was afraid to commit to Derek in the first place was because she was afraid of this kind of loss. Something in her has always been "dark and twisty" and has always seen these kinds of things coming. Now, she has to make the decision to pull the plug on her husband. Somehow, she manages the strength in all of it to give an inspiring speech to Derek's doctor. Then, she has the strength to tell Derek he can go in peace just before the nurse pulls the plug.
Derek, it's okay. You go. We'll be fine.

Meredith
Derek has been largely absent this season, missing from several episodes entirely because of being in D.C. In that time, Meredith has managed to learn she's a better doctor without him around. I think it's going to be interesting to see not only how she copes with losing her husband and being alone once again, but also how all of this affects her career.
Even though I can see Derek's death offering some interesting possibilities for the show, I'm beyond heartbroken. That ugly crying I mentioned before? You can bet I was a blubbering mess. We've seen tragic deaths and lost beloved characters, but never quite like this. I don't think I'll ever get over it.
Next week's episode is also going to be a tough one, so make sure you have your tissues handy for Grey's Anatomy Season 11 Episode 22, which will be a two-hour special.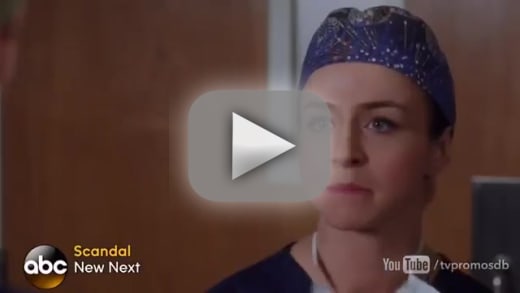 What did you think of this episode of Grey's Anatomy? Are you surprised, or did you see this coming? Share your thoughts in the comments below!
Want to relive the best MerDer moments? Now may be a good time to watch Grey's Anatomy online right here via TV Fanatic.
Ashley Bissette Sumerel was a staff writer for TV Fanatic. She retired in September 2017. Follow her on Twitter and on Google+.