Jay Pritchett has come a long way.
On Modern Family Season 6 Episode 20, Jay agrees to fill a space for Cam's bowling league, only to learn when he gets there that he must pretend to be gay to be a part of it.
These are my favorite kinds of stories for Jay. I love seeing him break out of his comfort zone, especially as he becomes more and more open-minded. It's not that he's every been un-accepting of Cam and Mitch, necessarily, but he has always had his reservations. Mostly, their world is one that has often made him uncomfortable.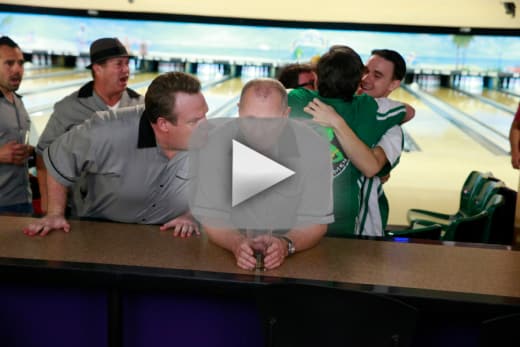 Still, he's had his moments, attending social gatherings with Cam and Mitch's gay friends, and finally agreeing to walk to Mitch down the aisle at his wedding. In "Knock 'Em Down," Jay is much quicker to agree to pretend to be gay than I would have imagined – and certainly more so that he would have been earlier in the series.
At first, Cam tells Jay he can just be himself, but when Cam's rival, Martin, questions whether or not Jay is actually gay, Jay has to step up his game. He's willing to play the part, even jumping up and down and offering a good finger snap after getting a strike.
Cam: Woo! That's the real Jay!
Jay: You know it! [snaps finger]
He seems to be having fun with it. Later, he even manages to use the situation to boost his own ego, asking Martin his opinion on his Costco card photo.
Jay helps the team win the trophy, but as he sees Martin looking defeated – mostly because Jay had turned him down for a date – Jay decides to cheer him up. It's this moment that, unfortunately, negates so much of what I enjoy about the episode overall. Jay doesn't seem to realize that just because they've been handed the trophy, he shouldn't just tell everyone he's been lying all along.
He tells everyone that he is actually straight, naively commenting how hard it is for him to admit it, and how good it feels to finally admit who he is.
Meanwhile, Gloria and Mitch have agreed to go clubbing with Haley, but they have no idea what they are getting themselves into. Despite their best efforts, they pass out on the couch before it's even time to go to the club. Both of them want to prove they can hang, but the simple fact is, they aren't in their twenties anymore, and those clubbing days can only last so long.
Haley: I hope I can be as cool as you guys in 30 years.
Gloria: Does she think we're fifty?
Mitch: No, she's just really bad at math.
My favorite part about the whole scenario is that Haley is actually able to invite her uncle and her step-grandmother (or however you want to refer to Gloria) out drinking and partying. In fact, much of Haley's partying these days involves her family, whether it's a 21st birthday celebration that includes her mother, or a music festival with her baby sister.
These aren't unheard of ideas, but I wouldn't say they are common either. It says something about the close relationship she has with all of them that they can share these experiences, and it may also be another way we can define this family as a "modern" one.
What did you think of this week's episode of Modern Family? Share your thoughts in the comments below!
Need to catch up on past episodes? You can always watch Modern Family online right here via TV Fanatic!
Ashley Bissette Sumerel was a staff writer for TV Fanatic. She retired in September 2017. Follow her on Twitter and on Google+.