Let me just wipe away these tears.
You can easily say New Girl Season 4 Episode 21 is essential based on the fact it sets up next week's season finale perfectly. They easily put all the major storylines in play and set up a nice goodbye for our resident hot-head, Coach, whom I'm going to miss, but who was unfortunately not utilized enough this season.
Let's talk about tonight's wonderfully hilarious episode of New Girl.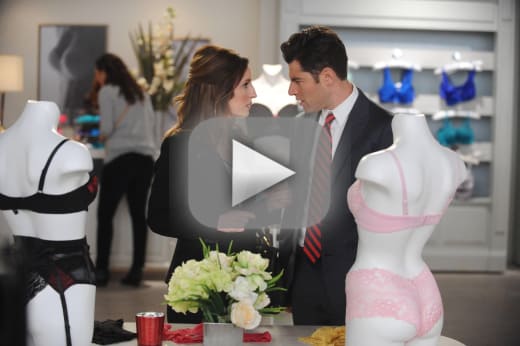 Jess, Nick, Schmidt and Winston bickering about Coach and May's fight was brilliant and reminded all of us just how great this group is together. Winston being more concerned with his waffle getting hard was definitely the highlight of their heated discussion.
Cece, please don't turn into one of those women who gets advice from books proclaiming you need to go out and find yourself. It's unfortunate they have made Cece insecure and way more vulnerable this season; though the Schmidt and Cece moments were shockingly really sweet and I found myself wanting them back together.
You have to admit Jess was pretty on point when it came to the various couples on the show. Jess knows from being around Fawn and Schmidt that they aren't going to last because they don't love each other. Can we please have more of this rational Jess who has the quirky personality, but still maintains a sense of reality? 
Coach's meltdown in his classroom while Jess was observing his class was probably the funniest thing this season.
The only thing I found odd about this whole meltdown was his strong feelings for May, considering the show never really explored their relationship and didn't develop it, but apparently he has fallen hard for her and the audience is supposed to understand his feelings.
Schmidt taking the fall for Fawn's indecent exposure didn't come as a huge surprise considering the crazy relationship they have; though I could easily watch an entire episode dedicated to Schmidt's improv group from when he was a chubby little kid. 
Speaking of Schmidt, even though he can be a complete douche at times, you can't deny his breakup with Fawn was rather sweet. He knows they aren't good together and they don't love each other, but he still took the time to make the breakup be all his fault for the press to see – Schmidt really has proven he can be a decent guy.
In the end, Coach decided to move to New York with May and made the most awkward declaration of love I have ever seen on TV; though the best scene of the night happened at the very end of the episode when the friends with bickering and eating pizza, reminding us how special their friendship is.
Next week on New Girl Season 4 Episode 22, Coach wants to make a clean break and not get sentimental when moving to New York. Schmidt makes a decision about his future. Nick and Jess reminisce about their relationship and make a decision about where they go from here and someone makes a triumphant return. A word of warning, get your tissues ready.
You still have time to catch up before the finale next week. Go watch New Girl online now via TV Fanatic and let us know what you think in the comments below. 
Samantha McAllister was a staff writer for TV Fanatic. She retired in November 2018.