Stalker Season 1 Episode 18 Review: The Woods
Paul Dailly at . Updated at .
Stalker is finally back y'all.
Not that we were counting down the days to the return or anything. Stalker Season 1 Episode 18 picked up where we left off before that lengthy and annoying hiatus. Beth was still in the presence of Ray, and his level of craziness reached new heights.
Much of the hour was spent with the two of them in the cabin and it worked really well. It was interesting that Ray claimed he set the fire in her family home so he could be declared a hero. Yeah, because it's that easy. He's obviously had an abnormal crush on Michelle Beth for a long time, but some of the things he said were just too far.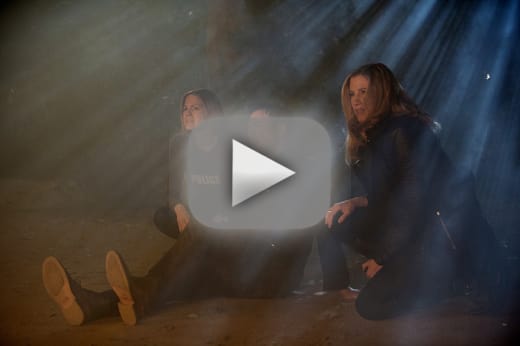 We got to see some layers to their relationship we never thought we'd see. They spoke about the past, all while Beth was getting ready to make her getaway. One thing that seriously bugged me was when he initially went out to the car and she went into the toolbox, he was standing right in front of a window facing her, but opted to not check on her.
I'd like to believe that he's dead, but my gut is telling me that he will pop back up in the future if we continue past Stalker Season 1, which given the way CBS has treated the show is doubtful. I have been looking out for the return date since the show signed off in February and was ecstatic when I got the news it would be returning May 4. You can only imagine my surprise when the TV spot for this week's episode confirmed it started tonight.
The whole final act with the FBI trying to locate the team was extremely tense. Mira Sorvino is a fantastic addition to the cast and her character of Vicki Gregg really brought it tonight. She knew that Jack and Janice would head off on their on solo missions, so she sat tight and waited for the call with backup.
I really wanted Jack or Janice to find Perry's body in the car. For Janice, it would have been a powerful scene considering the way he tormented her. She may not have wanted him dead, but it would have been some closure for her.
We can't forget that Ben survived! It would have been interesting if the show actually went there and killed him off, but it would destroy Beth if he died. Heck, you saw the way she was acting at the hospital.
Based on the promo for Stalker Season 1 Episode 19, we have two episodes left and it looks like we are in for a treat with what could potentially be the end of the show. The fact that it was scheduled against Kevin Williamson's other show, The Following, which targets a similar audience, speaks volumes about CBS has planned for the show. That, and the near 10 week hiatus for the final three installments. 
"The Woods" was a welcome return for this CBS freshman drama. Everything just fell into place and the hour kept me on the edge of my seat. This show really is engrossing and I can't wait to see how it ends.
Other tidbits from the episode:
Jack and Janice teaming up was awesome. The two characters work really well together and I hope we see more of it.
Will Beth be able to move on now that Ray is gone? She's been holding onto her past for so long now that she will probably always have a feeling of dread that Ray could show up at anytime.
Where was Amanda? It would have been good to check in with her.
Remember you can watch Stalker online, right here on TV Fanatic. Get caught up on the action now.
Note: Stalker Season 1 Episode 19 airs Monday May 11 at 9/8C on CBS.
What did you think of the episode? Is Ray really dead? Will Beth be able to give up her fears? What was your favorite part of the hour?Hit the comments below.
Paul Dailly is the Associate Editor for TV Fanatic. Follow him on Twitter.