E-mail is forever. Once it's out there, it never truly goes away and almost anyone may eventually be able to read it. That's the hard truth that was following Alicia in The Good Wife Season 6 Episode 18. 
Once the campaign painted her as "Saint Alicia" they pretty much set her up to be torn down. She hasn't even taken office yet and the reporters are already lying in wait. 
Alicia seemed more than willing to come out about her affair with Will. She didn't want to lie, especially about him, but she was the only one who saw it that way. I thought that labeling those emails as a "flirtation" was stretching things to the extreme.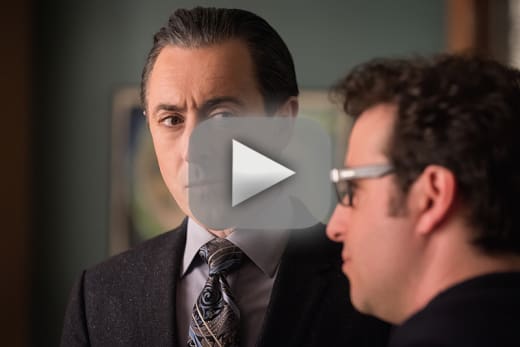 However, it was refreshing to see Alicia and Peter sit down like grown ups to discuss her strategy in this The Good Wife quote…
Peter: You have to control the narrative.
Alicia: To keep me from looking like the slutty wife?

Yes, because apparently being the husband who fooled around with hookers is somehow easier to forgive. However, I did love Peter's interview with Petra. No one can dispute that the man is the master at spin and the verbal smack down. 
Have Alicia and Peter finally gotten past the anger and the jealousy? For today at least, and I do love seeing these two working together. No matter what their personal relationship, they make a formidable team and this time it was a part of Eli's two pronged attack…
Eli: OK. Strategy session. Two pronged attack.
Marissa: Oh, I love the two prongs. Even as a kid we had two pronged attacks.
I can't even imagine growing up with Eli as a father where everything is a strategy session… but I digress. Unfortunately, that two pronged attack wasn't ready for a sharp left turn into voter fraud territory.
Elsewhere, Diane and RD argued the timely case of religious freedoms vs. discrimination and this represented one of the reasons why I've always loved this show – how it can take two opposing view points and argue them intelligently. Granted, their arguments didn't change my mind on the issue, but I appreciated that it made me think about it from different points of view.
If the show can continue to pit RD and Diane against one another in these brilliant, creative, and civilized debates, then I hope Olivier Platt sticks around for a good, long time. 
Was Diane wrong to bring in RD's nephew? I didn't think so. He obviously wanted to be there and RD had pushed her to "go for the jugular." You don't say that to Diane and not expect her to pull out all the stops; this one being to put a personal face on who this case would affect the most. 
The law is suppose to be fair, not impersonal. In fact I would argue that the law is always personal. It has to see the human side too or else it's meaningless.


Diane
Finally we get to Kalinda. Did Howell's "help" take her down or did Wiley already know it was her when he called Howell in for an interview? In the end, it doesn't matter much now. Wiley knows the truth. Can he prove it or is it only a matter of time before the truth comes out? 
Can Finn help Kalinda, and Diane who doesn't even know she's in trouble? Check back next week for our review of The Good Wife Season 6 Episode 19 and if you can't wait until then, you can watch The Good Wife online here at TV Fanatic.
C. Orlando is a TV Fanatic Staff Writer. Follow her on Twitter.