Blue Bloods Season 5 Episode 22 Review: The Art of War

Christine Orlando at . Updated at .
My first thought during Blue Bloods Season 5 Episode 22 was, how was Linda not shot? Especially since Curtis emptied the entire clip into poor Hector with her standing in front of him. All I can say is that it must have been one heck of an adrenaline rush to keep her on her feet that long after taking two bullets to the back. 
This was an excellent season finale with well paced drama and action from beginning to end.
The tension in every moment felt real, from Baez yelling, "Move! Get out of the way! It's a police siren" at other cars as they rushed to the hospital to Danny trying to fake out the hospital staff to get to Linda as she was rushed into surgery.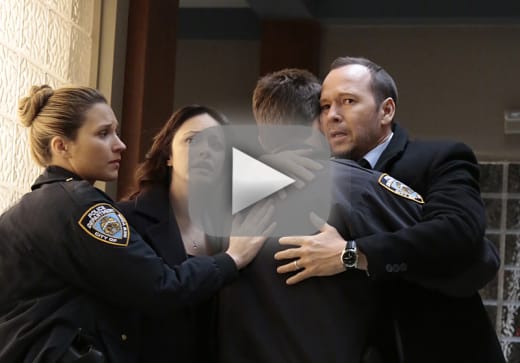 As a matter of fact, Danny held it together much better than I expected. Despite Erin's misgivings, he kept focused on the case…but he was still Danny.
I couldn't really disagree with his assessment when he explained to Curtis why Erin was sitting in the interrogation room in this Blue Bloods quotes…
Assistant District Attorney Erin Reagan. You know why she's here? To keep me from snapping your neck.

Danny
Curtis did just shoot his wife so the feeling was definitely justified. It was actually Erin I took more of an issue with. When Danny arrested all of the gang members in the park, she couldn't get on the phone fast enough to tattle to Daddy. That may be a harsh assessment but that's how it felt.
I'm not always Danny's biggest fan but I was relieved when Gormley showed up and defended his actions. 
My only disappointment in the episode was how little screen time was devoted to Jamie but he made the most of what he had. He successfully mediated another procedural spat between Danny and Erin by showing them the best way to get the warrant they needed.
In some ways Jamie is the best of the Reagans because he sees both the letter of the law and the reality of the streets. 
After spending most of this season in a funk, Frank seemed to get some of his mojo back. First he played hardball with Curtis' mother by strong arming her into giving up his location after Linda was shot.
Then he used Chief Kent's love of reading to find inspiration to break the case and he encouraged Danny to take a page from Kent's book in more ways than one…
He just didn't make good collars, he tied them up in neat little bows. It's time you learned to gift wrap.

Frank
Danny took the lesson to heart by using the Warrior Kings enemies to help take them down. Also, his plan to get Curtis to confess by making him think the Kings had beaten his mother was ingenious.
Finally Frank went to the prison to wipe the smirk off of Clinton Wallace's face and explain how he'd be moved to the Federal court system where, unlike the state of New York, the death penalty would be on the table. Frank also assured him that they would meet again…
But I'll see you again, Mr. Wallace, at the execution chamber at Terre Haute, I'll wave to you through the observation glass.

Frank
Moments like these, I really love Frank Reagan. 
We never did hear the verdict about Linda's second bullet. We only know that she'd be doing Sunday dinners via speaker phone for a while. Unfortunately, at this time, CBS has not yet announced whether it will be renewing Blue Bloods for a sixth season. I certainly hope they will.
This has been it's strongest season yet and I'd love to continue spending my Friday nights (and imaginary Sunday dinners) with the Reagan family.
Check back next week for our Blue Bloods Season 5 report card and if you can't wait for more, you can always watch Blue Bloods online right here at TV Fanatic.
C. Orlando is a TV Fanatic Staff Writer. Follow her on Twitter.