We're back for another Bones round table!
Last week, on Bones Season 10 Episode 16, Booth's gambling problem resurfaced, Cam worried over Arastoo's safety, and Brennan created a new (anatomically correct) song about Bones for Christine.
Gather around for a discussion of "The Big Beef at the Royal Diner, with TV Fanatics Mary Kate Venedam, Christine Orlando, and Ashley Bissette Sumerel, as well as Bridget Liszewski from The TV Junkies.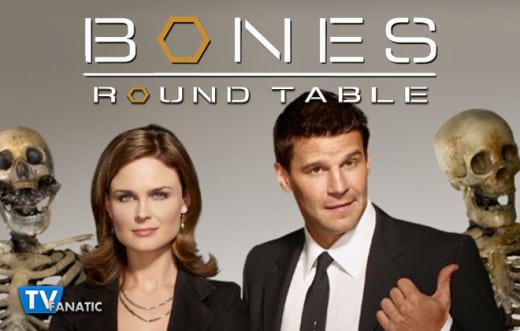 Do you think Brennan suspects Booth is gambling behind her back?
Bridget: We definitely saw some doubt start to creep in for Brennan, but I'm not quite sure she's there yet in thinking he's back at it. She's not an easy one to pull something over on, though, so I suspect she'll find out once and for all pretty soon.
Mary Kate: I think in the back of her mind she could suspect, but she may be in denial because his behavior didn't seem very unusual. The biggest red flag should've been when Booth got her the necklace. I think Aubrey may be more suspicious than Brennan.
Christine: That look she gave him over his gambling chip made me think she knows…at least in her gut. Her mind is still coming up with all the other alternative explanation but I think there's a part of her that knows.
Ashley: I agree with Christine about that look. She has to know on some level.
Is Arastoo really safe?
Bridget: As much as I'd like to believe that, I have to say I'm more like Cam and expect the worst. This is TV after all, right? We need some drama. So I'm sure there will be complications with getting him home safely.
Mary Kate: For now, yes. Like Bridget said, it is TV, so it would only make sense that something dramatic came out of the story. I don't see Arastoo being killed off since they Sweets was just killed, but it'd be interesting to see how this story progresses.
Christine: No. Anything can happen to him over there and most of it isn't good. Like Cam, I won't feel as though he's safe until he gets back home.
Ashley: I don't think so, either. But, I do agree with Mary Kate that I don't think he'll be killed off. I see something more complicated coming down the road, especially since a good bit of energy has been put into Cam and Arastoo's storyline this season.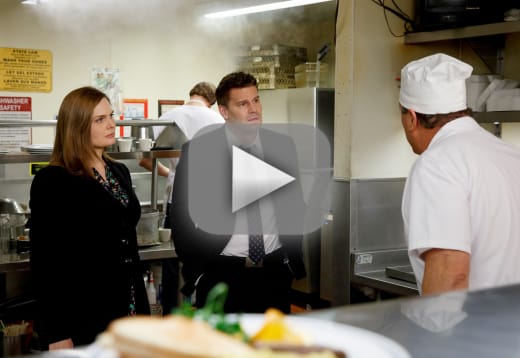 Do you enjoy watching cooking/food shows like the one depicted in this episode?
Bridget: I haven't thought much about that. I guess they can be enjoyable sure, but since I live in Ohio they usually never depict anywhere near me unfortunately.
Mary Kate: Not like that one, but I usually have to be in a cooking show mood, and that doesn't happen often.
Christine: I don't watch a lot of them but my favorite is Dinner at Tiffani's on the Cooking Channel. It's actress Tiffani Thiessen (Saved By the Bell, White Collar) and she invites her celebrity friends over and cooks them dinner. The recipes are great and the conversations even better.
Ashley: I love cooking shows! I don't particularly care about this type, though I did immediately recognize that this was an obvious spoof of Guy Fieri's, Diners, Drive-ins, and Dives. I'd rather watch the ones that show how to make the food, or the competition shows -- those are really fun. Also, I'm clearly going to have to check out the show Christine mentions, because I've never heard of it, and I'm dying to see Kelly Kapowski cook.
Was there anything that surprised you about this episode?
Bridget: I just really liked the way the show chose to mark its 206th episode. They were limited given that they had just marked the 200th a few episodes before but they still found a fun, cute and very "Bones-like" way to mark the milestone. I really enjoyed that.
Mary Kate: I thought it was interesting how casual Booth was about gambling again. I'll also say it was funny to see Nicole Sullivan, who played the waitress at Royal Diner, in the episode because she was also on Grey's Anatomy that night, at the same time. Coincidence?
Christine: That Hodgins and Angela were able to keep their millions. I'm thrilled for them, but I kept waiting for them to get the rug pulled out from under them. So happy that never happened.
Ashley: I was a little surprised there wasn't much talk of plans for the new baby, but I'm sure we'll be seeing more of that soon. I also liked that Edison was the one who kept having to reassure Cam about Arastoo. To Mary Kate's observation, I didn't catch that! I watched Bones before I watched Grey's Anatomy that day, and it was killing me where I had seen that actress before. So, thanks for clearing that up!
What was your favorite quote or scene?
Bridget: Even though, in the grand scheme of things, it makes me sad to think about, I really liked the end scene with the family singing. It was a great moment where you really saw what a nice little family the Booths have. I just hate to think that's going to get rocked when Booth's secret comes out. Speaking of Booth, David Boreanaz nailed those dorky dad moments.
Mary Kate: I liked the opening scene with Booth, Brennan, and Christine. It was so cute to see their little family and even funnier to see how disgusted Brennan was when Christine was singing the wrong Bones song.
Christine: I have to agree. The family stuff is the best. The little girl who plays Christine is wonderful and the three of them truly feel like a happy family.
Ashley: I agree with Bridget about the final scene. I loved that the most, especially with Booth rapping. Adorable.
What did you think of this episode of Bones? Share your answers to our questions in the comments below!
Need to catch up on past episodes? You can always watch Bones online right here via TV Fanatic!
Ashley Bissette Sumerel was a staff writer for TV Fanatic. She retired in September 2017. Follow her on Twitter and on Google+.