Despite being a relatively light episode, Bones Season 10 Episode 16 leads me to believe that trouble is coming in a big way.
The case this week does set a lighter tone (as light as a murder investigation can) with the death of a celebrity chef named "Chili Reuben." Chili is famous for a show where he goes around the country visiting diners and tasting their food. Does this seem familiar to anyone else?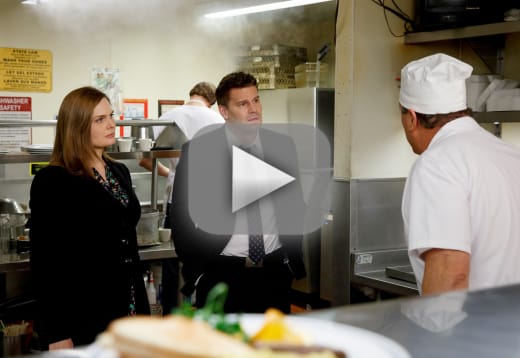 "Chili Reuben" and his show are pretty obviously inspired by Guy Fieri's "Diners, Drive-In's, and Dives" on Food Network. In fact, the similarities are so spot on that they are actually just hilarious.
It's a commentary on the absurdity of those kinds of cooking shows (even though, if I'm being honest, I love them) and their current importance in popular culture.
It's also a good case for Aubrey, since it just plays on his love for food in general.
Aubrey: I bet this was delicious once.
Hodgins: Aubrey, please don't eat that.

Though it is very subtle, Booth is heading down a bad road. He gets news early that he's won more money, and it's no surprise he remains in a good mood throughout the episode. Actually, he is a little too cheery, much like he was in Bones Season 10 Episode 15.
He then surprises Brennan with a gold necklace, which I'm worried will turn out to be a negative symbol later on.
Brennan: How does it look?
Booth: Like I made the right choice.
Brennan: It is quite exquisite
Booth: I was talking about you. I made the right choice. I'm just so lucky to have you as my wife.

Brennan also has something for Booth, and hands him his gambling sobriety chip.
Even though she doesn't come right out and say it, exactly, the fact that the chip ended up in the laundry is a signal to Brennan that there could be a problem. Brennan does tell Booth that "isn't like him," but he shrugs it off, reiterating how happy he is to be married to her.
Everything else about their interactions, especially as they involve Christine, seem happy and normal. Christine is learning about anatomy is is clearly taking after her mother as she says her father's pancakes resemble a pelvis more than Minnie Mouse. I especially love the scene with all three of them at the diner, singing Brennan's new (and accurate) song about bones.
Speaking of the diner, I like that this episode incorporates this regular spot as part of the story this week. A lot has happened in this diner, and it's an important place for conversation with all of our main characters. Incorporating the diner owner and the waitress, especially when they are hurt to be accused of being involved in the murder, makes the diner that much more significant.
Meanwhile, Cam is worried about Arastoo, despite his attempts at reassuring her of his safety. Brennan becomes the voice of reason, finally helping Cam understand why Arastoo left without her. It's a nice interaction between them, but it doesn't compare to having Edison be the one who is charged with relaying reassurances from Arastoo. He isn't the character we would expect that from, and it makes me like him more than I have in the past.
Other thoughts:
Hodgins and Angela are wealthy again, only this time, it's because of something Hodgins created. I love the way that has come full circle.
Edison helping Brennan write the song for Christine is among my favorite moments, especially as Edison gets caught up in rapping new lyrics.
What did you think of this week's episode of Bones? Share your thoughts in the comments below!
Need to catch up on past episodes? You can always watch Bones online right here via TV Fanatic!
Ashley Bissette Sumerel was a staff writer for TV Fanatic. She retired in September 2017. Follow her on Twitter and on Google+.