Chicago Fire Round Table: Farewell Casey?
Paul Dailly at .
Where is Casey?
That is the main question after Chicago Fire Season 3 Episode 23 which left Casey in danger and set up a shocking storyline to kick off Season 4.
TV Fanatics Stacy Glanzman, Mary Kate Venedam and Paul Dailly are joined by super fan Ann. Read on as they discuss Chili's new product, a heroic Boden and Dawson's pregnancy.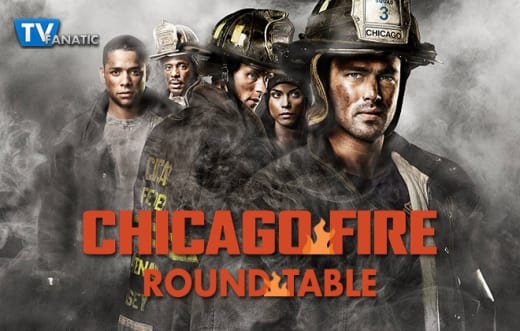 What happened to Casey?
Stacy: Why did Voight come talk to him in broad daylight outside the firehouse like that? Couldn't they at least have gone inside? It was clear something was going to happen to him. Who knows where he is, probably being tortured in a warehouse somewhere.
Mary Kate: My guess is Jack saw how chummy he was getting with the girl from his business and expected she spilled the beans and that's why she is dead and after they killed her they took him hostage. Not sure what they'll do with him.
Ann: I think that since Jack had eyes on him at the firehouse it was sorta obvious that something bad was about to happen to him. I think I had previously said that they were going after the girl and Casey would be blamed. Well the girl is dead, in Casey's apartment. The men have Casey somewhere, but I think he will be dropped off at his apartment to be somehow involved in her murder. I knew something was going to happen to the girl involving Casey, just didn't think they would go so far as to place her in his apartment dead. I agree with Stacy, he is more than likely being held captive in a warehouse being tortured. Voight and his team needs to put some pep in their step and find him before he ends up dead.
Paul: He hated the Chicago winters and set off to somewhere sunny, alone. Wrong.
 What is Chili's next move with Chilleeze?
Stacy: Well she should have gotten a patent on it, but since she didn't, her only option is to move on and come up with a new idea, like Hermann said.
Mary Kate: I guess its time to think of a new product? I felt bad because the product had a special purpose to her because of her dad. I'm sure Hermann will help her think of something new to make up to make her feel better.
Ann: I didn't recall any button on her bottle of Chilleeze, I think she should have moved a little faster, but she does have Herrmann on her side and she will have to come up with another way maybe to bottle it or present it and patent it before anyone else gets in on her action. She has a great idea, just think about it a little more and then whatever she does do a innovative presentation on hers with the celebrity on her side.
Paul: She needs to refresh the product and put another interesting spin on it before getting it on shelves. FAST.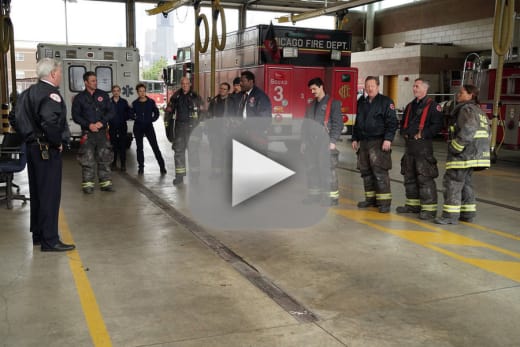 Will we be seeing a mini Dawsey running around this time next year?
Stacy: It was so obvious after that hook up that she was going to be pregnant, but, no, I don't think there will be a kid. I'm guessing a miscarriage or something because I don't see a baby working into the story very well.
Mary Kate: I'm a fan. It is definitely something interesting to tackle. Dawson just became a full-fledged firefighter so the fact that she'll be forced to sit out will be interesting. Who knows how Casey will react. But it'll be cute because 51 is so close-knit everyone will love it.
Ann: It something happened to Casey, she will probably go off the deep end, but pregnant, yes, she will have the baby and if Casey isn't around to help her take care of it, then somehow I think that the whole house will be step dads so to speak. I think that Severide will probably step up to the plate on that one. He and Shay wanted to have a baby. It is just my opinion. But I sure want Casey to be okay and hear from her that he is going to be a dad to see that smile on his face.
Paul: Hopefully. These characters need something like this after all the heartache this season has caused them.
Speak about Boden going in to help Severide and Dawson.
Stacy: I loved it. He ordered everyone else not to enter and he went in there himself to save his people. We don't get to see Boden in the action very often so it was nice seeing him as the hero.
Mary Kate: He saw that his team members needed help and did what he thought was best. It was so sad to see everyone's reaction to him going in and being forced to stay behind. Especially Cruz, I don't think I was expecting that type of reaction from him.
Ann: Boden was doing what he was supposed to as acting lieutenant he went in after his family to make a difference. I liked it when he took the initiative to take on the rescue of his family. Boden doesn't usually get front stage presence and he had it all this time. I loved it when Cruz told that chief off and I was so glad that all of them took the blame for it. In your face!!!! Boden was the superman of the day.
Paul: Loved it. I didn't expect any of those scenes to go down the way they did, so it was refreshing and he showed us that he knows what he is doing.
 Rice has left the building. React!
Stacy: I actually kind of feel bad for the guy. He's dealing with a lot, but he shouldn't have lied and he deserved to be dismissed.
Mary Kate: To be honest, I understand his reasoning why he flaked on calls, but obviously, in his career he isn't allowed to be that laxed with how he reacts on the job. Danger comes with the territory. Also surprised no one came to that fact that the reason he was ducking was because of his son. I figured that was the reason the first time Otis noticed something. At least Severide decided to finally investigate. His personal involvement almost tore the entire firehouse apart. But you have to feel bad for Rice just a little.
Ann: It was about time that Severide decided to check out his story for himself. Only then would he believe that his buddy was a ducker. I can't blame him, he has a son, which means a hell of a lot to him. He shouldn't have try to come back to something he really couldn't do. Like Stacy said, 'he shouldn't have lied ' to his friend and lieutenant he is thinking about his son but like Severide said 'everyone on this squad gives their all' he just wasn't giving his all and yes he deserved to be dismissed for his actions. I feel bad for him but he needs to find a safer occupation and a sorta 9 to 5 job so he can be with his son.
Paul: I was never a fan of his character, so I'm not at all bothered he's gone.
Remember you can watch Chicago Fire online, right here on TV Fanatic. Get caught up now!
Over to you, TV Fanatics. What's your views on the season? Hit the comments below!
Paul Dailly is the Associate Editor for TV Fanatic. Follow him on Twitter.