Chicago Fire Season 3 Episode 23 Review: Spartacus
Paul Dailly at . Updated at .
Did another one bite the dust?
Chicago Fire Season 3 Episode 23 certainly toyed with the idea of killing off more of our beloved, but the disaster of the episode was surprisingly contained before the conclusion of the hour, leaving Casey as the one in jeopardy and it sure looks like he is soon to be a father.
Let's dial it back a little and we'll get to the good stuff on Casey in a bit. Rice is officially out of Firehouse 51. Casey FINALLY realized that the whole Firehouse wouldn't turn on someone for no reason and did some digging.
As much as he wanted to believe Rice, he knew it was time for the truth and when he found out that Rice never actually took his regulator in to be repaired, he cut ties.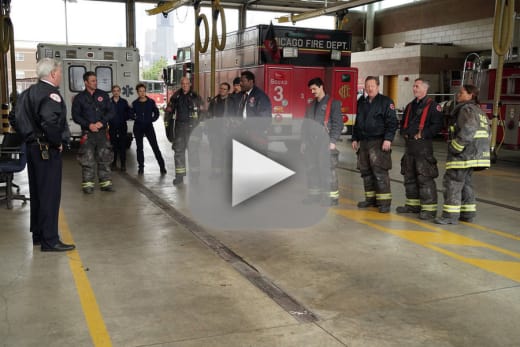 When confronted by Severide and Boden, Rice's reaction was heartbreaking. He was scared that his son would lose his last living relative. It's probably something that goes through every firefighter's mind, but it went a long way to prove that Rice isn't right for the job.
I don't believe he is a bad person at all, but when he is with the Firehouse, he has a duty to save lives and he just couldn't do it. I will miss Rice, but don't expect him back until he has sorted himself out.
Scott, there's a lot of men with families in CFD.

Severide
I hated the smirk on Otis' face when Boden told everyone about Rice's departure. I get that he didn't want someone there who wasn't saving lives, but he should have known there would be another thing preventing him from doing his job. The shuffle in job roles went a little way to wiping off the smirk and I couldn't have been more happy.
Sure, it caused problems between Otis and Cruz, but by the end of the hour, after their teammates faced a certain death and survived, it sort of brushed the rest of the drama to the side.
The structural fire had my heart skipping beats left, right and center. You can never peg a character as safe in the Chicago universe, so watching Dawson and Severide run out of air had me writing a eulogy for both. Yes, these two are BIG characters, but I wouldn't have been surprised if one, or both, of them died.
No matter what happens, no one from Firehouse 51 may go into that house. This is not a democracy, do you understand?

Boden
It was nice of Severide to share the remainder of his oxygen with her, and we can't forget how nice it was of Boden to go in and save them both. I mean, he DID have that hissy fit and told the others that they were not going in, so it was surprising.
I loved how Cruz stood up to the other chief about the water being switched off and then the divide between the rest of the Firehouse disappeared. It just goes to show that being in danger can make you do things you would never expect.
I felt bad for Chili. She fought tooth and nail to get her product out and it looked promising, that is until someone else beat her to the punch. Her world came crashing down in front of her. It was an idea that her father gave her and she understandably wanted to see it through to completion. I don't think this is the end of Chilleeze, but expect some rebranding.
We can't forget that Brett and Roman hookup. Where did that even come from? Will Brett flake on him like she did with Cruz? Probably.
Let's get back to Casey, Dawson and that shocking cliffhanger. Dawson realizing she could be pregnant was one of the bigger shocks of the hour, but I think we all knew it wasn't looking good for Casey the moment that Jack saw him with Boden, Voight and Antonio.
Dawson must have been sure she was about to find Casey's dead body, but instead she found the chick from the strip club in a pool of blood. Holy cliffhanger. We need to know where Casey is and if he is still in the land of the living.
"Spartacus" was a decent goodbye to Chicago Fire Season 3. It closed a lot of storylines, while successfully setting up Chicago Fire Season 4. I'm counting down the days to November already!
Remember you can watch Chicago Fire online, right here on TV Fanatic. Get caught up now!
What did you think of the episode? Is Casey alive? Is Dawson really pregnant? Hit the comments below!
Paul Dailly is the Associate Editor for TV Fanatic. Follow him on Twitter.