Chicago Fire Round Table: Who Wants a Glass of Chileeze?
Paul Dailly at .
What a harrowing week in the Chicago universe.
The drama kicked off on Chicago Fire Season 3 Episode 21 with the team being called out to a burning building that led to a messed up storyline when a nurse who was badly burnt had been raped. Dawson took center stage and found herself in a lot of danger.
TV Fanatics Stacy Glanzman, Mary Kate Venedam and Paul Dailly are joined by super fan Ann. Read on as they discuss Casey kicking Jack to the ground, Chili's entrance and Rice's deal.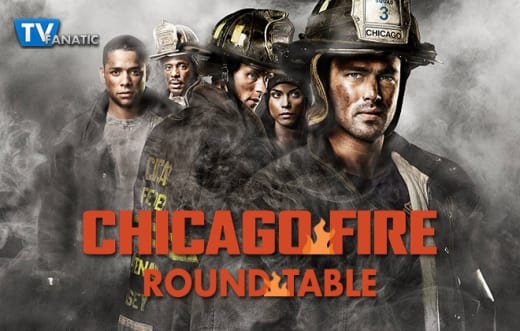 What did you think of the first part of the crossover?
Stacy: I'm glad that they integrated Chicago Fire into it more this time and it wasn't just the last 5 minutes of the episode. I enjoyed seeing the three bosses together.
Ann: I thought it was an awesome crossover left a lot of story lines open, hoping for closure for all, but it is going to be one hell of a cliff hanger.
Mary Kate: I thought it was a good episode. The Chicago Fire episodes never truly feel like a crossover because the CPD/SVU actors don't come in until the last five minutes or so. But, it was an interesting case and kept me interested for the other two parts.
Paul: I'm sure we could all drink a few bottles of Chileeze after that episode. It was a solid one, but the subject matter was horrific. Thank goodness there were some lighter moments, or I may have had to switch it off.
Casey telling Jack to stick his job. React.
Stacy: Good for Casey! I'm glad he didn't let Jack talk to him that way and walked out. Casey is not one to take that kind of crap from someone.
Ann: From the start, Jack has had a shady past, sneaky about his dealings with suspicious looking men. So happy that Casey found out about it sooner rather than later and I loved it when he told him to stick his job. The guys in the back room looks to me like big trouble, and that girl Keria, she might just be one because she likes Casey more than a little. Jack will have something done to her and have it look like he did it maybe.
Mary Kate: Good for him. Jack was doing some shady stuff. Casey had a right to react and decide not to work for him. I'm kind of intrigued to see what type of shady business Jack is involved with because based on his reaction, it doesn't seem good.
Paul: I loved this. There was something not quite right going on in that office and Jack made it oh-so-obvious. I'm sure Casey will go back, but he'll go back to find out what's going on.
What is Rice's deal?
Stacy: I have no idea. I'm wondering if it is some type of PTSD thing that he's trying to hide and that's why he's making excuses for not going into the fire. Hopefully we find out by the finale.
Ann: Still trying to figure that one out. He has a dark past about something that he isn't ready to dish about yet.
Mary Kate: So far, I like him. I feel like Otis is overreacting slightly to anything he has heard. Severide does trust him. Obviously, he should not be leaving his team behind in those dangerous situations. My guess, the reasoning could be connected to being a single father after his wife died. Still waiting for this story.
Paul: I do like Rice, but he is doing a job that involves saving lives, so it is quite troubling that he was running out of the burning building. I don't think he did it intentionally, but there is a new drama with him every week at the moment, so something has got to give.
What are your thoughts on Chili?
Stacy: She was trying too hard, but she's the new kid so I can understand it. I think a better approach would have been to let people get used to her slowly, but I loved Hermann coming to her rescue with the champagne thing.
Ann: I like her, don't like that she is the PIC, but she is adding spice to the pot and she isn't being a take over kind of person she is willing to share.. She is vibrant, funny, happy-go-lucky trying to fit in, trying to be a part of. But she has something going on from her past. I still like her.
Mary Kate: I'm a fan. It is unfair how disconnected the team was to her from the start. It's not like she sent Mills away. I'm also a fan of the bond that could develop between her and Brett. That looks like a good friendship in the making.
Paul: First impressions were poor. She just grated on my nerves, but she sucked me in as the episode progressed. She gelled well with Brett who is no longer the newbie.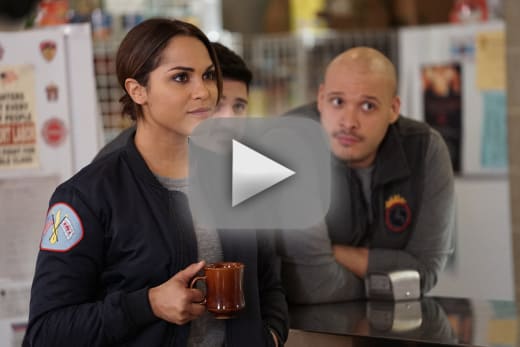 Did Dawson go too far by taking her rope off to save Billy?
Stacy: Yes, but it's completely in character for her, so it wasn't at all surprising. I don't understand why she didn't even try to get the rope unstuck first though. It might have only needed a quick tug.
Ann: No, that is Dawson, she wants to help at all angles. That could have been a disaster instead of turning out the way it did. Billy didn't rape and burn that girl.
Mary Kate: Yes, because she was putting herself in a lot of danger. No, because she wanted to help Billy so much while also not drawing attention to her own rope being stuck. I think she made a good, yet very dangerous, call.
Paul: Yes. She could have gotten herself hurt, but she done it with good intentions.
Remember you can watch Chicago Fire online, right here on TV Fanatic. Get your fix of crossover week now!
Note: Chicago Fire Season 3 Episode 22 airs Tuesday May 5 at 10/9C on NBC.
Paul Dailly is the Associate Editor for TV Fanatic. Follow him on Twitter.