Chicago Fire Season 3 Episode 21 Review: We Call Her JellyBean
Paul Dailly at . Updated at .
Dick Wolf really loves dragging up the past, doesn't he?
Chicago Fire Season 3 Episode 21 kicked off the three-part crossover that will conclude tomorrow evening. I'd like to give props to the powers that be who gave this event the green light.
Sure, it is a little random having Benson hotfoot it from New York City to help with a case in Chicago, but the flashback at the end confirmed that the killer was on Law & Order: SVU many moons ago.
We have yet to lay eyes on the killer, but based on the information we have about him, I don't want to. He raped a nurse and put her in a burning building, while wearing scrubs. If it wasn't for the guy on the street asking about it, then we wouldn't have a clue who put the woman through the sick ordeal.
Did anyone else feel really bad for Billy? The guy was about to take his own life after being framed for the attempted murder. I knew straight off that he was innocent and I'm glad Dawson stood by her word. Her brother could just as easily have charged him with the murder.
One thing that shocked me was that he didn't die when he was on the bridge. This show excels with the dramatic scenes, so I assumed he was going to fall and pull Dawson down with him, only for her to be hanging on to safety by a thread.
Outside of the case, there was still a lot to offer. We got to meet Mills' replacement, Chili. I'll be honest, I thought she was being a little too forward with everyone in the beginning, but she grew on me throughout the hour. She must have been so nervous replacing someone as loved as Mills.
It was nice of Brett to take her under her wing; it wasn't so long ago that she was the new kid on the block. Chili and Brett play off together really well and I loved the comment Brett made about her sister's name being another sweet delight.
Chili knew what she was doing on the job and that's all that matters. Even when Brett looked a bit confused, she let her do her thing and succeeded. 
The rest of Firehouse 51 didn't take a liking to her until Herrmann realized that her Champagne bottle could be a hit. We all know that alcohol is the perfect ice breaker. Who knew it wouldn't involve drinking it?
Casey's construction job took an interesting turn, huh? I knew there was more than meets the eye with Jack and tonight kind of proved it. I loved the zinger Casey threw his way when he left the job. I'm betting Jack will use the stripper to lure him back into the fold.
We need to talk about Rice. Something isn't adding up with him and everyone is slowly realizing that. The spotlight was on him because he was running out of the apartment fire when everyone else was running in. As intrigued as I am to find out what his deal is, I don't see us finding out anytime soon because of the way Severide shot Otis down.
"We Call Her JellyBean" was a solid episode of this NBC drama. I can't wait to see what happens next with the crossover.
Remember you can watch Chicago Fire online, right here on TV Fanatic! Get caught up before the the final two hours of the crossover on Wednesday evening.
Note: Chicago Fire Season 3 Episode 22 airs Tuesday May 5 at 10/9c on NBC.
What did you think of the episode? Will you be sticking around for the rest of the crossover event? Hit the comments now with your observations.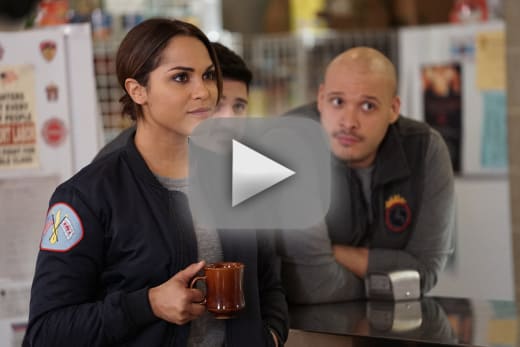 Paul Dailly is the Associate Editor for TV Fanatic. Follow him on Twitter.