Modern Family is always at its best when the family is pulled together in one place.
On Modern Family Season 6 Episode 24, everyone gathers to celebrate Alex's high school graduation. Unfortunately, Phil isn't able to be there in person, but with a little help, he's still able to join the party.
Robot Phil might just be my favorite thing ever.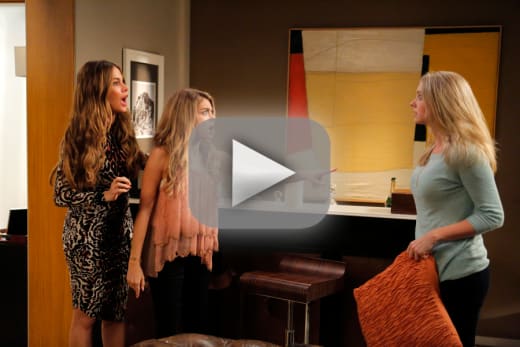 It's actually heartbreaking that Phil isn't able to be there in person for such an important moment, but having him celebrate in robot form (through Skype) allows him to be a sounding board for the rest of the family. Everyone wants to go to Robot Phil with their problems, and who can blame them?
Because everyone is willing to confide in him, he has an important revelation about his daughter. First, Andy asks Phil's advice about whether or not he should propose to Beth, also saying that he might have feelings for another girl. Phil encourages him to propose, not realizing that the girl is Haley.
Later, Haley goes to her father for advice about Beth, who we now realize is pretty much a crazy psychopath. They have an honest conversation, and Phil helps Haley realize that she is in love with Andy. It's so obvious that Phil is good listener and wants the best for his daughter.
Then, Andy comes in the room to hug Haley goodbye, and Phil realizes that Haley is the girl Andy was talking about early. He yells as loudly as he can that Andy is making a mistake, and that they two of them love each other. Of course, that would be far too easy.
Technology, with all of the ways that it can make life easier (even letting a dad see his daughter's graduation when he's in another state), always seems to fail when we need it to work most. The sound goes out, and Haley and Andy don't hear a word.
We can only hope that something happens before Andy proposes, or at least before he marries crazy Beth, to finally get Haley and Andy together for Modern Family Season 7!
Alex and Claire have their own important moment. Claire has been scrambling to figure out the perfect gift for her daughter, but everyone else seems to have something a little better. Finally, Alex sits her mother down and tells her she wants to give her a gift. Claire objects, saying she's been trying to give Alex the perfect gift all day. Alex's response is priceless.
You're the last person who should give me anything. You got me here. You got me to graduation, to Cal tech. You did it. You're done.


Alex
As much as Claire worries over trying to be a good mom to all of her children, this is just what she needed to hear. Alex then tells her mother she wants her to go with her to Europe, which only validates Claire further.
It's the perfect way to end the season, and it also ought to at least give us some fun stories to begin Modern Family Season 7. I think we've got a lot to look forward to!
What did you think of the season finale of Modern Family? Share your thoughts in the comments below!
Need to catch up on past episodes? You can always watch Modern Family online right here via TV Fanatic!
Ashley Bissette Sumerel was a staff writer for TV Fanatic. She retired in September 2017. Follow her on Twitter and on Google+.