Penny Dreadful Season 2 Episode 5 Review: Above the Vaulted Sky

Henry A. Otero at .
Several couples got their freak on this week on Penny Dreadful Season 2 Episode 5.
Unfortunately, aside from Dorian and Angelique, it's doubtful anything good will come from the couplings, certainly not of Sir Malcolm and Evil-yn or Victor and Lily. The Creature is going to be pissed off beyond belief.
It's also interesting to note that Vanessa kept Ethan at arm's length. While their attraction is evident, when they do make love it won't be part of a montage. If they're soul mates, the pair will get there in time.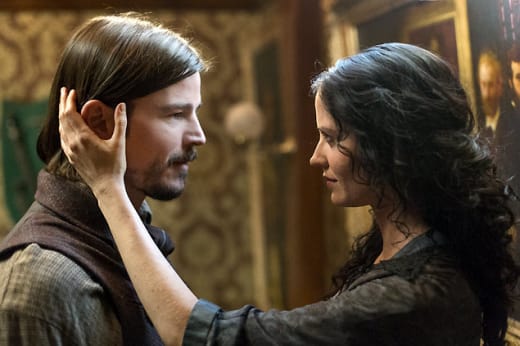 I thought the Vanessa Ives doll was creepy, but watching Evelyn crack open the doll's skull resembling Sir Malcolm's wife was far worse. Not to mention the pins she nailed into the thing's brain. The room, the chanting, and the spinning camera work was a perfect way to kick off this installment.
Ethan's speech about planning a siege was unnerving. It's moments like those where Ethan reveals parts of his history and backstory. I'm still keeping my fingers crossed for an Ethan flashback. Do you think we'll get one this season?
Ethan: We can't let ourselves be infiltrated and surrounded. We defend our cliff.
Sir Malcolm: And we know what they want.
Vanessa: Yes, that we know.
Ethan: Now if we only knew why.
Vanessa: They're making a fetish.
Sir Malcolm: Which is?
Ethan: A voodoo doll.
It was chilling to hear Sembene talk of the witches consuming flesh to take the person's power. He doesn't say much, but when he does speak everyone pays attention. Sembene is another character I still want to learn more about.
While our heroes prepared Sir Malcolm's mansion for another attack, the creatures invaded Vanessa's prayers. They don't exactly need to come through the front door, do they? What makes these monsters scarier than the vampires is Ms. Ives can't tell if they're real or not. There's nothing worse than your mind playing tricks on you.
When Vanessa asked to spend the night in Ethan's room, he was a complete gentleman taking the couch. During Penny Dreadful Season 1 it wasn't clear who her ideal partner was. This season, it feels like Ethan is her soul mate and protector. The two accept one another unconditionally. Plus, the fact the words Lupus Dei appeared among the artifacts is proof their fates are entwined.
Vanessa: Whatever you have done. Whoever you have made yourself. I'm here to accept you. We're together for a reason.
Ethan: God's plan?
Vanessa: Yes.
Elsewhere, Caliban was growing impatient with Victor. Rory Kinnear has some of the best dialog of the series. Even when he's threatening and beastly, Caliban speaks like a poet; it's brilliant! Of course, now that Victor and Lily have made love, the creature is in for a rude awakening. Part of me feels sorry for him, but the other part thinks he's getting exactly what he deserves. I've never forgiven him for killing Proteus.
Billie Piper has been a revelation this season. Sure, we all loved her as Rose on Doctor Who, but Billie's demonstrating some serious acting chops on Penny Dreadful. While she was a minor player last season as Brona, I feel like Lily is now a solid part of our cast of characters. I'm keeping my fingers crossed that Caliban doesn't tear her in half when he learns she's in love with their creator.
I was surprised how agreeable and patient Ethan was with Inspector Rusk. Of course, the slightest slip up and he'd set off a red flag. Still, it's not like the guy hadn't researched Mr. Chandler's background thoroughly. It's interesting that Ethan Chandler doesn't exist, right? Rusk finds Ethan to be a mystery, but is he on to his supernatural nature? Does the Pinkerton survivor remember Ethan's transformation?
Vanessa shared another wonderful moment with Caliban/John Clare this week.
Vanessa: Do you know you share your name with a dead poet?
Caliban: Yes. Do you like poetry?
Vanessa: All sad people like poetry. Happy people like songs.
Caliban: I've always been moved by John Clare's story. By all accounts he was only five feet tall, so considered freakish. Perhaps due to this he felt a singular affinity with the outcasts and the unloved... The ugly animals... The broken things.

Angelique was humiliated in public, but that moment led to Dorian and her growing closer than ever. I've wondered if his attraction was due to the attention he received while in her company. Now, it really does seem like he's fallen for the person not the "persona" of Angelique.
I must say, Jonny Beauchamp looks phenomenal as Angelique. It actually took me a minute to get used to him in male clothing. I hope this comes across as a compliment, because that's absolutely my intention. He looks great as a girl, that's all I'm sayin'.
As I mentioned at the top, this installment turned the sex up to eleven and it was fairly graphic. This series is known for its psychosexual themes, and so far this season the sexuality had been sorely lacking. Again, it's doubtful any of these pairings will end well. Though Dorian seems honest, I'm not quite sure he and Angelique are meant to be.
The one truly scary moment this week was Sir Malcolm's wife committing suicide. Watching Peter and Mina crawling out of their graves was wicked. I felt terrible for the poor woman, though I never thought much of her in the past. The musical score was intense and powerful throughout this episode, as well.
What did you think of "Above the Vaulted Sky"? Which couple's hookup will backfire first? Is Sir Malcolm completely under Evelyn's control now? How will Caliban react when he learns about Victor and Lily? Why didn't Vanessa and Ethan make love? You're up guys, please share your thoughts in the comments below.
NOTE: Penny Dreadful Season 2 Episode 6 is titled "Glorious Horrors" and airs on Sunday, June 7.