The Vampire Diaries Round Table: Goodbye and Good Luck
Miranda Wicker at .
Goodbyes are never easy, and The Vampire Diaries Season 6 Episode 22 contained quite a few of them, along with a couple of shocking plot twists that no one really saw coming.
You can bet we're going to watch The Vampire Diaries online this summer to relive it all.
Just how much did we like the link between Bonnie and Elena? Read the thoughts of Crissy Calhoun, author of Love You to Death, Paul Dailly, Amanda Steinmetz, and Miranda Wicker now to find out!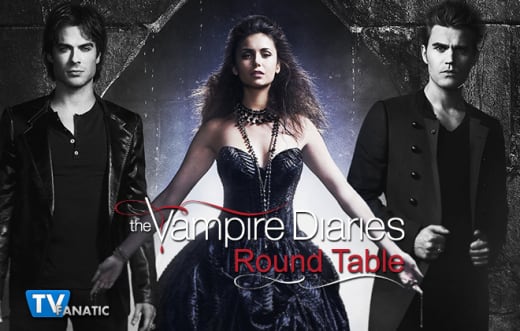 What was your favorite quote or scene from "I'm Thinking of You All the While?"
Crissy: Stefan's speech about Elena and his brother to Caroline in the hospital room. Perfection. 
Paul: Favorite scene has got to be Kai being killed. I honestly never expected it. I knew he'd die, but not at that point.
Miranda: Oooh, Crissy picked a good one! I had to record it on The Vampire Diaries quotes page it was so good. For something not already mentioned, I'll go with Stefan's speech to Caroline about all the ways she's made him different and better. So sweet and perfect.
Amanda: I'm with Crissy on this one. I think Stefan's speech was important for Caroline (and the audience) to hear. The heart of the show was always these two brothers finding their way back to each other, not about the girl between them.
Your LEAST favorite?
Crissy: Well, more a lack of a scene — I thought Tyler could at least have a goodbye scene of his own. 
Paul: Liv dying. I've NEVER been a fan of hers, but I think she should have survived into next season.
Miranda: I'm going with Liv dying too. The character really grew on me and I was hoping she would return and stick around. Instead the writers brought her back just to kill her. What a waste. AND we're losing Tyler so we don't even get to see the emotional fallout of killing his love and transitioning to save his life.
Amanda:I guess Tyler's lack of closure. Where is he going?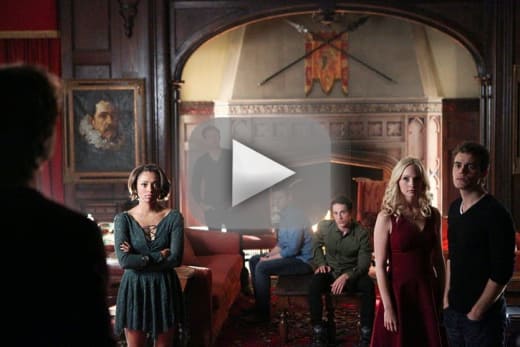 Elena sleeps as long as Bonnie lives. React:
Crissy: Brilliant. Perfect. Never saw it coming, but it gives us closure to Elena's storyline without being needlessly cruel!  
Paul: What Crissy said! Here I was thinking that she was going to die, or leave Mystic Falls with a blank slate. It was the best decision to do something along these lines. She can now plausibly pop back up in the finale. 
Miranda: I'm still not sold. There's too much quasi-death followed by TADA! Surprise appearance. If The Vampire Diaries Season 7 turns into figuring out how to break the link, I'll hate it. If not, this sleeping beauty thing will be okay.
Amanda:While I rolled my eyes at the convenience of it all (we all know she'll wake up for the series finale), it was a clever way to have Nina Dobrev leave the show without Elena dying or leaving Damon behind. It also needed to be addressed just how much Bonnie has sacrificed for her, so it's Elena's turn.
Say goodbye to Jo.
Crissy: RIP Jo. Thank you for the brief spate of happiness you brought to our dear Alaric, and for being a level-headed witch/doctor in the craziness of Mystic Falls. You will be missed.
Paul: I feel a little short changed that we lost you so soon. You were one of the better characters introduced this season and it pains us all that Alaric has lost another loved one. RIP Jo.
Miranda: Jo, your death was both tragic and unfair. We grew to love you just as quickly as Alaric did. Rest in peace knowing that there's no more "over there" so Kai is dead-dead forever and ever.
Amanda:Farewell Jo. You represented a chance for Alaric to finally find happiness, but as we all know, happily ever after doesn't exist in Mystic Falls.
On a scale of 1 to 10, rate Kai's death.
Crissy: 10! I love a beheading. 
Paul: 10!
Miranda: That was the best death we've ever seen.
Amanda:7. For the best villain since Klaus, I felt Kai's death was a tad anticlimactic.
Grade the The Vampire Diaries Season 6 finale:
Crissy: A+. I loved it.  
Paul: A+. It made up for the last two seasons and I can't wait for Season 7!
Miranda: Solid A, for sure. 
Amanda: A. This was one of the best finales in a long time on show, and I can't wait to see what happens next season. What happened to Mystic Falls?!
Miranda Wicker was a Staff Writer for TV Fanatic. She retired in 2017. Follow her on Twitter.