Pretty Little Liars Season 6 Episode 1 Review: Game On, Charles
Paul Dailly at . Updated at .
Who is Charles Dilaurentis?
That's just one of many questions that was on our minds during Pretty Little Liars Season 6 Episode 1 which found the liars still trapped in A's dollhouse.
I must give praise to the lead characters who owned their performances tonight. This tested all of their acting chops on a scale never seen on this show before. Did anyone else just want to hug Mona?
She's been sequestered for so long that she will probably find herself in Radley, right next to Sarah. Yes, it looks like Sarah has been in there since Ali went missing, which begs an even bigger question – how could this be possible when Charles apparently took over as A after Pretty Little Liars Season 2?
It sure feels like we've been lied to AGAIN, and there has been more than one A the whole time, because I don't see any way that Mona knew about this lair. She's had several opportunities to come clean and she's a smart cookie. If she knew there was a possibility that she, or the liars, could end up there she'd have left clues as to its whereabouts.
Alison has developed really well as a character recently. It finally feels like she is stopping all of the lying and trying to move on with her life. She put herself in grave danger to save her friends and she succeeded. This girl has been making headlines for all the wrong reasons, so it should be refreshing to see her be hailed a hero. That won't last long in Rosewood.
I'm surprised Tanner is still employed at Rosewood PD after everything that has gone down under her watch. The town is not a safe place for anyone, and the fact that she didn't once believe the liars should have been enough to embarrass her into bidding adieu to the town and the job.
Alison: What do we do now?
Tanner: We wait and hope that Andrew makes a move.
It was a good move they were trying to pull by getting Andrew to attack Ali in her home, but he never appeared. The evidence is beginning to stack against him, but it just feels a bit too easy to consider him Charles.
I really do believe that Jason is Charles. Remember the scene in which Jason was in the elevator and went missing? I'd say that was the final time we saw Jason before Charles took over.
The drama in the dollhouse reached the breaking point when the liars decided against following Charles' orders, and he was not impressed. Spencer going for the tape has got to be the thing that tipped him over the edge. His lair appears to be all about him and his family. We don't know what psychological state he is in. That could be seen as home to him and the girls have now taken action and destroyed it.
Game on, Charles.

Spencer
"Game on, Charles" was a rather disappointing affair. Considering the episode order has been shaved this season, they really could have fit a lot more in. As much as I love the sarcasm of the girls, some of that could have been traded in for some more answers. Yes, we need those when we are six seasons in.
Other tidbits from the episode:
Wouldn't it have been great to see the emotional effects the girls being gone had on their parents? Where was Mona's mom? Her daughter has just been freaking resurrected.
How will Sarah fit into this story? Could she be Ali's twin, too?
The girls looked surprisingly okay after their ordeal. Charles was nice enough to let them get all glammed up.
Remember you can watch Pretty Little Liars online right here on TV Fanatic. Why not try to find some clues?
What did you think of the episode? Was there enough to keep you glued to the screen? What's next?
Note: Pretty Little Liars Season 6 Episode 2 airs Tuesday June 9th at 8/7C on ABC Family.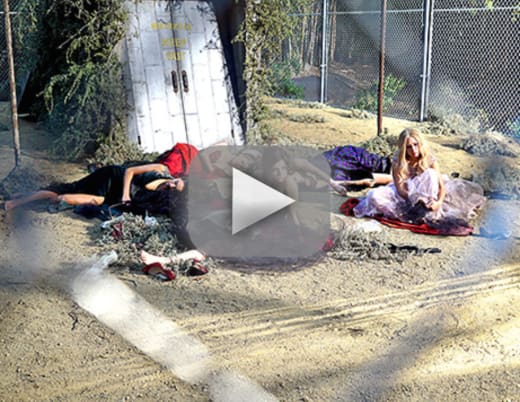 Paul Dailly is the Associate Editor for TV Fanatic. Follow him on Twitter.