You really can't help but feel bad for the birds on this show. They don't always meet a happy ending. Then again, does anybody?
As we gear up for the season finale, Salem Season 2 Episode 12, served up a very intriguing episode which laid the groundwork for the war we've been waiting for all season.
There were definitely some shocking allegiances being made, and I imagine a lot of people were frustrated with one particular character.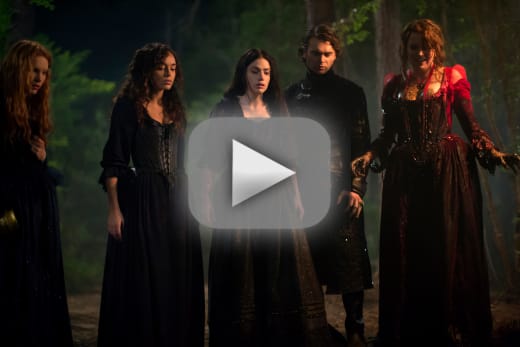 Who else enjoyed the look of fear on Sebastian's face when John killed all those men? Sebastian had no clue who he was messing with, and John made it clear he wasn't going down without a fight. It was a pretty awesome scene, though I'm shocked John didn't immediately go after Sebastian.
But hey, at least he got the other people in the group.
My apologizes for thinking it was Countess Marburg who was posing as Anne and taking little John – it would have made sense and added a neat twist; but alas, it was merely just wishful thinking. 
You knew Mercy was going to show up eventually to taunt Mary, and she certainly did not disappoint. Hearing Mercy speak so highly of Countess Marburg wasn't a huge shock either. Here's a young girl who has been dealt an extremely bad hand and this one woman, evil or not, was able to heal her. I did appreciate Mary throwing some guilt Mercy's way and telling her, straight out, she will be betrayed in the end.
Mercy: They say crocodiles weep when they devour their prey, but not even crocodiles eat their own young.
Mary: Mercy, I wonder when you'd come. Believe it or not, I am glad you survived.
Mercy: Don't play the good mother with me. Good mother's don't burn their children. I finally met a true mother, she healed the wounds you and so many others dealt me.
Mercy got a taste of what Mary was talking about in regard to her eventually being betrayed by Sebastian and Countess Marburg. You'd think as a woman who has been around Sebastian a lot, she'd have seen just how obsessed he is with Mary and chosen not to go after him.
Even though Mercy isn't necessarily a favorite character (I mean she did lead children to their deaths), I actually found myself feeling bad for the girl when Sebastian was torturing her and being abusive. 
Sebastian: How about you leave me well enough and far alone, you're no use to us anymore.
Mercy: That isn't true.
Sebastian: No, it isn't true. You were never any use to us.
Mercy: You're being cruel. I thought you wanted me?
Sebastian: Wanted you? No one has ever wanted you. Not your own father, not the Essex hive and certainly, not I. Mary Sibley is the one I desire and I shall have no other.
It didn't come as a huge shock Cotton wouldn't believe the truth about Anne, and you really can't blame Cotton for not seeing what is right in front of him. John could have probably eased him into the truth about Anne, but hey, at least now he has an idea about who his wife actually is. 
Anne and Countess Marburg's back and fourth was by far the best thing about this episode. When Anne showed no surprise about Countess Marburg referring to herself as Anne's mother and still keeping a strong hold on little John, I couldn't help but cheer on Anne.
Countess Marburg is, of course, great with words and knew exactly how to get Anne on her side – by threatening Cotton's life unless she gave her the boy. 
Who else was completely surprised when Magistrate Hawthorne let Isaac go so easily? It was such an odd scene, especially after the entire town took part in having him thrown in the stocks. At least he was given fresh clothes and food, but you know he won't get the justice he rightfully deserves for Dolly. 
If Cotton didn't believe Anne was a witch before – her ripping off the pigeons head and disappearing with little John pretty much confirmed the awful truth for him.
You knew Mary was eventually going to visit the old ones and try to get their help in dealing with Countess Marburg, but I can't fathom why she thought it would be easy to get them on her side. They don't want to take part in a war which they will probably lose, and it's easier to sit on the sidelines and have someone such as Tituba on your side – even if she can't be trusted.
In the end, Mary's declaration of love for little John worked against her. John shooting the newly minted dark lord just seemed to make him angry, and Countess Marburg embraced the only thing/one she's ever loved. 
What did you think of, "Midnight Never Come"? How will Cotton confront Anne now that he knows the truth?
Don't feel down if you missed tonight's episode. You can watch Salem online now via TV Fanatic and come back to let us know what you think. 
Samantha McAllister was a staff writer for TV Fanatic. She retired in November 2018.