The Real Housewives of New York City Season 7 Episode 12 Review: Lord of the Manor

Christine Orlando at . Updated at .
Can't we just all get along?
Not if you're on The Real Housewives of New York City Season 7 Episode 12. They have the unique ability to make a fantasy vacation to Turks and Caicos look like a nightmare. We recap it all in our +/- review.
First there was the continuation of the dust up between Kristen and Ramona at LuAnn's fashion launch party for which Ramona actually admitted that she may have come on too strong. What? Since when does the Singer Stinger admit to anything?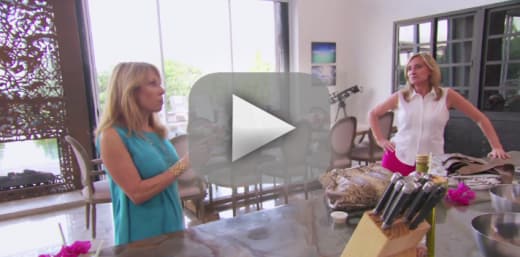 On the upside, Kristen finally got Bethenny to stand still long enough for her to air some of her grievances. Plus 20. Unfortunately she didn't really get the response she was hoping to hear from the Skinny Girl. I don't think anyone really enjoys being called a sour puss.
Don't give me a reason to give you a damn sour puss and then maybe you won't see it anymore.

Kristen
Of course that The Real Housewives of New York City quote was said to the camera and not to Bethenny's face. Minus 33. Now that could have led to all sorts of fun.
Once all the nonsense in New York ended and they left LuAnn and what Sonja called her clothing line "for the masses not the classes" everyone headed off to Turks and Caicos. 
Did Carole really have to record their trip? Apparently Bravo's trained camera crew wasn't enough for her. Minus 10.
The house on the island was absolutely gorgeous. Plus 50. Private pool. Private chef. Right on the beach. What could go wrong?
Enter two 50-year-old women acting like spoiled children. Bethenny said her 4-year-old has better manners than Sonja and Ramona. We have little doubt it's true. 
Ramona seemed the worse of the two. First she ran through the house trying to grab the best room, even though they all looked lovely. Then she commandeered some poor staff member to unpack all of her clothes and made them try her curling iron in electrical sockets. Finally she borrowed a pair of see-through stripper heels from Carole and refused to return them. 
Minus 43, because she really was acting like a 3-year-old having a tantrum. Too bad there was no one around who could throw Ramona over their should and take her away. She needed a time out.
After all of the drama, Sonja lamented not getting a room with a bathtub. "You don't want to see Ramona and I in showers. It's scary." We're happy to take her word on that. 
If you were looking for serenity there was the one moment of Bethenny and LuAnn on the paddle boards but that was it. Ramona spent the rest of the afternoon prancing around in her neon bikini and working out poolside. Minus 23. We're still a little traumatized. 
The focus switched back to Sonja when the ladies brought up her escapades back in the city. Apparently Ms Morgan tried to pick up LuAnn's friend's boyfriend and she's lucky she didn't get her eyes clawed out. 
Sonja felt like everyone was ganging up on her about her drinking and her sexual exploits and her paranoia was made worse when Bethenny tried to get through to her. Plus 30 for the effort. We can't say so much for the result. 
Even Bethenny yelling "Shut the f**k up!" didn't deter Sonja's ability to talk in circles and get no where. Minus 37.
Bethenny though she got though. We;d say she's kidding herself. Eventually they all ended up talking about LuAnn's sex life. She's having the best sex of her life...and it's not with her vibrator,  although she likes that too. 
Minus 15. T. M. I.
Is Turks and Caicos the new Scary Island?
Episode total = -61!  Season total = -313!
Don't miss a minute of the drama. You can watch The Real Housewives of New York City online here at TV Fanatic.
C. Orlando is a TV Fanatic Staff Writer. Follow her on Twitter.