The Real Housewives of New York City Season 7 Episode 9 Review: Birthday in the Berks

Christine Orlando at . Updated at .
Dorinda can't seem to throw a drama free party and The Real Housewives of New York City Season 7 Episode 9 was no exception. It may have been her birthday but it was the guests who were crying. We recap all the tears in our +/- review. 
It was back to the Berkshires, this time for Dorinda's birthday. Perhaps it was the country estate feel that kept Ramona Singer from having a meltdown this time around. Maybe all they need to do is keep Ramona away from Heather's garage.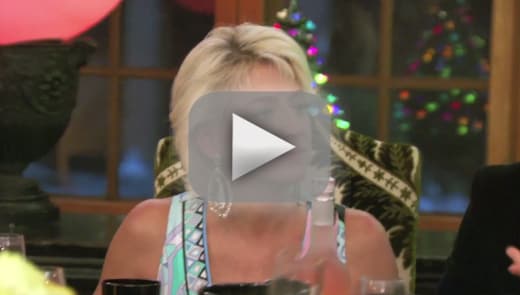 But while Ramona was enjoying the manor, Kristen was taking stupid to a whole new level by bringing up John's "too flirty" behavior on the dance floor. Plus 20 to Dorinda for shutting her down. Not that we're condoning John's touchy feely nature but it's hardly like Kristen told him to stop.
Elsewhere Carole did some research on Ramona's business partner / date, Peter. Um, shouldn't she be doing book research instead, before her publisher pulls her advance? Minus 31. 
LuAnn was quick to join in and uncover the scoop on Peter supposedly once dating Mario's mistress. The ladies couldn't wait to share that bit of gossip with Heather who practically blurted it out over dinner in front of Ramona and Peter! Minus 37.
Heather was in rare form tonight. What is it about Bethenny Frankel that pushes all of her buttons? Is it insecurity or does she just not like her because every time Heather claims to be trying to be nice to Bethenny it comes across as a dig.
Carole shared Bethenny's breakdown in the store over her childhood and custody issues and plus 18 for the look on Kristen's face when she called Ramona out on her crocodile tears of the past. Too funny!
But Heather had no sympathy at all for Ms. Frankel. So what's the big deal about childhood abuse and abandonment issues? Heather just had to replace her nanny! She's got her own problems to deal with. Minus 45. Talk about taking insensitivity to a whole new level. 
Heather's brand of showing she cares had poor Bethenny in tears. Apparently backing off isn't in Heather's vocabulary. 
This isn't the Bethenny we expected this season. We understand she's having a tough time of things but we never thought we'd be watching her break down in every episode and it appears as the water works have just begun. 
Episode total = -75! Season total = -393!
Don't miss a minute of the drama. You can watch The Real Housewives of New York City online any time right here at TV Fanatic. 
C. Orlando is a TV Fanatic Staff Writer. Follow her on Twitter.