Dov decided to take his career in a new direction, Gail partnered with Duncan and, as Peter Mooney told us last week, we dove deep into Nick Collins' back story in Rookie Blue Season 6 Episode 4.
Below, TV Fanatics Allison Nichols, Whitney Evans, Elizabeth Harlow and Christine Orlando debate what Oliver should have done with his daughter, if they were shocked by Gail's reaction to Duncan and their favorite scenes from "Letting Go."
Do you enjoy Dov more on the street or as an investigator?
Allison: I enjoy Dov more when he is with some of the original cast. I don't mind him as an investigator, but typically when he does that, he's just with Marlo. Their relationship is great, but I miss seeing Dov interact with everyone else.
Whitney: I think if Dov is really passionate about being an investigator, than he should stick with that. But I miss him out on with the core group on the streets. It was nice to see him back out there. 
Elizabeth: I think that Dov being on investigation opens up some new avenues for the show, especially if the show is renewed. 
Christine: I really like Dov as an investigator. It seems to fit his personality and his talents better then being a cop on the beat. 
Should Shaw have gotten his daughter out of trouble or left her to face the consequences?
Allison: He should have let her face the consequences. Without a consequence, she won't learn. Oliver could have maybe gotten her a lesser sentence instead.
Whitney: It's hard to judge the decision a parent would make in that kind of situation. Ideally she should have faced the music and paid for her mistake. I'm really wondering if this decision will come back to haunt Oliver, though. 
Elizabeth: That's a tough call, but I probably would have done the same thing in his position. In addition to all the stuff about college, we've seen that he has some guilt about the divorce and not being there for the girls. He let her sweat it out for a while, so hopefully her temporary arrest left an impression. 
Christine: As much as I want her to learn a lesson, I think he did the right thing. A criminal record at this point could really derail her life, but I hope he let her sit in jail for a while and made it clear that this was her last free pass. She's certainly old enough to understand the consequences, and if getting arrested isn't enough to get that across, I'm not sure what will.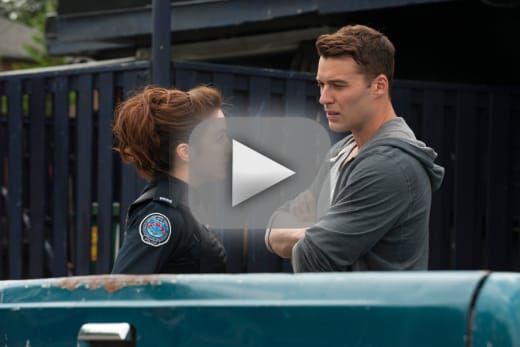 Were you surprised that Gail actually seemed to like Duncan?
Allison: Yes. I had been waiting to see them interact, expecting Duncan to face the wrath of Gail's snark. I'm looking forward to seeing more of Gail and Duncan. I need to see the hip hop lessons. I need it, badly.
Whitney: I was really surprised because they seem like polar opposites. Duncan was, dare I say it, somewhat tolerable this week and I think partnering him with Gail was a smart move. And I could totally see Duncan and Chloe becoming a thing. 
Elizabeth: I was surprised and disappointed. I was looking forward to her biting wit being turned on him. I'm still wishing he'd just go away, the character doesn't really add anything to the show for me. 
Christine: I couldn't believe that Gail didn't verbally take Duncan down. Like Allison, I'd been looking forward to that, but I surprisingly enjoyed their interactions this week. I'm not sure if Duncan is becoming more tolerable or Gail's presence makes him so. 
Did you ever think that Nick would actually kill Marco? 
Allison: No. I knew that he wouldn't go that far.
Whitney: Nick is a good guy. There was no way he was going to kill him. 
Elizabeth: Nick is too good of a guy. His conscience was always going to kick in. He's more into justice than revenge. 
Christine: Marco was so pathetic that I half expected him to fall off of that roof but no, I was never really thought Nick would kill him. Although I do wonder whether the story he told about Afghanistan was the truth. 
Juliet and Nick ended up together by the end of the episode. Is this a couple for which you're rooting?
Allison: I'm ambivalent towards them. I'm just afraid of what will happen to Nick once Juliet's secrets come out.
Whitney: I'm with Allison here. I really don't care much for Juliet and I've never really connected with Nick, so their romance doesn't do much for me. I'm waiting for her to be exposed, though. That might make her more interesting. 
Elizabeth: Eh. They don't have enough chemistry for me to care, and the story hasn't drawn me in either. 
Christine: Their romance feels forced to me. I like Nick but it feels like the show is trying too hard to pair him with someone, and Juliet is simply the latest candidate. 
Was there anything in "Letting Go" that disappointed you?
Allison: No, I really loved this episode. There isn't really anything that sticks out.
Whitney: This was my favorite episode of the season thus far, so I've got no real complaints. Although, there were no cute McSwarek scenes. We all know how much I love those. 
Elizabeth: Other than Gail not biting off Duncan's head, I was disappointed by Chloe's whole "The reason I'm still alone" thing because maybe she needs to be alone for a while. 
Christine: This is episode 4, and we've still barely had a scene with Traci and Steve. They were my favorite new couple last season, so I'm really missing them right now. 
What was your favorite scene or storyline from this episode?
Allison: All of Nick's scenes with Marco were absolutely fantastic. 
Whitney: Dov and Diaz back together on the streets was great. I loved when they found Simmons and told him he wasn't dying. The liver regenerating itself is pretty amazing!
Elizabeth: I'm with Allison, I really liked Nick's story. He's always just been this nice guy who we don't really know too much about, so it was some nice character development. 
Christine: I enjoyed when Juliet, Andy and Chloe figuring out that Nick was up to something. It was fun watching the three of them put the individual pieces together that allowed Juliet to find him. 
Check back with TV Fanatic on Thursday night for our Rookie Blue Season 6 Episode 5 review and if you can't wait another moment, you can watch Rookie Blue online now, here at TV Fanatic. 
C. Orlando is a TV Fanatic Staff Writer. Follow her on Twitter.