Stitchers Season 1 Episode 7 Review: The Root of All Evil

Samantha McAllister at . Updated at .
FYI: NEVER threaten Kirsten!
On Stitchers Season 1 Episode 7, you'd expect to have some continuation of what happened last week on Stitchers Season 1 Episode 6, but unfortunately, there was zilch. While it would have have been nice to see some type of research into where the key leads, we were instead provided with a solid hour of television, mixed with a decent amount of comedy and drama.
Let's not waste anymore time and discuss the events of, "The Root of All Evil."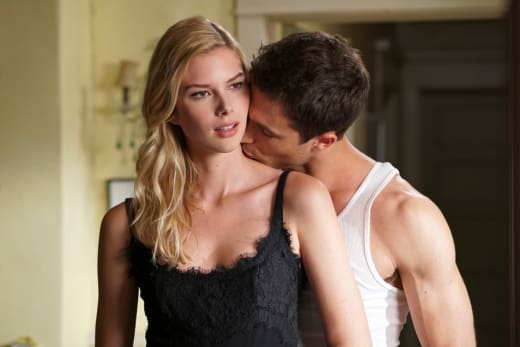 Kirsten timing Camille's shower is exactly what I'd expect Kirsten to do. Kirsten may not have a sense of time, but she always comes up with a plan. It may have been on the creepy side to time your roommate, but you can't knock the method if it ends up working. At least Kirsten and Camille's friendship is still flourishing, and Camille is slowly getting Kirsten out of her anti-social shell.
The more Maggie speaks, the more red flags keep popping up. When she demanded Camille spy on Kirsten and Liam, you couldn't help but feel suspicious. It's clear Maggie is following orders from the higher ups, but it's almost like she has her own agenda. It's amazing how she continues to say they're all working for the same team, when she has been shown working for people with ulterior motives. 
Speaking of Maggie, she had every right to stop Kirsten from talking to the owners of the mansion. Kirsten was making things worse by pushing the subject, and it was becoming apparent they weren't going to cooperate with her. Yes, Kirsten was right about what she saw in the stitch, but the information she learned will get them nowhere if they can't approach the suspects without them calling up their lawyers right away.
Camille going through Liam's belongings, and her commentary, was hilarious. Liam and Kirsten seem like such a mismatched couple, but when Liam was talking about how Kirsten lives in the moment, it made sense why he'd be attracted to her. This is yet another way to look at Kirsten and how she approaches life. 
You just knew once Camille said there was nothing wrong with Liam, Maggie would find something suspicious. Why must all the good guys have something suspicious pop up from their past?
Poor Cameron! From trying to get people enthused in the lab to having an awkward meeting with Liam, he was having a terrible night. If Cameron wants a chance with Kirsten, he has to man up and be honest with Kirsten and tell her how he feels. Cameron can't continue to sit on the sidelines waiting for Kirsten to make the first move. At least he has his bromance with Linus to fall back on.
The main case tonight involving a woman named Bentley who was murdered, was interesting. It was sad seeing how obsessed one person could be about wanting to be rich and have it all, but if you think about it, a lot of people have the same thoughts as Bentley. It turned out Bentley got in over her head, and her greed led to her murder.
In the end, Camille finally got the raise she wanted, though she probably could have gotten more money. The man in the picture with Liam was never revealed, but Les is on the case. Who could this mystery man be? In a shocking twist, after providing Kirsten with an utterly sweet speech, Liam proposed.
What did you think of, "The Root of All Evil"? Will Kirsten say yet to Liam? Do you think Cameron will finally reveal his true feelings to Kirsten?
Don't feel bad if you missed out! You can watch Stitchers online via TV Fanatic anytime. Just make sure to come back to let us know what you think.
Next week on Stitchers Season 1 Episode 8, the lab goes into complete lockdown after a deadly virus is possibly released. With lives on the line, Kirsten may finally get the truth about everything from Maggie. Will she be able to handle it? Make sure to tune in Tuesday, July 21 at 9/8c on ABC Family to find out the answer.
Samantha McAllister was a staff writer for TV Fanatic. She retired in November 2018.