The Real Housewives of New York City Season 7 Episode 17 Review: London Calling

Christine Orlando at . Updated at .
Carole and Dorinda may have had to face their ghosts in "London Calling," but the bigger challenge in The Real Housewives of New York City Season 7 Episode 17 belonged to Bethenny Frankel who took on the task of getting Ramona Singer laid.
We recap it all in our +/- review...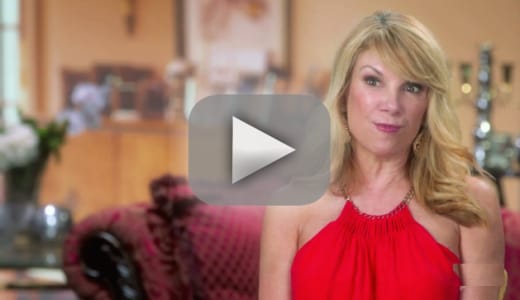 Tears. Very seldom, if ever, have The Real Housewives brought me to tears, but Carole and Dorinda bonding over the loss of their husbands did what watching seasons of reality TV has never done before. Plus 50 to both of them for being so open about the ongoing process of grieving after losing a loved one. 
On the flip side, I have to say that parading Anthony's urn in front of the cameras seemed a little crass in comparison so minus 10. 
And what sorrow can't be battled with English tea and retail therapy at high-end boutiques? Plus 22 because what trip to London is complete without some shopping?
Even though everything appeared classy and civilized across the pond, back in New York it was anything but. 
Ramona Singer has been looking for a few good men and Bethenny thought she was up for the challenge when she sent some young, hot guys to deliver the invitations to her launch party for Skinny Girl Pinot Noir and Spicy Girl Margaritas. Plus 17. 
Unfortunately, Ramona wasn't happy with her follow through. Although there were plenty of men, none of them were up to Ramona's standards. They were either too young, not hot enough, or not successful enough for her. As Bethenny said...
She wants a model but he has to be 55. What am I a f**king wizard?

Bethenny
The low point came when Ms Singer insulted the hot bartender for being a bartender! Minus 30. That was just rude. Bethenny was right, Ramona needs a muzzle, especially out in public.
Ms. Singer was so disappointed in the selection that she left the party early proving not only to have poor manners, but to be a poor sport, too. As Bethenny said in this The Real Housewives of New York City quote that made me laugh out loud…
Trying to get Ramona laid is like Saving Private Ryan. We're all going to die trying.

Bethenny
But LuAnn and Sonja looked more than happy with their list of choices for male companionship. Sonja was having so much fun that she'll need dental work afterwards…
I want you to know I broke my tooth ripping his shirt off.

Sonja
No one can say that Sonja Morgan doesn't know how to party. She even made the host pee her pants. Plus 15. What more do you need to call a party a success?
Episode total = +64!                          Season total = -279!
And if you missed a salacious minute, you can watch The Real Housewives of New York City online here at TV Fanatic. 
C. Orlando is a TV Fanatic Staff Writer. Follow her on Twitter.