Beauty and the Beast Season 3 Episode 12 Review: Sins of the Father

Samantha McAllister at . Updated at .
How many times can they cure JT? 
On Beauty and the Beast Season 3 Episode 12, Cat and Vincent decide the only way they will be able to take down Liam is by erasing his memories. It seems as though they want to drag this dreadful Liam story for as long as they possibly can, and all you can do is hope the end is near.
Let's not waste anymore time and discuss "Sins of the Father."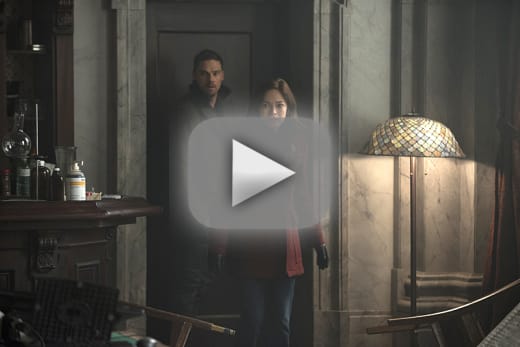 Tess making JT's dream of being a professional hockey player come true was adorable. JT deserved to get a break from the Liam stuff and the possibility of death, and Tess came up with the perfect gift. These two are, hands down, the sweetest couple on TV.
Of course JT would see right through what Tess was doing and confront her on it. Way to have an opened dialog in your relationship you crazy kids. Tess's heart was in the right place, but I could also see JT's argument about wanting to continue to look for Liam. 
Cat could not possibly have believed she wasn't, at some point, going to be investigated by internal affairs, right? While it was understandable Cat would be angry, she could have taken the entire investigation a little more seriously. Cat put herself in this situation by not listening to Tess, and she should have taken some of the blame.
Did Cat and Vincent really think it was going to be a piece of cake to wipe a persons memory? It's not like they can just walk up to Liam, give him this magical formula and suddenly his memories would go away. At least Cat realized they would need more help, but I wasn't expecting they'd break Robert out of jail. 
Heather freaking out over Cat having a will was ridiculous. First of all, as a cop, Cat should have a will just in case something happened to her. Secondly, she's an adult and having a will is something many adults have especially if they are getting ready to get married. There's absolutely nothing wrong with being prepared for the worst. 
It seemed like Robert was the only one who had a clear head when it came to going after Liam. Robert knew, after dealing with Vincent, that taking down Liam was not going to be an easy task. I guess it was a good thing they did break him out of prison because I can only imagine the game plan Cat and Vincent would come up with. 
Were they really surprised to learn Liam was wanting to take down the entire Ellingsworth line? This is clearly what Liam was planning from the moment he entered Helen's life. Liam has been after revenge for years and he never made it a secret – of course Helen was a red herring. 
At least Cat was smart enough to think the first explosion Liam set off was just a decoy to get her and Vincent in the church; though it was entirely too easy disabling the bomb. Liam gets a lot of credit for being one step ahead of Cat and Vincent. 
Just when Robert was finally starting to become a decent human being they had to go and kill him. Cat is just not destined to have a living relative outside of Heather. It wasn't a huge shock Liam would fight the formula and break free – saw it coming from a mile away.
In the end, they were still no closer to getting a hold of Liam and now the guy has even more reason to rip of their heads. Thank goodness the finale is in a couple weeks because this story has outstayed its welcome. It's time to get rid of Liam and come up with something unique and different next season. 
Are you ready for this storyline to be over? Do you hope JT is really cured this time? Will Vincent and Cat ever get married?
Don't feel bad if you missed out. You can watch Beauty and the Beast online via TV Fanatic anytime and catch up before the season finale. 
In two weeks on the season finale of Beauty and the Beast Season 3 Episode 13, Vincent and Cat have their finale showdown with Liam, but will Vincent be able to keep his beastly ways in check? Find out Thursday, September 10 at 8/7c on The CW.
Samantha McAllister was a staff writer for TV Fanatic. She retired in November 2018.