I never imagined being locked in a room with Eric Dane would be something to be upset about.
Of course, CDR Chandler wasn't there to show newly minted President Michener a good time on The Last Ship Season 2 Episode 8, but rather to gather intel and break Sean Ramsey's hold over the man.
In what was essentially a bottle episode, the captain tore the new commander in chief apart so that he could be built back up, free of outside influences.
The journey from true believer to clear headed potential leader wasn't easy for anyone. Chandler was forced to confront his own guilt in order to connect with Michener, whose secrets were darker than we ever could have guessed.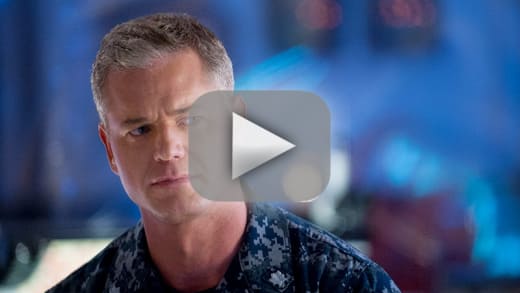 The way that Chandler and the other officers worked to break down Michener should have surprised absolutely no one. The methods they used were eerily reminiscent of military training, where recruits are torn down and then retrained to behave in a manner conducive to military life.
As of now, it seems that Chandler just replaced Sean Ramsey with himself. Michener still doesn't strike me a competent or confident leader. One of the things I like about The Last Ship is that it presents us with these ethical quandaries between the explosions (the badass kitchen fights are good too, and shirtless cast would be better).
It's hard to get outraged and call the crew's actions a military coup when we know that the weak-willed president has fallen under the spell of a truly dangerous, fanatical man. In other circumstances, I'd be unsettled by Chandler's actions, but the situation being what it is, I'm cool with it.
He's a soldier. He wants someone to salute to.

CMC Jeter
I really like the juxtaposition of Chandler and Michener. Before, I wouldn't have said they had anything in common, but while they have both shown a capacity for leadership, they also both seem to want someone to follow. One of my worries is that they'll turn into a mutual admiration society and nothing will be accomplished.
The way they shared their deepest secrets and personal feelings with one another makes me think that Duck Phillips Michener is going to be around a while. But will this turn into an epic bromance, a respectful partnership, or a competition where they jockey for power? Only time will tell. 
I understand why you'd be looking for meaning...wanting all of this to somehow be fate..or destiny. For it all not to just be terrible, tragic...and random. I do understand.

CDR Chandler
"Safe Haven" did a really good job of fleshing out our understanding of the world of the Nathan James. The videos shown to Michener were an effective way to deliver exposition, but they also gave us background on what happened on the mainland when the pandemic started.
Other little comments from Michener and his recounting of the events in Doak stadium, along with Chandler's discovery, worked to provide the audience a fuller, clearer picture of what happened while the crew was still out at sea.
There were plenty of loose ends left dangling to hint at action packed stories for the last five episodes. Rachel still has her aerosolization project to complete (possibly with Niels help) and the radio broadcast that was picked up will definitely create trouble for our sailors.
And you just know that an epic blowout is brewing between Sean and Ned. Ned will become frustrated with his older brother's slavish devotion to his own religion and lose it. I'm not really sure who will win that battle, but I'm hoping for Ned. He's an ass, but at least he's relatively sane. 
What's going to happen on The Last Ship Season 2 Episode 9? Is Niels going to be offered the chance to redeem himself as well? Hopefully Tex will have more screen time, and maybe we'll get an update on Baby Foster-Green. A break from all the death and despair would be welcome. 
Tex: Said he had to take a leak.
CDR Chandler: Mr. President?
Tex: Or maybe he's doing the other thing. He's the president. What are you going to do?
Watch The Last Ship online and share your thoughts in the comments! 
Elizabeth Harlow is a staff writer for TV Fanatic. Follow her on Twitter.