The Real Housewives of New York City Season 7 Episode 19 Review: New Beginnings, My Ass

Christine Orlando at . Updated at .
New beginnings, old habits and Glenda the Good Bitch all made an appearance on The Real Housewives of New York City Season 7 Episode 19. We recap the season finale in this week's +/- review. 
Ramona threw her New Beginnings party, but Bethenny called bullshi*t. Plus 22. It was hard not to agree. How many re-inventions has Ramona had over the years? We've lost count…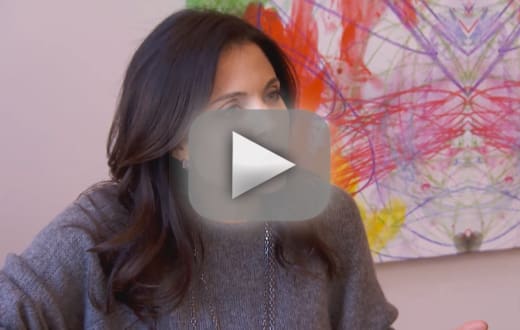 When you add it all up, Dorinda said it best in this The Real Housewives of New York City quote…
New beginnings, old beginnings, get back together, stay apart...it's just a reason to buy a dress and get a martini. I'm in.

Dorinda
But Dorinda had her own issues, especially when it came to a suddenly clingy John who apparently had an engagement ring in his pocket. Word of advice, a gluten-free pizza place is not the venue to pop the question! Minus 30.
Ramona's party wasn't so much the start of new beginnings as it was the sight of old arguments. Bethenny might have let her dust up with Ramona slide if Ms. Singer hadn't waylaid her the moment she got off the elevator. If you plan to confront Bethenny, you get what you get and Ramona should know that by now. 
I just think you should be honest and not be an asshole and the next day try to package it in some pretty paper.

Bethenny
In the end, Ramona 'fessed up and appeared to give a real apology. Plus 15. Maybe this is her new beginning.
The funniest moment was when Heather popped over to insert herself into the middle of their conversation and tried to explain how it was okay if Bethenny chose to be a bitch if that's what she wanted. Bethenny's response, plus 50, was the quote of the night…
So I'm like Glenda the Good Bitch?

Bethenny
I will forever picture Bethenny with a crown and a wand. 
Sonja went after Kristen for a supposed slight about her elusive toaster oven. Minus 18, because it's the product that just won't die. Of course the footage showed that Kristen did nothing but answer the reporter's question, and we really couldn't blame her for her frustration…
The next time the press asks me about some of my friends I'm going to say, you know what, no comment. They're just a bunch of pain in the asses.

Kristen
That sounds about right. Speaking of pain in the ass…LuAnn said that seeing Carole and Adam together in public made her ill. Minus 27. Seriously? Apparently Carole dating a 27-year-old man is just too much for LuAnn's delicate sensibilities. 
According to LuAnn, having casual sex with a 20-something is fine…but a relationship is a no-no? Is that listed somewhere in her book on proper etiquette?
Carole: We've all had 20-something-year-olds.
LuAnn: Absolutely, but not, you know, to introduce to the children. That's all.
Carole: I'm not introducing him to the children.
LuAnn: I know because you have none.
Zing! LuAnn is the Countess of passive aggressive digs. And all this talk about breaking the girl code had more to do with her new single than with any slight on Carole's part. 
As the season finale ended, we learned that LuAnn's relationships with both Carole and Heather were on the rocks, but Carole and Adam were still a couple. Plus 25. 
Apparently Carole and Bethenny are besties who vacation together, Ramona finished her book before finalizing her divorce, and Sonja's clothing line is in stores nowhere, but can be found online. 
And Kristen…is still painting nails.
Episode total = +37!                     Season total = -168!
Check back next week for The Real Housewives of New York City Season 7 Episode 20 reunion show, and if you can't wait until then, you can watch The Real Housewives of New York City online here at TV Fanatic.
C. Orlando is a TV Fanatic Staff Writer. Follow her on Twitter.