Barry's secret is out.
With Sammy's headed to Ma'an on Tyrant Season 2 Episode 8, it was only a matter of time before a family showdown occurred. Of course, they're not the only Al Fayeeds taking family dysfunction to a whole new level.
From Leila's harsh treatment of Nusrat to Jamal's suspicion of Rami, familial tensions were running high in the palace.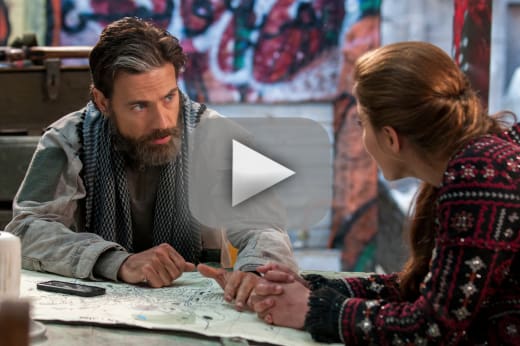 The plots are beginning to converge as the season heads into the home stretch. Sammy's arrival in Ma'an starts the unraveling of Barry's deception. The meeting wasn't nearly as emotional as I expected, but it worked. The only thing out of place was the continuing retcon of Sammy's insistence that Barry never liked him.
Other than that piece of petulance, Sammy actually seems to have done some growing up after Abdul's death. I found his naivete about the plight of gay men in Abuddin last season really frustrating, so I've found this story arc to be redeeming. 
If he could only translate that understanding into empathy for the people of Abuddin living under the rule of the Caliphate and his crazy uncle Jamal. I don't see that actually happening, at least not to the extent where he would feel obligated to act to change the situation.
I thought you secretly hated me. I thought I was a disappointment. but now I-I realize that I-I wasn't. You were.

Sammy
He was strong enough to confront Barry over his deception. Barry's reasoning was pretty much total b.s. concocted to make himself feel better, and Sammy called him on it. Hopefully Sammy's journey this season opens him up for better storytelling in the future. 
Sammy isn't the only family member Barry was unable to avoid. With the battle in Ma'an dragging out, I can understand why he reached out to Rami. Right now, the regime is the lesser of two evils, and it wasn't a decision made lightly. I have to wonder how much Barry knows about the new general.
Rami is proving himself to be a strong potential ally for Barry, if he doesn't get himself executed by his father first. His reasons for keeping Jamal out of the loop are spot on, but he needs to learn the fine art of manipulating the president. He's great at military tactics, but not so much with the palace intrigue. 
Jamal is spinning out of control again, with both his paranoia and his narcissism growing by the minute. Rami should consider that Jamal turned on his beloved brother, and despite the bro hugs and requests to be called dad, he's still a stranger to this man. 
It takes a special kind of vanity to think that thousands of people would be killed because God is trying to teach you a lesson. I thought the imam's words to Jamal meant that he should look to his own actions to understand why things were going so poorly, but Jamal took it more literally. He should listen to his wife.
God has better things to do than punish you.

Leila
Because of Jamal's paranoia, Barry ends up having to deal with his brother instead of his (sane and reasonable) nephew. Does anybody really think that a scarf over the microphone would fool Jamal? He's no genius, but it's the voice he hears inside his head. And Barry didn't even bother with his Abuddinian accent again!
One of the harshest scenes had to be Leila's "request" to Nusrat. The poor girl has not only lost her baby, but the possibility of any children, and her mother-in-law is broaching a divorce before she's released from the hospital. This seems like an extreme step.
I'm torn between outrage and thinking she should take the money and run. It's possible a surrogate could be used so that she and Ahmed could still have children. And we've already seen polygamy within Abuddinian society, so couldn't Ahmed just take a second wife eventually? 
But for real, she should probably take the opportunity to get out of Dodge free and clear. Maybe with a quick pit stop to have a tryst with Rami. Her husband seems to be MIA anyway. 
One scene that really hit home for me tonight was Munir's breakdown. His experience is echoing Barry's season one journey in a lot of ways. The quiet, modest brother trying to reign in the brash heir apparent, eventually betraying him for the greater good. 
Everything was normal last week. But it feels like ten years ago. Everyone's gone insane. My brother...he's not my brother anymore. It's like a nightmare. and I keep thinking I'm going to wake up.

Munir
I  hope things end up better for sweet Munir, but the preview for the upcoming episode doesn't look good for him. OK, things don't really look good for anyone. Jamal is getting even crazier. Barry's family is falling apart, and Rashid has lost what little morality remained. It should be a great episode!
Watch Tyrant online and let us know what you think in the comments!
Elizabeth Harlow is a staff writer for TV Fanatic. Follow her on Twitter.