Significant Mother Season 1 Episode 7 Review: Under Buddy

Christine Orlando at . Updated at .
There was a new Jimmy in town in Significant Mother Season 1 Episode 7 but would you have ordered Timmy's signature drink? No, I don't mean his other signature drink! Get your mind out of the gutter.
Lydia went behind Jimmy's back and played the mom card to get him certain nights off for special dates. Was it wrong? Yes, but I couldn't really blame her. When you finally find a handsome, nice guy who's willing to go to the ballet and art shows with you, you want to actually make those dates happen.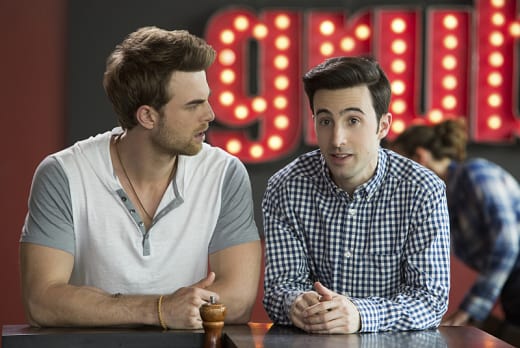 The unfortunate down side of her behind the scenes machinations was Timmy. Timmy's Timmy-tini may have made Sam feel joy, and he may have brought in more cash at the bar but, in my opinion, he wasn't nearly as cute or as nice as Jimmy. However, I did like his mural. Is there any chance Jimmy paints on the side?
As Harrison pointed out in this Significant Mother quote…
How could you hire a new Jimmy named Timmy? What's next, a new Sam named Pam, a new chef named Jeff?


Harrison
Timmy jumped from understudy to supporting player to wearing Jimmy's soft, fluffy robe (That's so wrong!) in short order. Despite Timmy's saffron drink and his weirdly cool flip flops, Jimmy wasn't going down without a fight, even if Harrison was handing out Team Timmy t-shirts. 
Speaking of Harrison, it was great to see him back. I wasn't sure how I felt about him when this series began, so I'm kind of shocked at how much I missed him. It was even hard to blame him for his love of Timmy when he explained it this way…
Timmy and I have gotten very close. I've taken a liking to him because he makes my son a lot of money and he doesn't have any sex with my wife.

Harrison
Technically, I believe that's his ex-wife…but I don't think Harrison's feeling the technicality. 
The duel at the bar was awesome. It was all the best parts of that lame Tom Cruise movie, Cocktail. Hot guys shaking up cool drinks. The only downside was that Timmy won. 
Then Timmy said he wanted to give Lydia his other signature drink as if bartending, being Nate's friend and sleeping with Lydia were all a part of the same package. So Jimmy slapped him. Not punched, slapped…and that somehow says so much about Jimmy. 
Still there were things I really wanted in this episode that I didn't get…
Jimmy's definition of a penal colony.
Nate and Timmy on the scooter.
The Ouija board scene.
Lydia in her cheerleader's outfit. 
I can't believe there are only two more installments left! Check back next week for Significant Mother Season 1 Episode 8, and if you can't wait until then, you can watch Significant Mother online any time here at TV Fanatic.
C. Orlando is a TV Fanatic Staff Writer. Follow her on Twitter.