Switched at Birth Season 4 Episode 15 Review: Instead of Damning the Darkness, It's Better to Light a Little Lantern

Samantha McAllister at . Updated at . Comments
What happens in Mexico, doesn't always stay in Mexico.
On Switched at Birth Season 4 Episode 15, Bay's jealousy reared its ugly head when Emmett made a surprise visit to Mexico. Bay's behavior, thankfully, didn't overshadow how important it is to help those who are in need. 
Let's not waste anymore time and discuss, "Instead of Damning the Darkness, It's Better to Light a Little Lantern."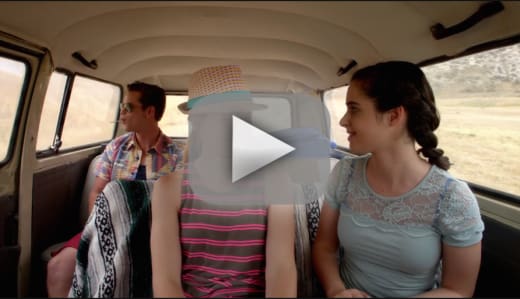 I really enjoyed seeing Daphne in her element and helping people out. There was such joy in her eyes when her first patient was able to hear for the first time. Daphne proved just how serious she is about helping those in need when she got angry about the young girl who had never been to school or taught how to sign.
Daphne's anger made complete sense because she saw herself in the young girl. If Daphne had grown up in Mexico without proper education and resources, she would be in the same boat. Daphne's passion over wanting to do everything in her power to get the young girl to sign was inspiring.
It was fantastic when Daphne found someone who was willing to teach sign language to the people who needed it. I'm really enjoying how much Daphne is growing this season; though I could have done without the kiss between her and Chris. But at least Daphne put a stop to it quickly, which is something she may not have done before this growth.
Bay's anger over Emmett being in Mexico got irritating fast. Everyone knows her heart was broken, but it's time to move on with life. Bay didn't need to go up to Emmett and start in on what he did or didn't say in the past – when you start darting a new person, sometimes you start liking things you may have hated before.
Bay continuing with her petty jealous rage by having the nerve to get on Emmett's phone and text Skye was ridiculous. It was infuriating watching Bay consume her life with jealousy, basically throwing away her intelligence. Further provoking Emmett by flirting with Travis, forcing them into a fight, was completely out of line.
Bay needs to get a grip on things and instead of channeling her anger onto other people, maybe channeling it into her paintings. Bay needs to take a page out of Frida Kahlo's book and put herself into her art instead of making guys fight over her.
At least Emmett apologized to Travis and admitted he knew what Bay was trying to do. It wasn't a huge surprise Emmett realized Travis has a thing for Bay – pretty sure everyone saw it coming. I'm still not sure it's such a good idea for Travis and Bay to get into a relationship because of Bay's friendship with Mary Beth – it would be so awkward. 
In the end, Bay met a woman in Mexico who knew Frida Kahlo and put things in perspective for her. Bay had been so consumed with this undying love between Frida and Diego that she never saw the obsession and sadness of their relationship which led to Bay finally apologizing to Emmett and the two of them were able to talk like civilized adults.
Don't feel bad if you missed out! You can watch Switched at Birth online via TV Fanatic anytime. Just make sure to come back to let us know what you think. 
Next week on Switched at Birth Season 4 Episode 16, Daphne brings Mingo home to the parents, but things don't go well. Will this be the end for Daphne and Mingo? Find out Monday, September 28 at 8/7c on ABC Family.
Samantha McAllister is a staff writer for TV Fanatic. Follow her on Twitter.