The Last Man on Earth Season 2 Episode 1 Review: Is There Anybody Out There?

Caralynn Lippo at . Updated at .
Well, things were looking good for Phil and Carol for a while there...
But of course, when your main character is perpetually hapless Phil Miller, it's unsurprising that said happiness is short-lived. 
The Last Man on Earth Season 2 Episode 1 was a very successful season opener that leaned on the series' undisputed strength – the amazing chemistry between Will Forte and Kristen Schaal – while continuing the new subplot introduced in the first season finale in the form of Phil's astronaut brother, Mike Miller.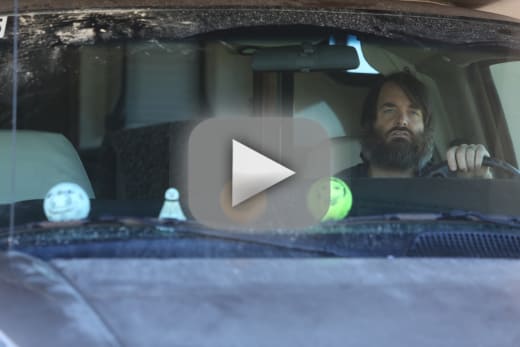 "Is There Anybody Out There?" served in many ways as a mini-reboot of the series, as Phil and Carol set off across America looking for a new home, leaving "The Tucson Crew" of the first season behind.
Given Phil's exile at the hands of Other Phil last season, it was unsurprising that we saw none of Melissa, Todd, or the others (save in Carol-drawing form).
The highlights were, naturally, all of the moments of goofiness between Phil and Carol. While the scenes of the couple playing around in the White House, having presidential busts make out, and breaking important historical things were clearly meant to serve as moments of humor, they also served to nicely establish Carol's and Phil's personal growth.
Would we have seen season one's Carol mucking about in the White House? Swimming and drinking from one of the famous Phil Miller margarita kiddie pools? Probably not.
Carol was much more uptight about things like cleanliness and preserving cultural signifiers back when she and Phil first met. She was certainly leery of all of the cultural artifacts he'd collected in his travels around America, accusing him of stealing them. I think Phil loosened her up quite a bit.
Similarly, Carol has had an obvious effect on tempering Phil's attitude as well. This was best demonstrated during the scene where Phil inadvertently released the bomb from their military aircraft, rolling it into a supermarket parking lot.
Carol: We should go back and get that bomb...
Phil: Carol... I knew you were gonna say that. I don't know how to put a bomb back in that little thingy!
Carol: We're Americans, we put a man on the moon!
Phil: Fine, if you wanna go back and get the bomb, we'll go back and get the bomb.
Carol: That won't be necessary, Phil, it's fine. Just the fact that you offered is good enough for me.
Early Phil was an incredibly selfish person, who was only out for his own self-interests and refused to bend to anyone. Obviously, he still has a semblance of that behavior. But now that he and Carol are firmly paired up, he is a notably better person.
Like Carol said, just the fact that Phil offered to go back and retrieve the bomb was enough for her – it demonstrated how he's grown as a person, to be considerate of other people's desires.
This is a huge deal. One of the obvious weaknesses of the overall pretty strong first season was how deeply unlikable Phil was at times.
It was hard to sympathize with him when he was doing ridiculous things like trying desperately to sleep with Melissa behind Carol's back, planning to abandon Todd in the desert, and conspiring to keep Gail and Erica away from the other survivors in order to preserve the fallacy that he was the last man alive.
Once Other Phil Miller was introduced, it became easier to feel sympathy for Phil as he was ostracized from the group, and we began to see his legitimate regret for his actions and his deep fear of abandonment.
Now, in our first installment of the second season, we had multiple admirable Phil moments. He went out of his way to try to find the perfect home for picky Carol, driving out to her old apartment in Delaware hoping that she would like it better than the many other famous landmark homes they'd tested out.
Obviously that didn't work out, and they subsequently argued when Carol brought up Tucson, which is obviously/understandably a serious sore spot for Phil. Said argument led to Phil's accidental abandonment of Carol in a country store near a gas station.
(to herself) Hm. Nice. Could use a little razzmatazz, though. Bam. "Oooh, Carol, where did you get such an expensive T-shirt? In the jewel markets of Monaco?"

Carol
That entire scene was easily the funniest stretch of the episode. From Carol's spur-of-the-moment decision to bedazzle a T-shirt (she just can't help herself!) to her desperately firing off shots from her gun in order to get Phil's attention (only to have said shots blend in perfectly with the shots from the song Phil was jamming to, M.I.A's "Paper Planes") – it was all priceless.
Like Phil, I was sure that Carol would end up having gone to Tucson. It was a fun little twist to see that the Tucson crew had abandoned (or been forced out of?) their little community and that Carol had remained put at the gas station where Phil left her.
Most importantly: what the heck happened in Tucson during Phil and Carol's absence?!
On the flip side, I enjoyed Mike Miller's subplot. As much as I love the Phil/Carol relationship, an entire episode of it is a little much. I liked the segues to Mike serving as interludes, and I especially liked the nice little parallels between the brothers (Mike's worm friends standing in for Phil's ball friends).
They seem to be setting up Mike's attempt to descend to Earth, which I figure will be a season-long endeavor, ending with his final descent in the season finale.
Stray observations
Carol's First Lady jokes were grade A.
Will Forte is great with physical comedy. His camouflage outfit as he snuck towards the Tucson community had me rolling with laughter.
The ending was so, so morose! (Carol sitting alone in front of that gas station... So sad.) One of the strengths of this show is that it's so much more than a simple comedy. There are many moments of legitimate emotion, which makes this a really heartwarming show.
As upsetting as the ending was, with everyone stranded and/or alone, it was hilarious that one of Phil's imaginary ball friends ended up being right on the money in questioning whether the gas station where Phil left Carol was indeed a Speedy Pump. Listen to your balls, Phil!
What did you all think of the season premiere? How long will Phil and Carol remain separated? What do you think happened to the Tucson crew? When will we see Mike touch down on Earth and possibly reunite with his brother?
Sound off in the comments below and remember to watch The Last Man on Earth online right here at TV Fanatic to catch anything you might've missed!
Caralynn Lippo is a staff writer for TV Fanatic. Follow her on Twitter.